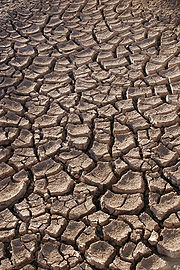 COGwriterDrought is still a concern:
Drought worsens in High Plains; winter outlook not good

Drought is tightening its grip on the central United States as winter weather sets in, threatening to ravage the new wheat crop and spelling more hardship for farmers and ranchers already weary of the costly and ongoing dry conditions.
American grain crops, such as corn,soy, and wheat, were affected by drought earlier in 2012. And now wheat may be an issue for 2013 because of the drought.
Notice also the following:
November 30, 2012
After months of drought, companies that ship grain and other goods down the Mississippi River are being haunted by a potential nightmare: If water levels fall too low, the nation's main inland waterway could become impassable to barges just as the harvest heads to market.

Any closure of the river would upend the transport system that has carried American grain since before steamboats and Mark Twain. So shipping companies are scrambling to find alternative ways to move crops to the Gulf Coast.  http://www.cambridgechron.com/article/20121130/NEWS/121139919
Having an abnormally low Mississippi river is not good for the economy of the USA.
And of course, in 2012, weather problems, including flooding, drought, and heat have affected other areas as well (see, for example, Flooding in North Korea, Philippines, Taiwan, and China, TW: Drought USA and Flooding UK; Russia Having Both, Quarter Million Affected by Flooding in Japan, Severely Cold Weather in South Africa and Australia, Drought in Mid-USA Affecting Grain, 2012 Drought Declared USA's Largest Ever Natural Disaster, Drought Affecting India and Its Food Supply; Europe too, Drought Reducing Wheat Yields in US, Australia, Russia, and Ukraine, and Weather Extremes in Australia, Canada, New Zealand, and the UK).
Flood, droughts, and weather problems contribute to food shortages, higher food prices (Heat Affecting USA Wheat Crop and USDA Slashes Corn and Soy Production Estimates Due to Drought; Canadian Farmers Expecting to Benefit), and sometimes famines.
Droughts and weather problems contribute to food shortages, higher food prices, and sometimes famines. Food inflation seems to be occurring.
Weather-related troubles with their related food issues, of course, have been biblically expected:
7…And there will be famines, pestilences, and earthquakes in various places. 8 All these are the beginning of sorrows. (Matthew 24:7-8).

5 When He opened the third seal, I heard the third living creature say, "Come and see." So I looked, and behold, a black horse, and he who sat on it had a pair of scales in his hand. 6 And I heard a voice in the midst of the four living creatures saying, "A quart of wheat for a denarius, and three quarts of barley for a denarius; and do not harm the oil and the wine." (Revelation 6:5-6)

8 For nation will rise against nation, and kingdom against kingdom. And there will be earthquakes in various places, and there will be famines and troubles. These are the beginnings of sorrows. (Mark 13:8)
Those who think that the USA will always have plenty of affordable food will be shocked when that changes. Droughts, floods, weather issues, pestilences, and a reliance on more and more engineered and hybridized foods are putting the USA, as well as its other Anglo-descended allies, at severe risk of food problems. Risks that are going to result in food problems. And the drought is only a part of that.
Some articles of possibly related interest may include:
Can the Great Tribulation Begin in 2012, 2013, or 2014? Can the Great Tribulation begin today? What happens before in the "beginning of sorrows"? What happens in the Great Tribulation and the Day of the Lord? When is the earliest that the Great Tribulation can begin? What is the Day of the Lord?
Physical Preparation Scriptures for Christians. We all know the Bible prophecies famines. Should we do something?
Anglo – America in Prophecy & the Lost Tribes of Israel Are the Americans, Canadians, English, Scottish, Welsh, Australians, Anglo (non-Dutch) Southern Africans, and New Zealanders descendants of Joseph? Where are the lost ten-tribes of Israel? Who are the lost tribes of Israel? What will happen to Jerusalem and the Jews in Israel? Will God punish the U.S.A., Canada, United Kingdom, and other Anglo nations? Why might God allow them to be punished first?
Will the Anglo-Nations be Divided and Have People Taken as Slaves? Will the lands of the United States, United Kingdom, Canada, Australia, and New Zealand be divided? What about Jerusalem? What does Bible prophecy teach? Are there non-biblical prophecies that support this idea? Who will divide those lands? Who will end up with the lands and the people?
End of Mayan Calendar 2012–Might 2012 Mean Something? Are there Mayan calendar predictions for change in 2012? Changes were centuries ago predicted by the Hopi Native Americans. Do Mayan/Hindu/Hopi/Buddhist/New Age/Nostradamus prophecies have any value here? Why might Satan have inspired this date? Does the Dresden codex show destruction of the earth by flood? Can the great tribulation start before 2012? How might Barack Obama and Julia Gillard be involved in 2012? Have predictions written by Bob Thiel related to Barack Obama and Julia Gillard began to come to pass?