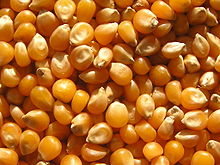 Corn Zea mays (Andrew Butko)
The USDA is predicting a big drop in corn and soy bean yields because of the drought, while farmers in Canada expect to benefit from the related increases in grain prices:
The price of corn surged 5.6 percent Friday after the U.S. estimated that supplies hit their lowest level in eight years.

The U.S. Agriculture Department said corn in storage from the 2011 harvest totaled 988 million bushels on Sept. 1, which was 12 percent less than the previous year. About one-half of this year's crop is in poor to very poor condition as the harvest nears its halfway point…Global corn supplies are tight because of a devastating U.S. drought and poor harvest earlier this year in South America…Corn for December delivery rose 40 cents to end at $7.5625 per bushel…

December wheat rose 47 cents to finish at $9.025 per bushel, up 19 percent in the quarter. November soybeans increased 30.25 cents to $16.01 per bushel. The price rose 12 percent in the quarter.  http://www.washingtonpost.com/business/corn-prices-jump-on-new-supply-estimate-third-quarter-marks-sharp-gains-for-many-commodities/2012/09/28/7ee7140a-09ac-11e2-9eea-333857f6a7bd_story.html
As I have been writing for some time, tougher times are coming. And for some parts of the world these tougher times may be here now. People who can prepare, should: both spiritually and physically. In addition to the type odd weather-reduced grain yields we are now seeing, I continue to suspect that likely crop failures associated with GMO grains are putting the USA at extreme risk of being destroyed economically and otherwise (and most USA corn and soy crops come from genetically-modified seeds). Most Americans do not like to accept this, but it is nonetheless true.
Food inflation is something that I warned would likely be seen in 2012 and we are seeing what seems to be the beginning of some of it.
And of course, in 2012, weather problems, including flooding, drought, and heat have affected other areas as well (see, for example, Earthquakes, South African Snow, Heat Record, Drought, and Food Prices, Flooding in North Korea, Philippines, Taiwan, and China, TW: Drought USA and Flooding UK; Russia Having Both, Quarter Million Affected by Flooding in Japan, Severely Cold Weather in South Africa and Australia, Drought in Mid-USA Affecting Grain, 2012 Drought Declared USA's Largest Ever Natural Disaster, Drought Affecting India and Its Food Supply; Europe too, Drought Reducing Wheat Yields in US, Australia, Russia, and Ukraine, and Weather Extremes in Australia, Canada, New Zealand, and the UK).
Flood, droughts, earthquakes, and weather problems contribute to food shortages, higher food prices, and sometimes famines. Food inflation seems to be occurring.
The disciples asked Jesus about the end:
3 Now as He sat on the Mount of Olives, the disciples came to Him privately, saying, "Tell us, when will these things be? And what will be the sign of Your coming, and of the end of the age?" (Matthew 24:3)
Notice some of what Jesus taught in response:
4 And Jesus answered and said to them: "Take heed that no one deceives you. 5 For many will come in My name, saying, 'I am the Christ,' and will deceive many. 6 And you will hear of wars and rumors of wars. See that you are not troubled; for all these things must come to pass, but the end is not yet. 7 For nation will rise against nation, and kingdom against kingdom. And there will be famines, pestilences, and earthquakes in various places. 8 All these are the beginning of sorrows. (Matthew 24:4-8).
The "beginning of sorrows" (Mathew 24:7-8) begins before the Great Tribulation (Matthew 24:21), the time of Jacob's trouble (Jeremiah 30:7). We seem to be in the beginning stages of these sorrows.
Mark recorded the same account of this time from his perspective:
3 Now as He sat on the Mount of Olives opposite the temple, Peter, James, John, and Andrew asked Him privately, 4 "Tell us, when will these things be? And what will be the sign when all these things will be fulfilled?" 5 And Jesus, answering them, began to say: "Take heed that no one deceives you. 6 For many will come in My name, saying, 'I am He,' and will deceive many. 7 But when you hear of wars and rumors of wars, do not be troubled; for such things must happen, but the end is not yet. 8 For nation will rise against nation, and kingdom against kingdom. And there will be earthquakes in various places, and there will be famines and troubles. These are the beginnings of sorrows. 9 But watch out for yourselves, for they will deliver you up to councils, and you will be beaten in the synagogues. You will be brought before rulers and kings for My sake, for a testimony to them. 10 And the gospel must first be preached to all the nations. 11 But when they arrest you and deliver you up, do not worry beforehand, or premeditate what you will speak. But whatever is given you in that hour, speak that; for it is not you who speak, but the Holy Spirit…" (Mark 13:3–11).
Thus, in both Matthew and Mark it is clear that a time called "the beginning of sorrows" precedes the Great Tribulation.
Droughts, earthquakes, and odd weather problems and the resulting reduction in grain yields should serve as a wake-up call.
As Jesus said:
37 And what I say to you, I say to all: Watch! (Mark 13:36-37)
The time is coming when the USA will have severe food shortages–more than the current food inflation. And at that same time, the USA may have to provide grain to China and other creditors that it owes when some Americans will be starving.
Physical Preparation Scriptures for Christians. We all know the Bible prophecies famines. Should we do something?
Anglo – America in Prophecy & the Lost Tribes of Israel Are the Americans, Canadians, English, Scottish, Welsh, Australians, Anglo (non-Dutch) Southern Africans, and New Zealanders descendants of Joseph? Where are the lost ten-tribes of Israel? Who are the lost tribes of Israel? What will happen to Jerusalem and the Jews in Israel? Will God punish the U.S.A., Canada, United Kingdom, and other Anglo nations? Why might God allow them to be punished first?
Will the Anglo-Nations be Divided and Have People Taken as Slaves? Will the lands of the United States, United Kingdom, Canada, Australia, and New Zealand be divided? What about Jerusalem? What does Bible prophecy teach? Are there non-biblical prophecies that support this idea? Who will divide those lands? Who will end up with the lands and the people?
Canada in Prophecy: What Does Bible Prophecy, Catholic Prophecy, and other Predictions Suggest About the Future of Canada? There are prophecies that suggest involvement with Canada. And many are not positive about its future.
Who is the King of the West? Why is there no End-Time King of the West in Bible Prophecy? Is the United States the King of the West?
Mexico, Central America, South America, Brazil, and the Caribbean in Prophecy [Español: México, America Central, Suramérica, y el Brasil en profecíal] [Português: México, América Central, Ámérica do Sul, e Brasil na profecia] What will happen to those of Latin America? Will they have prosperity? Will they cooperate with Europe? Will they suffer in the future? What role might the various Caribbean nations/territories play?
When Will the Great Tribulation Begin? 2012, 2013, or 2014? Can the Great Tribulation begin today? What happens before the Great Tribulation in the "beginning of sorrows"? What happens in the Great Tribulation and the Day of the Lord? Is this the time of the Gentiles? When is the earliest that the Great Tribulation can begin? What is the Day of the Lord? Who are the 144,000?
End of Mayan Calendar 2012–Might 2012 Mean Something? Are there Mayan calendar predictions for change in 2012? Changes were centuries ago predicted by the Hopi Native Americans. Do Mayan/Hindu/Hopi/Buddhist/New Age/Nostradamus prophecies have any value here? Why might Satan have inspired this date? Does the Dresden codex show destruction of the earth by flood? Can the great tribulation start before 2012? How might Barack Obama be involved in 2012?