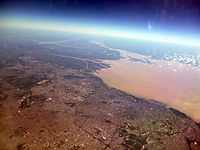 Normal Ariel View of Buenos Aires and Rio de la Plata
Argentina has been hit by deadly flooding:
April 3, 2013

(CNN) — Heavy rains in Argentina have claimed at least 35 lives in the city of La Plata, outside Buenos Aires, officials said Wednesday.

"In 12 hours it has rained what it normally rains in the entire month of April," Santiago Martorelli, cabinet chief of the city, told the state-run Telam news agency. The rainfall in that period was 13 inches, he said.

"This storm is a catastrophe without precedent," Martorelli said.  http://www.cnn.com/2013/04/03/world/americas/argentina-storm-deaths/index.html

April 3, 2013

Dozens of people have died in the province of Buenos Aires in Argentina after heavy rains caused flash floods.

One of the heaviest storms recorded moved through the province hitting both the capital, Buenos Aires, and the city of La Plata.

In La Plata, between 300mm (12in) and 400mm of rain fell in a few hours,

At least 35 people were killed there, said provincial governor Daniel Scioli, adding that the city "has never seen anything equal" to it.

Mr Scioli said city authorities had been discovering the bodies as the flood waters slowly receded.

At least another six people had died in the city of Buenos Aires on Tuesday.

About 280,000 people remain without power in Buenos Aires province, according to figures given by National Planning Minister Julio de Vido.  http://www.bbc.co.uk/news/world-latin-america-22016255
My prayers go out for those in Argentina.
I have reported about weather issues in various areas in the past year or so ( including flooding, drought, and heat have affected other areas as well (see, for example, New Zealand having worse drought in 30 years while it tries to legalize 'same-sex' marriage. What did Amos write?, 2013: Return to the 'dust bowl'?, 2012: The year of extreme weather, Flooding in North Korea, Philippines, Taiwan, and China, Drought USA and Flooding UK; Russia Having Both, Quarter Million Affected by Flooding in Japan, Severely Cold Weather in South Africa and Australia, Drought in Mid-USA Affecting Grain, 2012 Drought Declared USA's Largest Ever Natural Disaster, Drought Affecting India and Its Food Supply; Europe too, Drought Reducing Wheat Yields in US, Australia, Russia, and Ukraine, Weather Extremes in Australia, Canada, New Zealand, and the UK, Drought Still an Issue for Wheat & Mississippi, Typhoon Bopha Kills Hundreds in Philippines, Global Food Supplies Near 40 Year Lows, While Food Prices May Rise in China, Majority of US Farmland Still in Drought, and Drought affecting food prices; Corn production again smaller).
Argentina is a major food producer, and it is possible that this (or other storms) could have some impact on some of its food production.
The Bible is tells of a time that there will be food shortages and much more serious food inflation:
5 When He opened the third seal, I heard the third living creature say, "Come and see." So I looked, and behold, a black horse, and he who sat on it had a pair of scales in his hand. 6 And I heard a voice in the midst of the four living creatures saying, "A quart of wheat for a denarius, and three quarts of barley for a denarius; and do not harm the oil and the wine." (Revelation 6:5-6)
The sorrows and troubles are just beginning and will get much worse. Hopefully, people will wake up.
As Jesus said:
7 For nation will rise against nation, and kingdom against kingdom. And there will be famines, pestilences, and earthquakes in various places. 8 All these are the beginning of sorrows. (Matthew 24:7-8)

37 And what I say to you, I say to all: Watch! (Mark 13:36-37)
Tougher times are coming. And for some parts of the world these tougher time may be here now. People who can prepare, should: both spiritually and physically. Westerners need to realize that this will not only affect people in places like Africa, Asia, Latin America, and the Middle East–the Anglo-descended nations of the West will themselves suffer hunger, civil unrest, famine, and worse. Super wheat will not be the solution–it is much more likely to contribute to a disaster.
Some articles of possibly related interest may include:
Weather Blessings and Sorrows Are weather problems a warning? What should be done?
Can the Great Tribulation Begin in 2013 or 2014? Can the Great Tribulation begin today? What is the "beginning of sorrows"? When is the earliest that the Great Tribulation can begin? What is the Day of the Lord?
Physical Preparation Scriptures for Christians. We all know the Bible prophecies famines. Should we do something?
Mexico, Central America, South America, Brazil, and the Caribbean in Prophecy [Español: México, America Central, Suramérica, y el Brasil en profecíal] [Português: México, América Central, Ámérica do Sul, e Brasil na profecia] What will happen to those of Latin America? Will they have prosperity? Will they cooperate with Europe? Will they suffer in the future? What role might the various Caribbean nations/territories play?