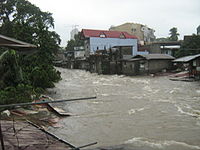 Aftermath of Typhoon Ketsana in Manila, 2009

There has been more flooding in the Philippines:
'Like a water world': Torrential rains submerge half of Philippine capital

Rains return to flooded Manila

Aug 9, 2012

The rains, after a brief respite, returned with vengeance to savage the Philippine capital of Manila, causing more deadly flooding and other destruction.

As of Thursday, flooding, landslides and related incidents blamed on torrential rains of several days had killed at least 19 people in the densely populated capital area and elsewhere and affecting about 2 million of its residents, CNN reported quoting disaster officials…http://www.upi.com/Top_News/World-News/2012/08/09/Rains-return-to-flooded-Manila/UPI-67241344492317/
Weather-related problems can greatly disrupt many lives, and as the above shows, even loss of lives.
Jesus foretold on a time of natural disasters as "the beginning of sorrows" (Matthew 24:7-8)–and the sorrows seem to have begun (see also yesterday's post Earthquakes, South African Snow, Heat Record, Drought, and Food Prices).  Yet the Book of Revelation (16:8-11) tells of a time of even greater disturbances during "the Day of the Lord."
The affected areas are in my prayers.

Now, ultimately of course, there is good news as ultimately, God's kingdom will come and those issues will be gone (Revelation 7:16).
Some articles of possibly related interest may include:
The Gospel of the Kingdom of God was the Emphasis of Jesus and the Early Church Did you know that? Do you even know what the gospel of the kingdom is all about? True religion should be based upon the true gospel.
Islands and Bible Prophecy What's ahead for islands? What does the Bible prophesy about them?
Asia in Prophecy What is Ahead for Asia? Who are the "Kings of the East"? What will happen to nearly all the Chinese, Russians, Indians, Japanese, and others of Asia? Who has the 200,000,000 man army related to Armageddon?
Does God Have a 6,000 Year Plan? What Year Does the 6,000 Years End? Was a 6000 year time allowed for humans to rule followed by a literal thousand year reign of Christ on Earth taught by the early Christians? When does the six thousand years of human rule end?
Can the Great Tribulation Begin in 2011, 2012, or 2013? Can the Great Tribulation begin today? What happens before in the "beginning of sorrows"? What happens in the Great Tribulation and the Day of the Lord? When is the earliest that the Great Tribulation can begin? What is the Day of the Lord?