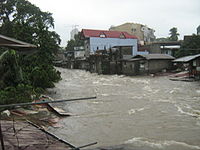 Aftermath of Typhoon Ketsana in Manila, 2009

Typhoon Bopha has killed hundreds in the Philippines:
December 5, 2012
MANILA — Rescue teams were trying to reach isolated villages in the southern Philippines on Wednesday after a powerful out-of-season typhoon tore through the region, leaving more than 270 people dead, officials said.
Typhoon Bopha packed winds of up to 100 miles per hour when it struck Tuesday, bringing torrential rains that flattened entire villages, leaving thousands homeless, as well as washing out roads and bridges needed by rescue personnel trying to reach stricken regions.

A national disaster official, Benito Ramos, said at a news conference Wednesday afternoon that 274 deaths had been confirmed, with 339 people known to be injured and 279 missing.  http://www.nytimes.com/2012/12/06/world/asia/typhoon-said-to-have-killed-hundreds-in-philippines.html?_r=0
Weather-related problems can greatly disrupt many lives, and as the above shows, even loss of many lives.
Spiritually speaking, killer storms and odd weather problems should serve as a wake-up call. Weather-related troubles with their related social and food issues, of course, have been biblically expected:
7…And there will be famines, pestilences, and earthquakes in various places. 8 All these are the beginning of sorrows. (Matthew 24:7-8).

5 When He opened the third seal, I heard the third living creature say, "Come and see." So I looked, and behold, a black horse, and he who sat on it had a pair of scales in his hand. 6 And I heard a voice in the midst of the four living creatures saying, "A quart of wheat for a denarius, and three quarts of barley for a denarius; and do not harm the oil and the wine." (Revelation 6:5-6)

8 For nation will rise against nation, and kingdom against kingdom. And there will be earthquakes in various places, and there will be famines and troubles. These are the beginnings of sorrows. (Mark 13:8)
As the above shows, Jesus foretold on a time of natural disasters and "troubles" as "the beginning of sorrows" (Matthew 24:7-8)–and the sorrows seem to have begun.  Yet the Book of Revelation (16:8-11) tells of a time of even greater disturbances during "the Day of the Lord."
The affected areas are in my prayers.

Now, ultimately of course, there is good news as ultimately, God's kingdom will come and those issues will be gone (Revelation 7:16).
Some articles of possibly related interest may include:
The Gospel of the Kingdom of God was the Emphasis of Jesus and the Early Church Did you know that? Do you even know what the gospel of the kingdom is all about? True religion should be based upon the true gospel.
Islands and Bible Prophecy What's ahead for islands? What does the Bible prophesy about them?
Asia in Prophecy What is Ahead for Asia? Who are the "Kings of the East"? What will happen to nearly all the Chinese, Russians, Indians, Japanese, and others of Asia? Who has the 200,000,000 man army related to Armageddon?
Does God Have a 6,000 Year Plan? What Year Does the 6,000 Years End? Was a 6000 year time allowed for humans to rule followed by a literal thousand year reign of Christ on Earth taught by the early Christians? When does the six thousand years of human rule end?
Can the Great Tribulation Begin in 2011, 2012, or 2013? Can the Great Tribulation begin today? What happens before in the "beginning of sorrows"? What happens in the Great Tribulation and the Day of the Lord? When is the earliest that the Great Tribulation can begin? What is the Day of the Lord?