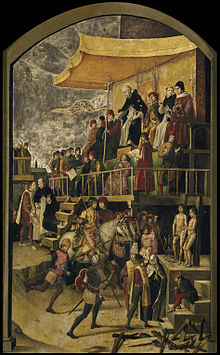 Artist depiction of Catholic saint Dominic presiding over burning two at the stake

For its latest sermon, the ContinuingCoG uploaded the following video:
1:04:55
Jesus foretold persecution. Many are aware of some of the early persecutions, but few understand what teachings true Christians were persecuted for in the fourth century and beyond–some may seem shocking. At least two major persecutions are prophesied to come. Which doctrines are expected to be causes for the coming persecutions? Are the Greco-Roman churches planning on persecuting Sabbath-keepers, those who do not accept a non-biblical Mary, and those who do not wear crosses?
While many seem to not wish to pay attention to this subject, the reality is that persecution has existed throughout history against those with Church of God doctrines.  Jesus predicted that as well as more persecution to come.  Some may be shocked by certain doctrines that Christians have been persecuted for (and often by those who profess to be Christian).
Those in the true Church of God have always been the side being persecuted and has never been on the side of the persecutors.  And this will be true again in the future.