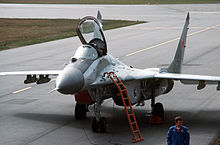 MiG Jet
Turkey responded to Syrian jets with warnings, and then force today:
March 23, 2014

(Reuters) – Turkish armed forces shot down a Syrian plane on Sunday which Turkey said had crossed into its air space in an area where Syrian rebels have been battling President Bashar al-Assad's forces for control of a border crossing.

"A Syrian plane violated our airspace," Prime Minister Tayyip Erdogan told an election rally in northwest Turkey. "Our F-16s took off and hit this plane. Why? Because if you violate my airspace, our slap after this will be hard."

Syria condemned what it called a "blatant aggression" and said the jet was pursuing rebel fighters inside Syria. It said the pilot had managed to eject before the plane crashed.

The Turkish general staff said one of its control centers detected two Syrian MIG-23s around 1 pm (1100 GMT) and warned them four times after they came close to the Turkish border.

One plane entered Turkish airspace at Yayladagi, east of the Kasab border crossing, it said. A Turkish F-16 fired a rocket at the Syrian jet and it crashed around 1,200 meters (1,300 yards) inside Syrian territory. http://www.reuters.com/article/2014/03/23/us-syria-crisis-airplane-idUSBREA2M09X20140323

Turkey said its fighter jets shot down a Syrian jet on March 23 after it crossed into Turkish airspace and warned the Syrian regime of a "heavy response" if its airspace was violated again, in a fresh incident that could potentially escalate tension on the already unstable Turkish-Syrian border.

The announcement of the downing of the Syrian fighter jet came from Prime Minister Recep Tayyip Erdoğan during a pre-election rally in Kocaeli.

"They [Syrian jets] violated our borders, our airspace. Our F-16s took off and downed a plane," Erdoğan told thousands of voters gathered to watch him speak. "Our response will be heavy if our airspace is violated. I congratulate our armed forces, our honorable pilots and particularly our chief of general staff."…

Syria blames Turkey

Syria denied that its jet had violated Turkish airspace and accused Turkey of "flagrant aggression." "In a flagrant act of aggression that is evidence of Erdoğan's support for terrorist groups, Turkish anti-aircraft defenses shot down a Syrian military aircraft that was chasing terrorist groups inside Syrian territory at Kasab," a Syrian military source said, according to Agence France-Presse.

The region where the incident took place has been witnessing serious clashes between the Syrian regime and the Free Syrian Army.  http://www.hurriyetdailynews.com/syrian-regime-plane-shoot-down-regime-plane-at-syria-turkey-border-crossing.aspx?pageID=238&nID=63965&NewsCatID=352
The problems in Syria continue, and Syria has been in my regular prayers.  The time will come when Syria's capital of Damascus will be destroyed (Isaiah 17:1).  The Syrian regime will eventually have to change as Syria will be one of the powers to support the coming King of the South of biblical prophecy (Daniel 11:40).
Turkey itself has had problems, recently, including governmental ones (so much so that it Prime Minister Tayyip Erdogan tried to ban Twitter, while many Turks used a work-around to voice opposition to him anyway).
It is likely that politically-speaking, shooting down the Syrian jet will help Prime Minister Tayyip Erdogan in Turkey.
Some items of possibly related interest may include:
What Should You Know About Turkey in Prophecy Do you know the Turkish people descended from? Did the Ottoman Empire possibly fulfill a promise in Genesis? Will Turkey support the European King of the North or Arabic King of the South? Will it betray one of them? Will Turkey be involved in the encouraging the destruction of Israel? Is Turkey going to become Catholic? Is Turkey mentioned in Psalm 83, Daniel 11, and elsewhere in the Bible? This video provides answers.
Damascus and Syria in Prophecy Will Bashar Assad hold power as he has it? Does the Bible show that Damascus, the capital of Syria, will be destroyed? What will happen to Syria? Will the Syrians support the final King of the South that the Bible tells will rise up? Which scriptures discuss the rise and fall of an Arabic confederation? Does Islamic prophecy predict the destruction of Syria. This is a YouTube video.
Is the Future King of the South Rising Up? Some no longer believe there needs to be a future King of the South. Might Egypt, Islam, Iran, Arabs, or Ethiopia be involved? Might this King be called the Mahdi or Caliph? What does the Bible say? A YouTube video of related interest may be: The Future King of the South is Rising.
The Muslim Brotherhood and the Rise of the King of the South The Bible tells of the formation of a power of nations that are in the Middle East and North Africa that are part of the final "King of the South" (Daniel 11:40-43) The Muslim Brotherhood wishes to have an Islamic empire with basically the same nations. This YouTube video explains what to expect from such a confederation.
The Arab and Islamic World In the Bible, History, and Prophecy The Bible discusses the origins of the Arab world and discusses the Middle East in prophecy. What is ahead for the Middle East and those who follow Islam? What about the Imam Mahdi? What lies ahead for Turkey, Iran, and the other non-Arabic Muslims? An item of possibly related interest in the Spanish language would be: Líderes iraníes condenan la hipocresía de Occidente y declaran que ahora es tiempo para prepararse para el Armagedón, la guerra, y el Imán Mahdi.