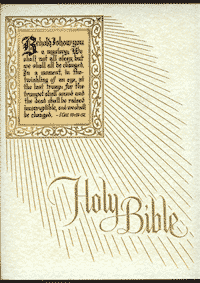 VS.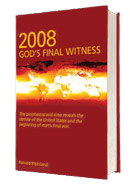 CGPFK/CGPKG's Ronald Weinland, the once again recently proven false prophet made another false prophetic post (6/15/12):
Yes, the "Day of the Lord" is a year in actual length. May 27, 2012, was the beginning of the "Day of the Lord" when Jesus Christ will return on the final day of Pentecost 2013…
As it has already been made clear in sermons, the work of fulfilling a role as God's two witnesses ended on May 26, once the prophesied 1260 days was complete. However, their witness continues on into the "Day of the Lord." These two continue on as prophets and an apostle doing the work that God has given them to accomplish in this final period. 
While he is correct that the final "Day of the Lord" is one year in length, Jesus will not return on Pentecost in 2013.  This is now Ronald Weinland's third wrong date for Jesus' return (he originally claimed September 29, 2011, and changed it to May 27, 2012).  Jesus will not be returning at sunset May 18, 2013 Jerusalem time either (the time he would tend to indicate that Pentecost will begin in 2013 based upon what he wrote about Pentecost 2012).  Ron Weinland's comments about the work of the two witnesses is false and essentially makes no biblical or logical sense.
Ron Weinland was convicted of five counts of tax fraud earlier this week (see CGPFKG's Ron Weinland Found Guilty of Income Tax Evasion).  And here are some comments purportedly from one or more of the jurors that convicted him:
I was on the jury. This clown is a predator. The judge will give him the max (5yrs.) in my guess…The money completeley paid for any and all lifestyles for Laura, Ron, Jeremy and his wife, Audra and her husband, Darymple's, and others. Out of the 90% of $4.5 million, the Weinlands alone, spent at least 80% of that money. We are talking Lasik eye surgery, Insight cable bills, utility bills, car insurance, global & domestic shopping sprees for clothing, art, & jewelry, homes, on and on….basically everything and then some. In a nutshell these scumbags paid any and all exspenses down to groceries and morning coffee out of these church donations! The so called "church money" equals Ron and families money.

————-

All of the church expenses, from book related costs, to the airfare, lodging and meals during the constant travels, all of these were placed on one of the Weinland's many personal credit cards, each with a $50,000 credit limit. The reason they used only personal credit cards was that a "church" couldn't get the kind of credit they needed on a monthly basis to keep up their lifestyle. These cards were not just used for legitimate church expenses, but also for their everyday personal expenses, lavish shopping trips, jewelry, art purchases, expensive meals out on the town around northern Kentucky, and all of Mr Weinland's frequent trips to Las Vegas. Did you know that he spent a lot of time in Vegas? From what I heard, PKG doesn't have a congregation there.
Mike from the Don't Drink the Flavor Aid site (and the one who compiled a lot of Weinland tax information) himself wrote:
Weinland and his family essentially used God's money (PKG church funds) as their own personal piggy bank, with extravagant expenses such as artwork, travel, buying the 3 BMWs, one of them bought in Germany and shipped to the US and another bought in the US and shipped to Germany.  (Yes, you read that correctly, and I wrote that correctly.)
In many ways, Ronald Weinland has been a false prophet and a disappointment.  There is a high likelihood that he will be in jail in 2013.
Ron Weinland is one who has at least partially fulfilled the following:
1 But there were also false prophets among the people, even as there will be false teachers among you, who will secretly bring in destructive heresies, even denying the Lord who bought them, and bring on themselves swift destruction. 2 And many will follow their destructive ways, because of whom the way of truth will be blasphemed. 3 By covetousness they will exploit you with deceptive words; for a long time their judgment has not been idle, and their destruction does not slumber. (2 Peter 2:1-3).
Ron Weinland who denied the true deity of Jesus Christ, claimed that Jesus would return at sunset Jerusalem time on May 26, 2012, and whose conviction seems to be part of "swift destruction," should have paid more attention to scripture.
For those unfamiliar with him, Ronald Weinland was a former WCG then UCG minister who falsely claimed to be one of the two witnesses, Elijah, etc. He was again proven wrong last month when Jesus did not return as he has claimed He would.  And he will be proven wrong again when Jesus does not return on Pentecost in 2013.
The main point of COGwriter posts about him is to warn all not to let false prophets and false apostles like Ron Weinland turn people away from the God of the Bible.   Jesus will not return in 2013.
Some articles of possible interest related to prophecy may include:
Concerns About Ronald Weinland's Church of God-Preparing for the Kingdom of God Ronald Weinland falsely claims to be one of the two witnesses God is raising up, that the Great Tribulation began on December 14, 2008, and that Jesus will return on May 27, 2012. Why does the Bible show that Ron Weinland is a false prophet? Why do Ronald Weinland's own statements prove that he is a false prophet? Additionally, he has other views which show he is not truly part of the Church of God?
Who Are The Two Witnesses? What is their job? What does the Bible reveal? What has the Church of God taught on this subject? Might even Roman Catholic prophecies give some clues here?
Did The Early Church Teach Millenarianism? Was the millennium (sometimes called chiliasm) taught by early Christians? Who condemned it? Will Jesus literally reign for 1000 years on the earth? Is this time near?
Does God Have a 6,000 Year Plan? What Year Does the 6,000 Years End? Was a 6000 year time allowed for humans to rule followed by a literal thousand year reign of Christ on Earth taught by the early Christians? Does God have 7,000 year plan? What year may the six thousand years of human rule end? When will Jesus return? 2019 or 202x?
When Will the Great Tribulation Begin? 2012, 2013, or 2014? Can the Great Tribulation begin today? What happens before the Great Tribulation in the "beginning of sorrows"? What happens in the Great Tribulation and the Day of the Lord? Is this the time of the Gentiles? When is the earliest that the Great Tribulation can begin? What is the Day of the Lord? Who are the 144,000?
Why Be Concerned About False and Heretical Leaders? There have been many false leaders–here is some of why you should be concerned about them.