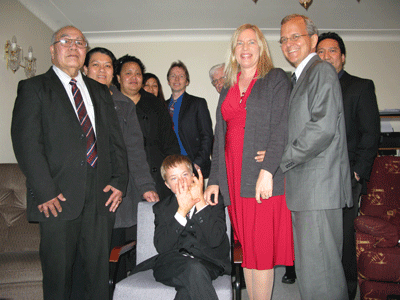 People Fasting in New Zealand
Next week, from sunset the 22nd through sunset the 23rd, is the Day of Atonement–a day CCOG members who can, fast.
Notice a study that shows health benefits in fasting:
Fasting twice a year rebuilds Immune System

A New Study Has Suggested That Fasting Could Help The Body To Fight Off Disease By Regenerating The Immune System. The Study Added That Fasting For Two Days Can Regenerate The Immune System.

For the study, the effects of fasting for two to four day periods for six months on both mice and humans were tested by the researchers. In both cases, it was found that long periods of not eating significantly lowered white blood cell counts.

And in mice, each cycle of fasting then 'flipped a regenerative switch' that led to the regeneration of new white blood cells, which in turn renews the defence system of the body.

Valter Longo, Professor of Gerontology and the Biological Sciences at the University of Southern California, said: "It gives the OK for stem cells to go ahead and begin proliferating and rebuild the entire system. And the good news is that the body got rid of the parts of the system that might be damaged or old, the inefficient parts, during the fasting."

He added that a system heavily damaged by chemotherapy or aging, fasting cycles can generate, literally, a new immune system.

The study also revealed that levels of the enzyme PKA, reduces as a result of fasting. This increases longevity in simple organisms, as well as levels of the hormone IGF-1, which has been linked to ageing, tumour progression and cancer risk. http://www.delhidailynews.com/news/Fasting-regenerates-immune-system-1402181003/
Fasting is a health booster for many and also seems to increase longevity. More information on the health benefits of fasting is in the article The Day of Atonement–Its Christian Significance.
Of course, those who risk death or major health problems should not fast. But for others, it can be a healthy thing to do from a physical, as well as spiritual, perspective.
The Bible shows that Jesus fasted. The Bible also shows that Jesus endorsed fasting for His followers:
16 "Moreover, when you fast, do not be like the hypocrites, with a sad countenance. For they disfigure their faces that they may appear to men to be fasting. Assuredly, I say to you, they have their reward. 17 But you, when you fast, anoint your head and wash your face, 18 so that you do not appear to men to be fasting, but to your Father who is in the secret place; and your Father who sees in secret will reward you openly. (Matthew 6:16-18)

"Can the friends of the bridegroom mourn as long as the bridegroom is with them? But the days will come when the bridegroom will be taken away from them, and then they will fast…" (Matthew 9:15)
The Gospel writer Luke mentions the Fast also known as the Day of Atonement in Acts 27:9. History shows that professors of Christ fasted on Atonement. Despite what the Bible teaches, some were condemned for fasting on the Day of Atonement by Greco-Roman leaders such as John Chrysostom for doing so.
Those the Continuing Church of God tend to fast annually on the Day of Atonement as well as periodically throughout the year.
Several items of possibly related interest include:
Importance of Fasting  An old article by Herbert W. Armstrong on this subject. Here is a link to it in Mandarin Chinese 禁食的重要性.
The Day of Atonement–Its Christian Significance The Jews call it Yom Kippur, Christians "The Day of Atonement." Does it have any relevance for Christians today? What is the Jubilee? Is fasting healthy? Here is a link to a sermon: Day of Atonement: How Jesus fulfilled His part for the Atonement. Here is a link to a related article in the Spanish language: El Día de Expiación –Su significado cristiano.
The Atonement Plan How does the Day of Atonement tie into God's plan of salvation? A sermon of related interest is titled God's Atonement Plan.
Does God Heal Today? This historical article is by Herbert Armstrong and provides his views on healing circa 1952, which he seemed to later modify, at least to some degree.
Living as a Christian: How and Why? In what ways do Christians live differently than others. What about praying, fasting, tithing, holy days, and the world? There is also a YouTube video related to that also called: Living as a Christian: How and Why?
Is Smoking a Sin? What does the Bible teach? What have COG leaders written? Can smokers change?
Binge Alcohol Drinking and the Bible Many college students and others overindulge in alcohol. Are there health risks? What does the Bible teach?
Obesity, processed foods, health risks, and the Bible Does the Bible warn about the consequences of being obese? Is overeating dangerous? Is gluttony condemned? What diseases are associated with eating too much refined foods? A related video would be Eating Right, Eating Too Much, and Prophecy.
Ten Simple Rules that Lead to Health Herbert Armstrong gives his opinions on this.
The Bible, Christians, and the Environment How should Christians view the environment? Does the Bible give any clues? What are some of the effects of air, water, and land pollution? Is environmental pollution a factor in autism and death? Do pollutants seem to double the autism risk? What will Jesus do? A YouTube video is available titled Air Pollution, Autism, and Prophecy.
UK Study Supports Daniel Diet Daniel and his companions looked better eating more vegetables and avoiding strange meats. Has modern science confirmed this?
Continuing Church of God The group striving to be most faithful amongst all real Christian groups to the word of God.