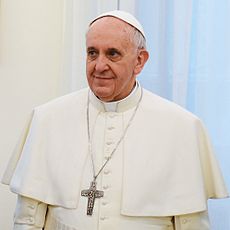 Pope Francis (Source: presidencia.gov.ar)
Several weeks ago, Pope Francis called for a fast on the vigil of Mary's "birthday" to try to ask her to intervene in Syria. He also read some passages by the Catholic saint Thérèse of Lisieux.  VReportedly, he considers that this dead 'saint' responded the next day:
On Sunday 8 September, the day after the long prayer vigil for peace in Syria – when some passages from texts written by Saint Thérèse of Lisieux were read out – Pope Francis received a white rose as a surprise. Francis considers the flower to be a "sign" linked to the devotion of the saint. The Archbishop of Ancona and Osimo, Edoardo Menichelli broke the news, with Francis authorisation…

"The Pope told me he received the freshly-picked white rose out of the blue from a gardener as he was taking a stroll in the Vatican Gardens on Sunday 8 September," Mgr. Menichelli said. "The Pope sees this flower as a "sign", a "message" from Saint Thérèse of Lisieux, whom he had turned to in a moment of worry the day before."…

Bergoglio mentions it in "El Jesuita" ("The Jesuit"), a book interview written by Sergio Rubin and Francesca Ambrogetti when he was still a cardinal. In a description the two journalists give of Bergoglio's library in Buenos Aires, they write: "We pause before a vase full of white roses standing on a shelf in the library. In front of it is a photograph of Saint Thérèse. "Whenever I have a problem," Bergoglio explained to the journalists, "I ask the saint not to solve it, but to take it into her hands and to help me accept it and I almost always receive a white rose as a sign." Pope Francis' devotion for the Carmelite mystic who died at the young age of 24 in 1897, was canonized by Pius XI  and proclaimed a Doctor of the Church by John Paul II in 1997, is common knowledge.  http://vaticaninsider.lastampa.it/en/the-vatican/detail/articolo/28151/
We are increasingly learning about supposedly 'signs' associated with Pope Francis.  This should give pause to those those in the real Church of God:
24 For false christs and false prophets will rise and show great signs and wonders to deceive, if possible, even the elect.  25 See, I have told you beforehand. (Matthew 24:24-25; cf. 2 Thessalonians 2:9-12).
Pope Francis is a big promoter of Mary as well as the apparition in Fatima. He consecrated his pontificate to 'Mary and even further had his pontificate consecrated to the Lady of Fatima (Pope Francis' pontificate consecrated to 'Lady of Fatima').
Thérèse of Lisieux is popularly known as "The Little Flower of Jesus" or "The Little Flower."  She was declared a Catholic saint in 1925 and 'doctor of the church' in 1997.  She claimed to be healed of an illness after gazing a statute that was supposed to be 'Mary.'  She reported on 13 May 1883 that she had seen the Virgin smile at her (Wikipedia).  I have reported about her in the past (see The Catholic Therese of Lisieux) and her remains have been viewed by millions.
The 'Marian' connection between Thérèse of Lisieux and Pope Francis is of interest.  Pope Francis remains a 'person of interest' as far as either being the final Antichrist who will end up betraying the Church of Rome or at least setting the stage for the one who will be.
Some items of related interest may include: