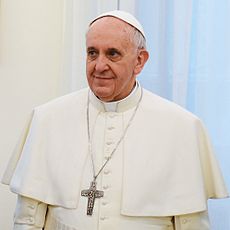 Pope Francis (Source: presidencia.gov.ar)
Russia's President Putin and Pope Francis both kissed a Marian image today:
November 25, 2013

VATICAN CITY — Russian President Vladimir Putin showed off his religious side during a visit Monday to the Vatican, stopping to cross himself and kiss an icon of the Madonna that he gave to Pope Francis…

Francis gave Putin a ceramic mosaic of the Vatican gardens, and Putin presented Francis with an image of the icon of the Madonna of Vladimir, an important religious icon for the Russian Orthodox faithful.

After they exchanged the gifts, Putin asked Francis if he liked the icon, and Francis said he did. Putin then crossed himself and kissed the image, and Francis followed suit.

The Argentine pope is particularly devoted to Marian icons.  http://www.miamiherald.com/2013/11/25/3778477/putin-shows-faith-kisses-madonna.html#storylink=cpy
Pope Francis is a big promoter of Mary as well as the apparition in Fatima. He nearly immediately entrusted his pontificate to 'Mary' (see Pope Francis entrusts pontificate to 'Mary' and Cardinal hopes for Islamic cooperation), further had his pontificate consecrated to the Lady of Fatima (see Pope Francis' pontificate consecrated to 'Lady of Fatima'), and then last month consecrated the world to his version of her 'immaculate heart' (see Francis consecrated world to the 'immaculate heart' of an alleged 'Fatima' statue).
Pope Francis is pushing a Marian agenda.
Vladimir Putin has tended to push a Russian Orthodox agenda that aligns with his political agenda.  He also sometimes publicly takes what would be considered moral stands. He, for example, signed a law, which in particular bans advertising abortions (http://rbth.ru/news/2013/11/25/putin_signs_law_banning_advertising_abortions_32015.html).
Increased cooperation between the Church of Rome and the Eastern Orthodox is expected.  This Marian veneration today is consistent with that.
Of course, early Christians neither venerated Mary nor kissed, or even had, images of her.  As Marian veneration gets more public attention, the time apparently will come when more in the general public will venerate the images themselves than we have seen.  Especially if one or more claimed Marian images becomes public.
Some items of related interest may include:
Mary, the Mother of Jesus and the Apparitions Do you know much about Mary? Are the apparitions real? What happened at Fatima? What might they mean for the rise of the ecumenical religion of Antichrist? Are Protestants moving towards Mary? How do the Eastern/Greek Orthodox view Mary? How might Mary view her adorers? Here is a link to a YouTube video Marian Apparitions May Fulfill Prophecy.
Pope Francis: Could this Marian Focused Pontiff be Fulfilling Prophecy? Pope Francis has taken many steps to turn people more towards his version of 'Mary.' Could this be consistent with biblical and Catholic prophecies? This article documents what has been happening. There is also a video version titled Pope Francis: Could this Marian Focused Pontiff be Fulfilling Prophecy?
Feast of the Immaculate Conception? Did early Christians teach Mary had an immaculate conception and led a sinless life?
Origin of the Marian Dogmas: Where Do Catholic Scholars Say The Four Dogmas of Mary Came From?
Assumption of Mary Did Mary die? Was she taken to heaven on August 15th? What is known? What does the Bible show?
What Did the Early Church Teach About Idols and Icons? What about the use of the cross, by the early Church?
Could Pope Francis be the Last Pope and Antichrist? According to some interpretations of the prophecies of the popes by the Catholic saint and Bishop Malachy, Pope Francis I is in the position of "Peter the Roman," the pontiff who reigns during tribulations until around the time of the destruction of Rome. Do biblical prophecies warn of someone that sounds like Peter the Roman? Could Francis I be the heretical antipope of Catholic private prophecies and the final Antichrist of Bible prophecy? This is a YouTube video.
The Malachy Prophecies and "Peter the Roman" An Irish bishop allegedly predicted something about 112 popes in the 12th century. Pope Benedict XVI was number 111. Francis would seem to be number 112–if he is that one–and if so, he is to reign until Rome is destroyed. May he be an antipope/final Antichrist?
Abortion, the Bible, and a Woman's Right to Choose Do you know what the Bible teaches on this? Has the Roman Catholic Church allowed abortions? What about the real Church of God? Some may also, or instead, wish to view the YouTube video Abortion, the Bible, and US Debt.
Russia: Its Origins and Prophesied Future Russia in prophecy. Where do the Russians come from? What about those in the Ukraine? What is prophesied for Russia and its allies? What will they do to the Europeans that supported the Beast in the end?
Is Russia the King of the North? Some claim it is. But what does the Bible teach? Here is a link to a video, also titled Is Russia the King of the North?
Which Is Faithful: The Roman Catholic Church or the Continuing Church of God? Do you know that both groups shared a lot of the earliest teachings? Do you know which church changed? Do you know which group is most faithful to the teachings of the apostolic church? Which group best represents true Christianity? This documented article answers those questions. [Português: Qual é fiel: A igreja católica romana ou a igreja do deus?]
Some Doctrines of Antichrist Are there any doctrines taught outside the Churches of God which can be considered as doctrines of antichrist? This article suggests at least three. It also provides information on 666 and the identity of "the false prophet." Plus it shows that several Catholic writers seem to warn about an ecumenical antipope that will support heresy. You can also watch a video titled What Does the Bible teach about the Antichrist?
Jesus: The Son of God and Saviour Who was Jesus? Why did He come to earth? What message did He bring? Is there evidence outside the Bible that He existed? Here is a YouTube sermon titled Jesus: Son of God and Saviour.