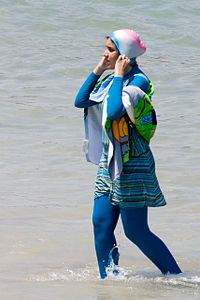 Woman in a burqini carrying a towel (Giorgio Montersino)
The following was reported by the German press:
7 August 2017

A Muslim woman was barred from using a swimming pool at a vacation home in southern France because she wore a burkini bathing suit, the Collective Against Islamophobia in France (CCIF) said on its website. …

The owner of the vacation home told the family that the pool needed to be drained and cleaned since the woman had used it. He then reportedly withheld the family's 490-euro ($577) deposit in order to pay for the cleaning fees. …

The CCIF dismissed the house owner's claims that the woman's suit was unhygienic, as burkinis are made from elastic synthetic fabrics used for wetsuits and other types of swimwear. Burkinis cover all areas of the body except for the face, hands and feet.

Controversy over the full-body swimsuit erupted in France last summer when several communities along the French Riviera banned burkinis on public beaches.

The bans were eventually struck down by France's highest administrative court, which said they constituted serious and illegal violations of fundamental freedoms. http://www.dw.com/en/woman-barred-from-french-vacation-home-pool-over-burkini/a-39984955
Women should be able to wear full body bathing suits when swimming, etc.
Notice something that the Apostle Paul wrote:
8 I desire therefore that the men pray everywhere, lifting up holy hands, without wrath and doubting; 9 in like manner also, that the women adorn themselves in modest apparel, with propriety and moderation, (1 Timothy 2:8-9)
The idea that women need to be almost totally naked to swim in a pool is wrong.
Promoting lust is wrong, promoting modesty is not.
Some items of related interest may include:
The Ten Commandments: The Decalogue, Christianity, and the Beast This is a free draft/unedited pdf book explaining the what the Ten Commandments are, where they came from, how early professors of Christ viewed them, and how various ones, including the Beast of Revelation, will oppose them. A related sermon is titled: The Ten Commandments and the Beast of Revelation.
Ashley Madison: Your Sins Will Find You Out The pro-adultery 'Ashely Madison' website was hacked and information released on many of its claimed 37 million registered members. Ashley Madison claimed that 'life is short, so have an affair' and that it was confidential. NBC offered tips for those whose identities are being released. What does the Bible teach about adultery or even seriously considering it? Is adultery wicked? The Bible warns that in the last times people will be inventors of evil things and whisperers like Ashley Madison promotes. Is adultery grounds for divorce? What did Jesus teach about this?  This is a video.
Pornography: A scourge on society Is pornography harmless fun? Does the Bible teach anything about it? What are the views of some involved with it? Here is a link to a YouTube video Pornography: Harmless Fun or a Scourge on Society?
Making Your Marriage Work Marriage is not also easy, but it pictures a divine relationship. How can you make your marriage work? Here is a link to the video sermon: You Can Make YOUR Marriage Work.
Here's the Plain Truth About OLD TESTAMENT POLYGAMY by Herbert Armstrong. Here is a related article in the Spanish language: ¿Es la poligamia una senda de Dios?
Love, Marriage, and Sex It is important to get them in the right order.
Husbands Love Your Wives An article written by the late Selmer Hegvold.