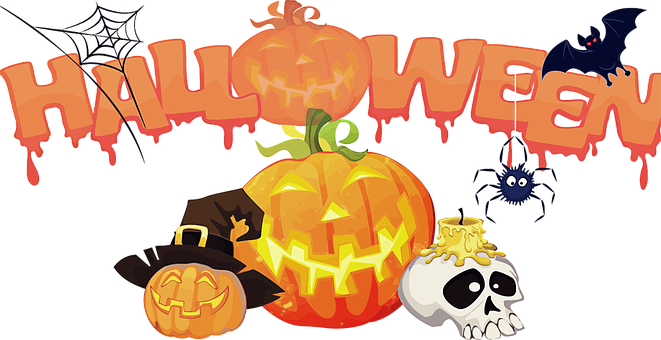 (Picture from Pixabay)
Many will be observing "Halloween" at the end of this month. Many consider that it is a holiday appropriate for "Christians."
One article at the mislabeled Christianity Today started out with the statement, "I love Halloween" (Mendenhall D. A Halloween Solution. Christianity Today, October 31, 2005. http://www.christianitytoday.com/ct/2005/novemberweb-only/13.0.html).
But the origins of today's Halloween are not biblical. Halloween is NOT a listed Holy Day in, for example, Leviticus 23.
Do Halloween and Christianity belong together?
Halloween is an old English word which means " hallowed evening." It is the night before the Roman Catholic holiday that they claim to have adopted from the Eastern Orthodox now called All Saints Day (which in Mexico is celebrated as "the Day of the Dead"). Part of the public Catholic rationale for All Saints Day is that they have so many saints they wish to honor that they decided to lump all those without a specific day into this one (watch All Hallowed Saints' Day of the Dead). While some Catholics support Halloween, others oppose it.
Origins
It is believed that Halloween contains many of the remnants of an autumn holiday celebrated by the Druids called Samhain (apparently pronounced "sah-van" though some say SAH win or SOW in–and apparently meaning "summers end"). There historically have been pagan figures with names that are similar to this. For example, there was a Celtic hero named Samain or Sawan who supposedly owned a magical cow. In other pagan religions, there was Samana ("the leveler") the name of an Aryan God of Death (a.k.a. Yama, Sradhadeva, Antaka, or Kritanta) according to the ancient Veda scriptures of Hinduism and Shamash was the Sun God of the Assyrians and Babylonians. Some of the ideas for modern costumes came via France.
Essentially, the timing of Halloween seems to be related to certain movements of the sun. Notice the following:
Halloween is date of astronomical interest. It has to do with seasons: Halloween is a cross-quarter date, approximately midway between an equinox and a solstice. There are four cross-quarter dates throughout the year, and each is a minor holiday: Groundhog Day (Feb. 2nd), May Day (May 1st), Lammas Day (Aug. 1st), and Halloween (Oct. 31st).

"Long ago, the Celts of the British Isles used cross-quarter days to mark the beginnings of seasons. Winter began with Halloween, or as they called it, Samhain," says John Mosley of the Griffith Observatory.

"Halloween marked the transition between summer and winter, light and dark — and life and death. On that one night, according to folklore, those who had died during the previous year returned for a final visit to their former homes. People set out food and lit fires to aid them on their journey — but remained on guard for mischief the spirits might do." (Spooky Astronomy. http://spaceweather.com/ present 10/31/07).
Notice that in Asia, versions of this day somewhat like the Celts and the pre-Hispanic Mexicans, are celebrated near the first of August:
Japan has its own Halloween-type celebration known as "O-bon," an old Buddhist holiday meant to honor ancestors. It takes place in mid-August or July. Graves are visited and cleaned, food offerings are made, lanterns are hung in front of houses to guide spirits, and a ritualized dance called "bon-odori" takes place to welcome them. On the last day of O-bon, to guide spirits on their journey, the Japanese partake in a ceremony called "Toro nagashi," in which paper lanterns are floated down a river.

O-bon originates from the Chinese Buddhist celebration of "Ullambana," which has the same notion that during this time, spirits are able to move among us.

The Ullambana Sutra, a traditionally Indian story, is the scripture that addresses this day, with the story of Mahamaudgalyayana, a disciple of Buddha, whose mother had been reborn into a lower realm. Though interpretations of the story vary, Buddha's instructions to his student mirror modern practices of the day, which is to offer food and pray for the souls of both living and dead relatives. People also would give donations to monks.

The current celebration in Taiwan and China of the Ghost Festival pays homage to this Buddhist holiday, but includes the practices of burning money, clothes and goods, which are believed to then make it to the spirit world in full, as well as the release of paper boats and lanterns into rivers (Meaning, sanctity of Halloween is lost in translation St. Cloud Times, MN – Oct 21, 2007 http://www.sctimes.com/apps/pbcs.dll/article?AID=/20071021/OPINION/110210041/1006/NEWS01).
Hence, the foundations of Halloween are not only Western, and certainly not of Christian origin.
Satan has successfully gotten many of his holidays endorsed by many cultures and religions of the world.
Druids and Bone Fires
Growing up I was familiar with bonfires, and simply thought that they were warm and provided light. But later I learned that their origins were related to Halloween.
Notice that:
The Druids, and order of priests in ancient Gaul and Britain, believed that on Halloween, ghosts, spirits, fairies, witches, and elves came out to harm people. They thought the cat was sacred and believed that cats had once been human beings but were changed for punishment for their evil deeds. From these Druid beliefs come the present-day use of witches, ghosts, and cats in Halloween festivities…The custom of using leaves, pumpkins, and corn stalks as Halloween decorations comes from the Druids. The early peoples of Europe also had a festival similar to the Druid holiday…In the 700s, the Roman Catholic Church named November 1 as All Saints' Day. The old pagan customs and the Christian feast day were combined into the Halloween festival [Halloween. World Book, vol 9. Chicago, 1966: 25-26].

The origins of Halloween specifically can be traced back to the ancient Celts (who lived in what is now known as Ireland, Scotland, Wales and Northern France) and their Druid priests. The end of October commemerated their festival of the waning year…Druids believed that during this season spirits walked, and evil held power over the souls of men. On October 31, their New Year's Eve, great bonfires were kindled, which were thought to simulate the sun to procure blessings for the entire succeeding year. The fires remained burning as a means to frighten away evil spirits. The Druids held these early Halloween celebrations in honor of Samhain, also known as Lord of the Dead, whose festival fell on November 1. There bonfires, or "bone fires", were also used in animal and human sacrifice–thus the name. The tradition of lighting a bonfire has continued to modern times (Coulter F.R. Occult Holiday–or–God's Holy Days–Which? York Publishing Company, Hollister (CA) 2006).

bonfire…late M.E. bone fire, i.e. a fire with bones for fuel (Webster's Encyclopedic Unabridged Dictionary of the English Language. Gramercy Books, New York. 1989, p. 168).
Growing up, no one I knew ever mentioned that bonfires originally were bone fires.
Jack-O-Lanterns
The origin of jack-o-lanterns is somewhat amusing.
The Irish have a story that a man named Jack died who was too much of a miser to be with God and was not allowed to be with the devil since he had played practical jokes on him. Since Jack had nowhere to go, he was to walk the earth carrying a lantern until Judgment Day. There are other ideas about this as well–but none come from the Bible.
The Bible
In Leviticus chapter 23, it lists
"The feasts of the LORD, which you shall proclaim to be holy convocations, these are My feasts" (vs.2).
All Saints' Day is not listed as one of them. All Saints' Day is not a biblically enjoined feast day for Christians (there is not any hint of it in the Bible; it may even be warned against in Deut 4:15-24). Actually the Bible warns against worshipping God the way the pagans, etc. did (Leviticus 18:3; Deuteronomy 12:31, Jeremiah 10:2-3).
The Bible repeatedly warns against the practices of witches (Exodus 22:18; Deuteronomy 18:10, Galatians 5:20) and dealing with ghosts/etc. (Deuteronomy 18:11, I Chronicles 10:13).
Some items of possibly related interest may include:
Is Halloween Holy Time for Christians? Here are some historical and biblical insight on this question. There are many cultures that have celebrations and observances that are similar to some associated with Halloween. What did the Druids do? Is Halloween one of the most important holidays for Satanists? Do the Japanese, Indians, and Chinese have any practices that are similar to some associated with Halloween? Does the Bible endorse or condemn practices that are associated with Halloween? Here are links to three related sermonette length videos: Debunking 17 reasons to celebrate Halloween, Halloween: Are there 7 reasons for Christians to celebrate it?, and International 'Halloween' Should Christians observe Halloween?
All Saints' Day, the Day of the Dead, and All Souls' Day When did "All Saints Day" and the "Day of the Dead" begin? "What about All Soul's Day"? Here is a link to a related sermon: All Hallowed Saints' Day of the Dead.
Do You Practice Mithraism? Many practices and doctrines that mainstream so-called Christian groups have are the same or similar to those of the sun-god Mithras. December 25th was celebrated as his birthday. Do you follow Mithraism combined with the Bible or original Christianity? A sermon video from Vatican City is titled Church of Rome, Mithras, and Isis?
Should You Observe God's Holy Days or Demonic Holidays? This is a free pdf booklet explaining what the Bible and history shows about God's Holy Days and popular holidays.
Is There "An Annual Worship Calendar" In the Bible? This paper provides a biblical and historical critique of several articles, including one by the Tkach WCG which states that this should be a local decision. What do the Holy Days mean?
Holy Day Calendar This is a listing of the biblical holy days through 2024, with their Roman calendar dates. They are really hard to observe if you do not know when they occur 🙂 In the Spanish/Español/Castellano language: Calendario de los Días Santos. In Mandarin Chinese: 何日是神的圣日? 这里是一份神的圣日日历从2013年至2024年。.