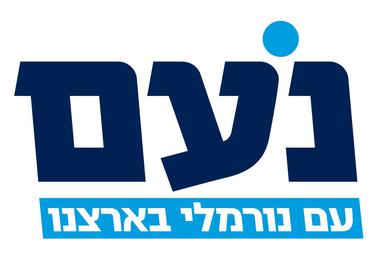 Noam party logo (Wikipedia)

Breaking Israel News reported the following:
New Political Party Formed to Fight Against Gay Agenda

Do not lie with a male as one lies with a woman; it is an abhorrence. Leviticus 18:22 (The Israel Bible™)

July 17, 2019

A new political party has been formed for Israel's upcoming September 17 elections for the 22nd Knesset. The party, Noam (pleasantness) was established among other things to combat the foreign-funded LGBT agenda that has crept its way into the Israeli educational system and is trying to shape the country's culture. Their slogan is: "A normal nation in our land".

The party's founders include Yigal Cnaan, a former fighter pilot, Ariel Shachar, a high-tech expert, Rabbi Itai Halevy, the Rabbi of the Migron Village and Rabbi Dror Aryeh.

As a response to the attempted secularization of the country by foreign-funded agencies, the party released a statement saying: "The majority of the nation of Israel wants their grandchildren to be Jewish. They want their sons to marry women and their daughters to marry men. The Noam party was formed to state the obvious – start acting in the interests of the majority of the nation of Israel."

They also released a video …, one can see a family heading to the polls only to be accosted by gay "rights" activists waving signs reading "children don't need mothers". Once they enter the polling station, they can be seen writing on their ballot ticket wishes. One reads "I hope that my son marries a woman".

Youtube removed their video saying that the content "violated Youtube's terms of service." https://www.breakingisraelnews.com/133549/new-political-party-formed-fight-against-gay-agenda/
Yes, one should hope that if a son gets married he marries a women. And yes, children are better off with a mother and a father.
Of course, it is not just YouTube that wants to censor freedom of religious speech. The LGBTQ agenda is being pushed by governments and other organizations around the world–basically with support from the predominant media in the West. Hence, even in Israel I suspect that the media will not back the anti-LGBTQ agenda of the Noam party.
Closer to home (I live in California), last month dozens of California lawmakers to a step to stifle religious speech against various aspects of sexual morality with ACR-99:
37 California Lawmakers Trying To Pass ACR-99 Which Would Make Preaching The Whole Counsel Of The Bible To LGBTQ+ People A Crime

California Assemblyman Evan Low and three dozen other lawmakers are pushing resolution ACR-99 in the state Assembly Judiciary Committee that's aimed at telling religious leaders in California what they should preach from their pulpits.

The attacks on Christianity in America are coming so fast and so often now that it's nearly impossible to keep up with all of it at the same time. But in a nutshell, the pendulum is swinging all the way from a nation being founded on Christianity and the Bible, to a nation rejecting and persecuting Christianity and the Bible. 06/19/19 https://www.nowtheendbegins.com/california-lawmakers-trying-to-pass-acr-99-make-preaching-bible-to-lgbtq-people-a-crime/

California Assemblyman Evan Low and three dozen other lawmakers are pushing a resolution in the state Assembly Judiciary Committee that's aimed at telling religious leaders in California what they should preach from their pulpits.

The California Family Council reports that Assembly Concurrent Resolution 99 (ACR 99) calls on "counselors, pastors, religious workers, educators" and institutions with "great moral influence" to stop perpetuating the idea that something is wrong with LGBT identities or sexual behavior. ACR 99 also condemns attempts to change unwanted same-sex attraction or gender confusion as "unethical," "harmful," and leading to high rates of suicide. …

A coalition of professional counselors, doctors, attorneys, and faith-based non-profits, have also signed onto a letter pointing out the resolution's inaccuracies and its threats to basic liberty. "People should have the freedom to pursue what brings them true happiness and joy. ACR 99 is trying to cut people off from their own pathway to happiness," writes the coalition.

The letter goes on to provide proof that traditional faiths are not the cause for high suicide rates among those identifying as LGBT. It points out, "Professional organizations agree that same-sex attraction and gender dysphoria are not simply biologically caused, they often change." And "contrary to misrepresentations, therapists who are open to a client's goal of change use non-aversive, well-established mainstream practices and evidence-based treatments for trauma and addictions used by professional therapists worldwide." 06/18/19 https://www1.cbn.com/cbnnews/us/2019/june/ca-lawmakers-trying-to-force-pastors-to-preach-pro-lgbt-sermons
The reality is that being 'gay' is an unhappy lifestyle. It is also against biblical teachings on morality.
That should be pointed out by religious leaders.
Of course, California legislators and YouTube are not alone in their censorship quest.
Places like Amazon have pulled some books off their platforms that teach that homosexuals can change:
In a very disturbing move, Amazon has removed the books of Dr. Joseph Nicolosi, the psychologist whom critics have dubbed "the father of conversion therapy." In other words, for claiming that sexual orientation is not innate and immutable, and for claiming that change is possible, Dr. Nicolosi's books must be banned.

This leads to the logical question: Will Amazon ban the Bible next? There is no hyperbole here.

After all, it is the Bible that condemns same-sex relationships and the Bible that speaks of those who once practiced homosexuality but do so no more (see 1 Corinthians 6:9-11). These people, today, would be known as "ex-gays." And it was Dr. Nicolosi's life work to help people with unwanted same-sex attractions.

Why, then, should Amazon ban his books but continue to sell the Bible, which provides the theological underpinnings for Dr. Nicolosi's scientific work?

After all, gay critics of the Bible refer to the so-called "clobber passages," referring to verses that have been used to speak against homosexual practice. If these verses, then, have brought such harm to the gay community, why shouldn't the book containing these verses be banned? 07/05/19 https://www.wnd.com/2019/07/will-amazon-ban-the-bible-next/#UEqAB2zsGpoJRA5C.99
Consider the following related to the text Ex-Gays? A Longitudinal Study of Religiously Mediated Change in Sexual Orientation:
Is it possible to be an ex gay?

Stanton L. Jones and Mark A. Yarhouse present social science research on homosexuality designed to answer the questions:

Can those who receive religiously-informed psychotherapy experience a change in their sexual orientation?
Are such programs harmful to participants?

The results show that outcomes for this kind of religiously-informed psychotherapy are similar to outcomes of therapy for other psychological problems. Such programs do not appear to be harmful on average to individuals. https://www.ivpress.com/ex-gays accessed 07/03/18
Notice that gay conversion therapy is about as effective as other psychological counseling, then should psychological counseling be banned if they are no more effective than books encouraging homosexuals to change?
Last year, I warned that some would consider banning the Bible and even made a video on that:
Could we see a ban of the Holy Bible in North America? Have there been partial bans proposed and enforced by government officials in Canada? Do any USA politicians consider any biblical teachings as fraudulent and hence banning them is NOT a violation of the 1st amendment to the Constitution of the USA? Are there risks associated with AB 2943? Have politicians like Hillary Clinton and California Assemblyman Al Muratsuchi called for long-held religious beliefs to change and "evolve with the times"? What about Jude 1:3 and 2 Timothy 3:14? Are there biblical prophecies about not being able to hear the word of God? Might we see more restrictions on explaining teachings of the Bible on the Internet and other forms of media? What are some of the verses that various government people do not want made public? Dr. Thiel provides facts on these issues and more.
Here is a link: Banning the Bible?
Sadly, we are getting closer to a time when more perversely think that banning the Bible would be of benefit.
While the USA likes to act like it is the bastion of free speech and freedom of religion, more and more restrictions keep getting proposed.
The Bible warns against the rise of despisers of good (which is what the bans from YouTube, Amazon, and others demonstrate) in the last days:
1

But know this, that in the last days perilous times will come:

2

For men will be lovers of themselves, lovers of money, boasters, proud, blasphemers, disobedient to parents, unthankful, unholy,

3

unloving, unforgiving, slanderers, without self-control, brutal, despisers of good,

4

traitors, headstrong, haughty, lovers of pleasure rather than lovers of God,

5

having a form of godliness but denying its power. And from such people turn away!

6

For of this sort are those who creep into households and make captives of gullible women loaded down with sins, led away by various lusts,

7 always learning and never able to come to the knowledge of the truth. (2 Timothy 3:1-7)

Those of us who hold to the idea that sexual relationships are only to be between a man married to a woman are considered to have "ugly narrow-mindedness" by supporters of the LGBTQ movement.
Furthermore, the LGBTQ supporting crowd does not want people to believe the following:
9

Do you not know that the unrighteous will not inherit the kingdom of God? Do not be deceived. Neither fornicators, nor idolaters, nor adulterers, nor homosexuals, nor sodomites,

10

nor thieves, nor covetous, nor drunkards, nor revilers, nor extortioners will inherit the kingdom of God.

11

And such were some of you. But you were washed, but you were sanctified, but you were justified in the name of the Lord Jesus and by the Spirit of our God.

(1 Corinthians 6:9-11)
The Bible not only warns that homosexuality, lesbianism, and cross-dressing are wrong, it also condemns those who condone all forms of sexual immorality:
5 A woman shall not wear anything that pertains to a man, nor shall a man put on a woman's garment, for all who do so are an abomination to the Lord your God. (Deuteronomy 22:5)

24

Therefore God also gave them up to uncleanness, in the lusts of their hearts, to dishonor their bodies among themselves,

25

who exchanged the truth of God for the lie, and worshiped and served the creature rather than the Creator, who is blessed forever. Amen.

26

For this reason God gave them up to vile passions. For even their women exchanged the natural use for what is against nature.

27

Likewise also the men, leaving the natural use of the woman, burned in their lust for one another, men with men committing what is shameful, and receiving in themselves the penalty of their error which was due.

28

And even as they did not like to retain God in their knowledge, God gave them over to a debased mind, to do those things which are not fitting;

29

being filled with all unrighteousness, sexual immorality, wickedness, covetousness, maliciousness; full of envy, murder, strife, deceit, evil-mindedness; they are whisperers,

30

backbiters, haters of God, violent, proud, boasters, inventors of evil things, disobedient to parents,

31

undiscerning, untrustworthy, unloving, unforgiving, unmerciful;

32

who, knowing the righteous judgment of God, that those who practice such things are deserving of death, not only do the same but also approve of those who practice them.

(Romans 1:24-32)
In Canada, quoting parts of Romans 1 in certain ways is essentially banned (watch Canadian censoring of the Bible).
If you do not think that the Lesbian-Gay-Bisexual-Transgender-Queer (LGBTQ) crowd is not trying to change aspects of religion and speech.
Many despise the moral teachings of the word of God–this will not end well:
40 Beware therefore, lest what has been spoken in the prophets come upon you:

41 'Behold, you despisers,
Marvel and perish!
For I work a work in your days,
A work which you will by no means believe,
Though one were to declare it to you.'" (Acts 13:40-41)
Despite opposition, a short work will be accomplished (Romans 9:28, Matthew 24:14); see also Preparing for the 'Short Work' and The Famine of the Word).
Then disaster will befall the USA and UK (Daniel 8:24-25 11:39; Isaiah 17:3; Jeremiah 30:7; Matthew 24:21-22), and pride promotions and parades will encourage, not stop this.
Earlier, the State of California has proposed to have journalists, bloggers, and any one who has influence to register and to get their 'news' approved before putting it online (Doug Casey Warns 'It's Going To Get Very Disagreeable In The US At Some Level Quickly.' California SB1424 risks. Brandon Smith claims 'World War III Will Be An Economic War.' Then there is the Bible). The bill, sponsored by California Senator Richard Pan was called the "Internet: social media: false information: strategic plan," or SB1424. If carried to its logical limit, this would cover anyone who ever posts anything on the internet, and perhaps even those whose emails get spread around. Many in the government want to restrict what people tell others.
The Bible warns that there is a coming famine of the word of God:
11 "Behold, the days are coming," says the Lord God,
"That I will send a famine on the land,
Not a famine of bread,
Nor a thirst for water,
But of hearing the words of the Lord.
12 They shall wander from sea to sea,
And from north to east;
They shall run to and fro, seeking the word of the Lord,
But shall not find it. (Amos 8:11-12)
The LGBTQ crowd is only one of several forces that are pushing towards making this famine of the word come. But the "gospel of the kingdom will be preached to the world as a witness" before "the end" comes (Matthew 24:14).
Until then, Philadelphian Christians want to go through the doors that Christ opens to proclaim the Kingdom of God (2 Corinthians 2:12; 1 Corinthians 16:8-9; Colossians 4:2-4) and do the work.
Until then, we in the Continuing Church of God will also continue to follow this admonition in Isaiah:
1 Cry aloud, spare not; Lift up your voice like a trumpet; Tell My people their transgression, And the house of Jacob their sins. (Isaiah 57:1)

The LGBTQ agenda is full of sin.
The work of God needs to be done now as Jesus said:
4 I must work the works of Him who sent Me while it is day; the night is coming when no one can work. (John 9:4)
The time to do the work is now, while we still can do it! We are seeing more and more signs that "the night is coming when no one can work."
That is part of why we in the Continuing Church of God are preparing for the 'short work' (Romans 9:28) and the coming 'famine of the word.'
Philadelphia means "love of the brethren." It is LOVE to properly teach what the Bible teaches, even if some group calls that "ugly narrow-mindedness."
We in the Continuing Church of God will teach and stand up for the truth (watch also the short introduction to our YouTube channel: ContinuingCOG Channel), despite realizing that the 'famine of the word' that the prophet Amos referred to is coming. We must do the work and persevere to the end–despite government restrictions and others who do not truly respect the Bible.
Some items of possibly related interest may include:

The Bible Condemns Homosexuality "Same-sex marriage" for "gays" and lesbians is becoming more acceptable to many. What does the Bible teach about homosexuality? Can homosexuals change? A related video sermon is titled: What Does the Bible Really Teach about Homosexuality?
Cross-dressing and other assaults against your children. What should you do? Is there an agenda to turn your children and/or grandchildren away from biblical morality and towards practices promoted by homosexuals? What does the Bible teach about cross-dressing? What should parents do? If there is an agenda, what has been going on? There are also three YouTube videos related to this, titled Transgender 'Woe to those who call evil good' and Cross dressing and Other Assaults Against Your Children and USA pushing gender confusion.
Preparing for the 'Short Work' and The Famine of the Word What is the 'short work' of Romans 9:28? Who is preparing for it? Here is a link to a related video sermon titled: The Short Work.
Internet Censorship and Prophecy Are concerns about internet censorship limited to nations such as Russia, China, Iran, and North Korea. But what about the USA, Canada, and Germany? What about the European Union? What about internet media companies such as Facebook, Google, YouTube, or email services like MailChimp? Has the attempt to control information been made by various ones over the centuries? Was the New Testament affected by it? What about the church throughout the centuries? Has the Bible already been partially censored? Which Bible prophecies point to coming Internet censorship? What about the Book of Amos? What about the coming 666 Beast and final Antichrist? Is there anything that can be done about this? Should Philadelphian Christians be working on anything now? Will preaching the Gospel of the Kingdom of God vs. a highly media-supported alternative lead to a 'famine of the word'? More internet censorship is coming as various statements in the Bible support.
The Spanish Inquisition and Early Protestant Persecutions Was the Church of Rome really responsible for this? What happened? Here is a link to a related video sermon: The Past and Future Inquisition.
Persecutions by Church and State This article documents some that have occurred against those associated with the COGs and some prophesied to occur. Will those with the cross be the persecutors or the persecuted–this article has the shocking answer. There is also a YouTube video sermon you can watch: The Coming Persecution of the Church. Here is information in the Spanish language: Persecuciones de la Iglesia y el Estado.
Orwell's 1984 by 2024? In 1949, the late George Orwell wrote a disturbing book about a totalitarian government called "nineteen-eighty four." Despite laws that are supposed to protect freedom of speech and religion, we are seeing governments taking steps consistent with those that George Orwell warned against. We are also seeing this in the media, academia, and in private companies like Google, Facebook, and Twitter. With the advent of technology, totalitarianism beyond what Orwell wrote is possible. Does the Bible teach the coming a totalitarian state similar to George Orwell's? What about the Antichrist and 666? Will things get worse? What is the solution? Dr. Thiel answers these questions and more in this video.
Canadian censoring of the Bible In 2017, Lauri Skori of the Battle River School board told a religious school in Alberta, Canada that it could not teach/read certain portions of the Bible. In 2002, a court in Canada ruled against one who referred to certain scriptures that some homosexuals objected to. In 2017, there was "An Act to Amend the Canadian Human Rights Act and Criminal Code" related to those who wish to be considered transgendered. Government officials in Canada and elsewhere have been ruling against the Bible. Is any of this prophesied? Will this get worse? What was the prophet Amos inspired to write? This is a video.
Internet Control, Famine of the Word, and 666 Is the internet going to be used to suppress the teaching of the word of God?
Pornography: A scourge on society Is pornography harmless fun? Does the Bible teach anything about it? What are the views of some involved with it? A related sermons is titled: Pornography, False Comfort, and False Religion. Here a shorter YouTube video Pornography: Harmless Fun or a Scourge on Society?
Abortion, the Bible, and a Woman's Right to Choose Do you know what the Bible teaches on this? Has the Roman Catholic Church allowed abortions? What about the real Church of God? Some may also, or instead, wish to view the YouTube video Abortion, the Bible, and US Debt.
Christian Repentance Do you know what repentance is? Is it really necessary for salvation? A related sermon is also available titled: Real Christian Repentance.
Should the Church Still Try to Place its Top Priority on Proclaiming the Gospel or Did Herbert W. Armstrong Change that Priority for the Work? Some say the Church should mainly feed the flock now as that is what Herbert W. Armstrong reportedly said. Is that what he said? Is that what the Bible says? What did Paul and Herbert W. Armstrong expect from lower level leaders? A related sermon is available titled Priority of the Philadelphia Work.
Persecutions by Church and State This article documents some that have occurred against those associated with the COGs and some prophesied to occur. Will those with the cross be the persecutors or the persecuted–this article has the shocking answer. There is also a YouTube video sermon you can watch: The Coming Persecution of the Church. Here is information in the Spanish language: Persecuciones de la Iglesia y el Estado.
The Gospel of the Kingdom of God This free online pdf booklet has answers many questions people have about the Gospel of the Kingdom of God and explains why it is the solution to the issues the world is facing. Here are links to three related sermons: The World's False Gospel, The Gospel of the Kingdom: From the New and Old Testaments, and The Kingdom of God is the Solution.
Is God Calling You? This booklet discusses topics including calling, election, and selection. If God is calling you, how will you respond? Here is a link to a related sermon: Could God be Calling You?
USA in Prophecy: The Strongest Fortresses Can you point to scriptures, like Daniel 11:39, that point to the USA in the 21st century? This article does. A related sermon is titled: Do these 7 prophesies point to the end of the USA?
Who is the King of the West? Why is there no Final End-Time King of the West in Bible Prophecy? Is the United States the King of the West? Here is a version in the Spanish language: ¿Quién es el Rey del Occidente? ¿Por qué no hay un Rey del Occidente en la profecía del tiempo del fin? A related sermon is also available: The Bible, the USA, and the King of the West.
Anglo – America in Prophecy & the Lost Tribes of Israel Are the Americans, Canadians, English, Scottish, Welsh, Australians, Anglo-Saxon (non-Dutch) Southern Africans, and New Zealanders descendants of Joseph? Where are the lost ten-tribes of Israel? Who are the lost tribes of Israel? What will happen to Jerusalem and the Jews in Israel? Will God punish the U.S.A., Canada, United Kingdom, and other Anglo-Saxon nations? Why might God allow them to be punished first? Here is a link to the Spanish version of this article: Anglo-América & las Tribus Perdidas de Israel. Information is also in the YouTube sermons titled Where are the Ten Lost Tribes? Why does it matter? and British are the Covenant People. A short YouTube of prophetic interest may be: Are Chinese threats against Australia for real?
Will the Anglo-Saxon-Celtic Nations be Divided and Have People Taken as Slaves? Will the lands of the United States, United Kingdom, Canada, Australia, and New Zealand be divided? What about Jerusalem? What does Bible prophecy teach? Are there non-biblical prophecies that support this idea? Who will divide those lands? Who will end up with the lands and the people? Here is a link to a video titled Will the USA and other Anglo-nations be Divided and Their People Made Slaves? Here is a related item in the Spanish language ¿Serán divididas las naciones anglosajonas?
British are the Covenant People What do 'British' and 'Britain' mean in Hebrew? Are the descendants of the Anglo-Saxons people of the covenant? Does the British royal family connect to the throne of David? What does the Bible teach? What does history show us? Is there any DNA evidence related to British-Israelism? When did Christianity make it to the British Isles? Could Jeremiah have made it to the British Isles? What type of Christians made it to the British Isles? Did the last King of England believe in British Israelism?
Canada in Prophecy: What Does Bible Prophecy, Catholic Prophecy, and other Predictions Suggest About the Future of Canada? There are prophecies that suggest involvement with Canada. And many are not positive about its future. A sermon of related interest is also available: Canada in Prophecy.
Australia and New Zealand in Prophecy Do biblical prophecies help explain the wealth blessings for Australia and New Zealand? Might cursings from disobedience come in the 21st century? Here is a link to a related sermon: Australia and New Zealand: Origins and Prophecy.
When Will the Great Tribulation Begin? 2019, 2020, or 2021? Can the Great Tribulation begin today? What happens before the Great Tribulation in the "beginning of sorrows"? What happens in the Great Tribulation and the Day of the Lord? Is this the time of the Gentiles? When is the earliest that the Great Tribulation can begin? What is the Day of the Lord? Who are the 144,000? Here is a version of the article in the Spanish language: ¿Puede comenzar la Gran Tribulación en 2018 o 2019? ¿Es el Tiempo de los Gentiles? You can also see the English language sermon videos: The Great Tribulation from the Mount of Olives and Can the Great Tribulation begin before 2020? A shorter and newer video is: Might the Great Tribulation start in 2019?