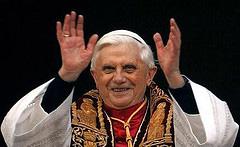 Pope Benedict XVI
Pope Benedict XVI was attacked last night:
Pope Unhurt After Being Knocked Down

VATICAN CITY, DEC. 24, 2009 (Zenit.org).- Benedict XVI is unhurt after he was knocked down tonight as he entered St. Peter's Basilica to celebrate the Christmas vigil Mass, reports a Vatican spokesman.
There are many violent people in the world.
An article of possibly related interest may be:
Military Service and the Churches of God: Do Real Christians Participate in Carnal Warfare? Here are current and historical perspectives on a matter which show the beliefs of the true church on military participation. Is war proper for Christians?