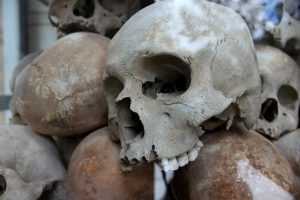 Some are concerned about a racial genocide and theft coming to South Africa:
White South Africans Are Preparing For "Removal of All Whites Within Five Years"

May 5, 2017

Back in March, the President of South Africa made a shocking suggestion, which left many white landowners fearing that they may face a race war in the near future. In a speech, Jacob Zuma announced that he wanted the government to begin confiscating white owned lands, before redistributing them to black South Africans.

Zuma wants a "pre-colonial land audit of land use and occupation patterns" to help decide which lands need to be taken, and has said that "We need to accept the reality that those who are in parliament where laws are made, particularly the black parties, should unite because we need a two-thirds majority to effect changes in the constitution."

It's believed that Zuma is calling for this radical action in response to the rise of a rival political party known as the Economic Freedom Fighters, who have long called for the confiscation of white owned lands.

Obviously, this kind of talk doesn't bode well for the future of South Africa. You have the leaders of the first and third most popular political parties, both of which promote socialist ideas, openly declaring that they want the government to steal from an entire racial group. Since these political parties wouldn't be in power unless they had some degree of popular support, it's clear that black South Africans are increasingly turning against their white neighbors. It's a perfect recipe for genocide.

It's conditions like that which have spawned organizations like the Suidlanders; a massive civilian-run civil defense group that is dedicated to protecting Afrikaaners in the event of social collapse or civil war. They're currently getting ready for the possibility of a government implemented genocide of white South Africans. One of their leaders recently spoke to Infowars, and explained how they plan to respond to that threat.

Roche told Infowars that leftist South African leaders have in recent months threatened "the slaughter of all whites, and the removal of all whites within five years," prompting Suidlanders to prepare for a surprise civil war event which they now believe is imminent.

"Then we would, in such an open civil war, in such a crisis, gather our people together and seek sanctuary in a remote location and then to remove ourselves from being wiped out or slaughtered," Roche said.

However, the organization doesn't plan to take up arms, and their best plan so far will only accommodate a minority of whites in the country. http://www.zerohedge.com/news/2017-05-04/white-south-africans-are-preparing-slaughter-and-removal-all-whites-within-five-year
When my wife Joyce and I visited South Africa back in 1985, we met a woman in the old Worldwide Church of God who had fled Rhodesia because on anti-white politics, land confiscation, etc. She told us that she expected that the same thing would happen to South Africa later, and that seems to be the case. Rhodesia was once one of the most prosperous African nations. It is now called Zimbabwe and is considered a massive economic disaster.
The old Worldwide Church of God warned that there could be race wars in Rhodesia and then later in South Africa back in 1976:
Race War in Southern Africa?

Encouraged by their victory in Angola, Soviet- and Cuban-supported African nationalist guerrillas may seek to "complete the job" by launching an offensive aimed at overthrowing the last remaining white minority governments in southern Africa. …

First Target – Rhodesia

The immediate threat is to Rhodesia (Zimbabwe to African nationalists) – a nation of 270,000 whites ruling over 6 million blacks. As we go to press, Mozambique has closed its border with Rhodesia and has declared a "state of war," seizing all Rhodesian property and assets within Mozambique. …  It is believed by most observers that the Rhodesian government forces, even though well trained and adequately equipped, could not withstand a major guerrilla campaign for long on their own. Yet despite the threat of eventual Soviet domination of the area, British and U.S. officials have made it clear that there will be no American or British military intervention to defend the minority Rhodesian regime if fighting breaks out. Both governments have instead been urging "realistic" negotiations to forestall the threat of violence.

Second Target – South Africa

War in South Africa itself is seen as very unlikely. … The militant South-West African Peoples Organization (SWAPO) – a nationalist group recognized by the U.N. as " the sole legitimate representative of the Namibian people " – is reportedly ready to " invite external intervention " to drive the South Africans out. … Surrounded by black Africans in overwhelming numbers, the white populaces of Rhodesia and South Africa may be in for a long and bloody struggle to retain their right in the African sun. (Race War in Southern Africa? Plain Truth, April-May 1976)
And yes, changes happened in Rhodesia, there was racial violence and most whites fled or suffered various losses. South Africa is heading that way as well.
Back in 1977, the old Worldwide Church of God published the following:
The Birthright Blessing

The truth is, the prosperity enjoyed by Rhodesia's whites has not been gained at the expense of, or through the "oppression" of their far more numerous black countrymen. Hard work, the entrepreneurial spirit, the ability of the European mentally to adapt to the modern industrial world as opposed to the approach of the average African still attuned to traditional tribal customs and ways of doing things is in large part responsible for the large white-black prosperity gap. But there is another, even more important reason for the prosperity Rhodesians have heretofore enjoyed. Rhodesia's whites, like English- speaking Anglo-Saxons everywhere else, have been the beneficiaries of a unique blessing, one not earned, in the final analysis, even by the stint of their own efforts. They have been the recipients, strange as it may seem, of the birthright blessings conferred upon them by a distant biblical ancestor – the patriarch Abraham. (Hogberg G. Rhodesia: Why No Peace is in Sight. Plain Truth, 1977)
There were blessings as well as cursings prophesied for the descendants of Israel (cf. Deuteronomy 28). The blessings as well as cursings promised to the descendants of Israel are coming to pass. We have seen that in Rhodesia, we are seeing that in South Africa, and we will see that in the USA, UK, Canada, Australia, and New Zealand (see Anglo – America in Prophecy & the Lost Tribes of Israel).
On his first visit to South Africa, the late WCG Pastor General Herbert W. Armstrong observed that while things appeared fine on the surface, racial issues were deep:
My first visit to South Africa was some years overdue. I had expected. from reports printed about South Africa and apartheid to find whites arrogantly dominant and blacks cowering in fear. But I found instead – on the surface – apparent racial peace. I found black s holding their heads up just like whiles. I found both blacks and whites. for instance, in the hotel's large coffee shop in equal numbers. each going about their respective jobs just as if they were all the same race. Then, suddenly, the day before yesterday, I arrived back in Johannesburg from a visit to South-West Africa and found in the evening newspaper the full-page-wide headline. "SIX DIE IN RIOTS." That was Wednesday, June 16. The morning paper on Thursday, June 17, had a giant page-wide headline of two words. "Flaming Night." Under it was a seven-column, full-color picture of motor trucks in flame. All had seemed to be at PEACE here – on the surface. (Armstrong HW. Personal. Plain Truth, August 1976)
But he also wrote that God had a plan to solve this:
In th e WORLD TOMORROW, which is coming SOON, two things will bring about RACIAL PEACE: One, human nature will be changed. Two, the segregation-integration issue will be settled in a way to bring PEACE;. And there will be NO DISCRIMINATION, no one race over any other. Opportunity for success and welfare will be EQUAL. Then humans will learn, as the apostle Paul said to the Athenian "thinkers" on Mars' Hill that God the Creator "hath made of one blood all nations of men." And not of "white" blood, or so me other colored blood. We all have one ancestor, Adam. and ultimately we shall be ONE FAMILY, not in color, but in spirit and in LOVE. (Armstrong HW. Personal. Plain Truth, August 1976)
While it is good news that the Kingdom of God will be established and eliminate racial hatred that we see today. That will not be implemented until Jesus returns. Until then, Jesus spoke of their being troubles and sorrows (Mark 13:8), the Great Tribulation (Matthew 24:21), and the Day of the Lord (Isaiah 2:12-21; Ezekiel 30:2-3).
Until then, of course, true Christians are to love, and not hate, people of all races (see also God's Grace is For All and The Philadelphia Remnant: It's All About Love).
Some items of related interest may include:
Anglo – America in Prophecy & the Lost Tribes of Israel Are the Americans, Canadians, English, Scottish, Welsh, Australians, Anglo-Saxon (non-Dutch) Southern Africans, and New Zealanders descendants of Joseph? Where are the lost ten-tribes of Israel? Who are the lost tribes of Israel? What will happen to Jerusalem and the Jews in Israel? Will God punish the U.S.A., Canada, United Kingdom, and other Anglo-Saxon nations? Why might God allow them to be punished first? Here is a link to the Spanish version of this article: Anglo-América & las Tribus Perdidas de Israel. Information is also in the YouTube sermons titled Where are the Ten Lost Tribes? Why does it matter? and British are the Covenant People. A short YouTube of prophetic interest may be: Are Chinese threats against Australia for real?
Will the Anglo-Saxon Nations be Divided and Have People Taken as Slaves? Will the lands of the United States, United Kingdom, Canada, Australia, and New Zealand be divided? What about Jerusalem? What does Bible prophecy teach? Are there non-biblical prophecies that support this idea? Who will divide those lands? Who will end up with the lands and the people? Here is a link to a video titled Will the USA and other Anglo-nations be Divided and Their People Made Slaves? Here is a related item in the Spanish language ¿Serán divididas las naciones anglosajonas?
British are the Covenant People What do 'British' and 'Britain' mean in Hebrew? Are the descendants of the Anglo-Saxons people of the covenant? Does the British royal family connect to the throne of David? What does the Bible teach? What does history show us? Is there any DNA evidence related to British-Israelism? When did Christianity make it to the British Isles? Could Jeremiah have made it to the British Isles? What type of Christians made it to the British Isles? Did the last King of England believe in British Israelism?
The Gospel of the Kingdom of God This free online pdf booklet has answers many questions people have about the Gospel of the Kingdom of God and explains why it is the solution to the issues the world is facing. Here are links to three related sermons: The World's False Gospel, The Gospel of the Kingdom: From the New and Old Testaments, and The Kingdom of God is the Solution.
Africa: Its Biblical Past and Prophesied Future What does the Bible teach about Africa and its future? Did the early Church reach Africa? Will God call all the Africans?
CCOGAFRICA.ORG This is a website targeted towards those in Africa.
CCOGAfrica channel. This has messages from African pastors in African languages such as Kalenjin, Kiswahili, and Dholuo.
Did The Early Church Teach Millenarianism? Was the millennium (sometimes called chiliasm) taught by early Christians? Who condemned it? Will Jesus literally reign for 1000 years on the earth? Is this time near? Two related sermons are available Millennial Utopia and The Millennium.
Did The Early Church Teach Millenarianism? Was the millennium (sometimes called chiliasm) taught by early Christians? Who condemned it? Will Jesus literally reign for 1000 years on the earth? Is this time near? Two related sermons are available Millennial Utopia and The Millennium.
Does God Have a 6,000 Year Plan? What Year Does the 6,000 Years End? Was a 6000 year time allowed for humans to rule followed by a literal thousand year reign of Christ on Earth taught by the early Christians? Does God have 7,000 year plan? What year may the six thousand years of human rule end? When will Jesus return? 2026 or 20xx? There is also a video titled The 6000 Year Plan: Is the end of humanity's reign almost up? Here is a link to the article in Spanish: ¿Tiene Dios un plan de 6,000 años?
When Will the Great Tribulation Begin? 2017, 2018, or 2019? Can the Great Tribulation begin today? What happens before the Great Tribulation in the "beginning of sorrows"? What happens in the Great Tribulation and the Day of the Lord? Is this the time of the Gentiles? When is the earliest that the Great Tribulation can begin? What is the Day of the Lord? Who are the 144,000? Here is a version of the article in the Spanish language: ¿Puede comenzar la Gran Tribulación en 2016 o 2017? ¿Es el Tiempo de los Gentiles? You can also see the English language sermon videos: The Great Tribulation from the Mount of Olives and Can the Great Tribulation begin before 2020? A shorter video is: Will the Great Tribulation Start in 2017?
The Philadelphia Remnant: It's All About Love This is what CCOG teaches. It is important to remember. A related video is available: Nairobi Conference: All About Love.
God's Grace is For All Is being Jewish a hindrance to salvation? What about not being a descendant of Israel? What does the Bible really teach? Here is a link to a related sermon titled Race and Grace; Do you view race as God does?