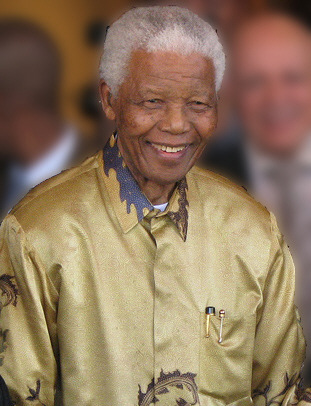 South African Nobel Prize winner Nelson Mandela died:
December 5, 2013

JOHANNESBURG — Former South African President Nelson Mandela, 95, died peacefully at his Johannesburg home on Thursday after a prolonged lung infection, President Jacob Zuma said.

Mandela, the country's first black president and anti-apartheid icon, emerged from 27 years in apartheid prisons to help guide South Africa through bloodshed and turmoil to democracy.

"Fellow South Africans, our beloved Nelson Rohlihla Mandela, the founding president of our democratic nation, has departed," Zuma said in a nationally televised address…

Mandela rose from rural obscurity to challenge the might of white minority apartheid government – a struggle that gave the 20th century one of its most respected and loved figures.

He was among the first to advocate armed resistance to apartheid in 1960, but was quick to preach reconciliation and forgiveness when the country's white minority began easing its grip on power 30 years later.

Mandela was elected president in landmark all-race elections in 1994 and retired in 1999.

He was awarded the Nobel Peace Prize in 1993, an honor he shared with F.W. de Klerk, the white Afrikaner leader who released from jail arguably the world's most famous political prisoner.

As president, Mandela faced the monumental task of forging a new nation from the deep racial injustices left over from the apartheid era, making reconciliation the theme of his time in office…

Mandela's last major appearance on the global stage came in 2010 when he attended the championship match of the soccer World Cup, where he received a thunderous ovation from the 90,000 at the stadium in Soweto, the neighborhood in which he cut his teeth as a resistance leader.

Charged with capital offenses in the infamous 1963 Rivonia Trial, his statement from the dock was his political testimony.

"During my lifetime I have dedicated myself to this struggle of the African people. I have fought against white domination, and I have fought against black domination," he said.  http://www.voanews.com/content/nelson-mandela-dies/1804613.html
Nelson Mandela had been ill for some time. His death was not unexpected.
Essentially in his younger days, he seemed to start out as a type of Communist sympathizer and was also considered by the South African government as a terrorist; but years later he gained the trust of the then existing government there:
Although initially committed to non-violent protest, in association with the South African Communist Party he co-founded the militant Umkhonto we Sizwe (MK) in 1961, leading a bombing campaign against government targets. In 1962 he was arrested, convicted of sabotage and conspiracy to overthrow the government, and sentenced to life imprisonment in the Rivonia Trial. Mandela served 27 years in prison, first on Robben Island, and later in Pollsmoor Prison and Victor Verster Prison. An international campaign lobbied for his release, which was granted in 1990 amid escalating civil strife…

Religion Methodism  (Wikipedia, viewed 12/05/13)
I seem to recall that he was at least indirectly denounced by the old WCG sometime prior to the 1990s.  Nelson Mandela, himself, once told a biographer that he was "no angel" (Mandela, p. xxvi).
In his later years he was known as one of the better leaders in Africa.
Of course, there are still problems in governance there, but governmental problems are not just limited to Africa or South Africa.
Jesus, Himself, came to proclaim the good news of the kingdom of God (e.g. Mark 1:14). And this good news means that better governance will come to the entire world, including Africa. That kingdom will have the rule of law and people will be able to be safe (cf. Isaiah 11:9; 65:25).
Jesus endorsed this kingdom so much, that one of the things He told His followers to pray was for that kingdom (Matthew 6:10). The world needs that kingdom to come soon.
Until then, I hope and pray that matters, including governance, will be better for those in Africa, including South Africa.
Some items of possibly related interest may include:
Africa: Its Biblical Past and Prophesied Future What does the Bible teach about Africa and its future? Did the early Church reach Africa? Will God call all the Africans?
God's Grace is For All Is being Jewish a hindrance to salvation? What about not being a descendant of Israel? What does the Bible really teach?
The Bible, Peter, Paul, John, Polycarp, Herbert W. Armstrong, Roderick C. Meredith, and Bob Thiel on Church Government What form of governance did the early church have? Was it hierarchical? Which form of governance would one expect to have in the Philadelphia remnant? The people decide and/or committee forms, odd dictatorships, or the same type that the Philadelphia era itself had? What are some of the scriptural limits on ecclesiastical authority? Do some commit organizational idolatry? Here is a Spanish language version La Biblia, Policarpo, Herbert W. Armstrong, y Roderick C. Meredith sobre el gobierno de la Iglesia.
The Gospel of the Kingdom of God was the Emphasis of Jesus and the Early Church Did you know that? Do you even know what the gospel of the kingdom is all about? You can also see a YouTube video sermon The Gospel of the Kingdom.
Just What Do You Mean the Kingdom of God? A booklet that was written by Herbert Armstrong answers questions about the Kingdom.
Did The Early Church Teach Millenarianism? Was the millennium (sometimes called chiliasm) taught by early Christians? Who condemned it? Will Jesus literally reign for 1000 years on the earth? Is this time near?
Does God Have a 6,000 Year Plan? What Year Does the 6,000 Years End? Was a 6000 year time allowed for humans to rule followed by a literal thousand year reign of Christ on Earth taught by the early Christians? Does God have 7,000 year plan? What year may the six thousand years of human rule end? When will Jesus return? 2021 or 20xx? There is also a video titled The 6000 Year Plan: Is the end of humanity's reign almost up?