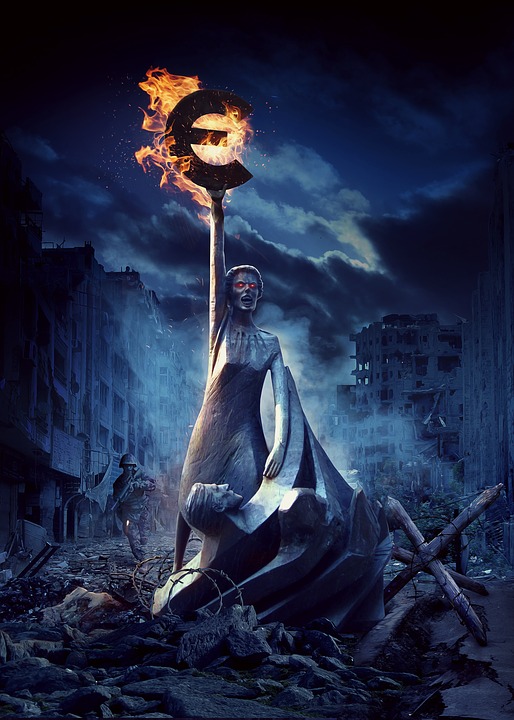 Artist's portrayal of a European Union New World Order

The German publication Der Spiegel posted the following:
Time for Europe to Join the Resistance

U.S. President Donald Trump's decision to withdraw from the Iran nuclear deal marks the temporary suspension of the trans-Atlantic alliance. What now?

Trump's renown is rooted in American hero myths.  …

He isn't curious. His preparation is nonexistent. Strategy and tactics are both foreign to him. Trump is only proficient in destruction. And that's what he does.

He backed out of the Paris climate agreement while promising a "better deal for America." But nothing came of the promise, neither a plan nor meaningful talks. In Trump's Washington, the only thing that matters is dismantling the legacy of his predecessor, Barack Obama. Trump also promised to improve Obama's health care plan, but the details are complex and bothersome. So Trump destroyed Obamacare and has done nothing to replace it.

Now, he is playing the same game on the world stage with the Iran nuclear deal. Trump refers to it as "the worst deal ever," which is why he has now pulled the U.S. out of it. The negotiations that resulted in the deal in 2015 were a masterpiece of international diplomacy, but there are no plans in place to launch new talks. …

Europe should begin preparing for a post-Trump America and seek to avoid provoking Washington until then. It can demonstrate to Iran that it wishes to hold on to the nuclear deal and it can encourage mid-sized companies without American clients to continue doing business with Iranian partners. Perhaps the EU will be able to find ways to protect larger companies. Europe should try to get the United Nations to take action, even if it would only be symbolic given that the U.S. holds a Security Council veto. For years, Europe has been talking about developing a forceful joint foreign policy, and it has become more necessary than ever. But what happens then?

The difficulty will be finding a balance between determination and tact. Triumphant anti-Americanism is just as dangerous as defiance. But subjugation doesn't lead anywhere either – because Europe cannot support policies that it finds dangerous. Donald Trump also has nothing but disdain for weakness and doesn't reward it.

Clever resistance is necessary, as sad and absurd as that may sound. Resistance against America. 05/11/18 http://www.spiegel.de/international/world/editorial-trump-deals-painful-blow-to-trans-atlantic-ties-a-1207260.html
Let' s look at some biblical prophecies about Europeans using 'clever' tactics.
First, the Bible prophesies that a European leader will rise who understands sinister schemes and promising peace, while also using deceit:
23 "And in the latter time of their kingdom,
When the transgressors have reached their fullness,
A king shall arise,
Having fierce features,
Who understands sinister schemes.
24 His power shall be mighty, but not by his own power;
He shall destroy fearfully,
And shall prosper and thrive;
He shall destroy the mighty, and also the holy people.

25 "Through his cunning
He shall cause deceit to prosper under his rule;
And he shall exalt himself in his heart.
He shall destroy many in their prosperity.
He shall even rise against the Prince of princes;
But he shall be broken without human means. (Daniel 8:23-25)

23 And after the league is made with him he shall act deceitfully, for he shall come up and become strong with a small number of people. 24 He shall enter peaceably, even into the richest places of the province; and he shall do what his fathers have not done, nor his forefathers: he shall disperse among them the plunder, spoil, and riches; and he shall devise his plans against the strongholds, but only for a time. (Daniel 11:23-24)
So this leader is expected to cleverly use deceit. Notice also the following prophecy related to an endtime Germanic leader:
5 Woe to Assyria, the rod of my anger — the staff in their hands is my wrath. 6 I will send him against a godless nation; I will command him to go against a people destined for my rage, to take spoils, to plunder, and to trample them down like clay in the streets. 7 But this is not what he intends; this is not what he plans. It is his intent to destroy and to cut off many nations. 8 For he says, "Aren't all my commanders kings? 9 Isn't Calno like Carchemish? Isn't Hamath like Arpad? Isn't Samaria like Damascus? 10 As my hand seized the idolatrous kingdoms, whose idols exceeded those of Jerusalem and Samaria, 11 and as I did to Samaria and its worthless images will I not also do to Jerusalem and its idols? " Judgment on Assyria 12 But when the Lord finishes all his work against Mount Zion and Jerusalem, he will say, "I will punish the king of Assyria for his arrogant acts and the proud look in his eyes." 13 For he said: I have done this by my own strength and wisdom, for I am clever. I abolished the borders of nations and plundered their treasures; like a mighty warrior, I subjugated the inhabitants. (Isaiah 10:5-13, Christian Standard Bible)
The reference to Samaria is a reference to the USA (see also Spiritual Samaritans: Old and New). As far as Germany and Assyria, check out the articles Germany's Assyrian Roots Throughout History and Germany in Biblical and Catholic Prophecy.
This Germanic-European leader is called the Beast and the King of the North in the Bible.
He will cleverly use deceit.
As far as this and Donald Trump goes, notice something posted here last May:
Donald Trump does not seem to appreciate or understand the biblical prophecies related to the USA and Europe. He is inadvertently taking steps that will lead to the fulfillment of biblical prophecies.

Of course, some look at NATO and how disproportionately the USA spends to support it and consider that this means that the USA is so powerful that other NATO nations could never destroy it.

But, let us not forget that the Bible also teaches that Europe will end up with a "GREAT ARMY" (Daniel 9:25).

Directly and indirectly, Donald Trump is encouraging this.

The Europeans will take more steps to separate themselves from the USA. This does not mean that NATO must be totally abandoned. I have felt for decades that the Europeans would likely attack the USA deceptively under the guise of a NATO or similar exercise, and probably will have ground assistance from Mexico, a nation that Donald Trump has repeatedly offended. Donald Trump, in my view, has confirmed this by threatening NATO if the Europeans do not fund more of it, while then saying he is 100% in support of NATO.

Once Europe spends more on its military and gets certain technologies, it will expect more control of military matters and will one day decide it no longer needs NOR WANTS the USA to be around. And according to biblical prophecies, a power from Europe will takeover the USA militarily (see also USA in Prophecy: The Strongest Fortresses).

When you spend more for something yourself, you want more control. And Europe will want more than most in the USA can imagine. (Thiel B. Trump meets Pope and expects to push NATO to spend. COGwriter, May 24, 2017)
Europe wants to hold onto the USA until it no longer needs it.
It is interesting that Der Spiegel has essentially publicly advocated this, as well as that Europe should be 'clever.'
Some items of possibly related interest may include:
Europa, the Beast, and Revelation Where did Europe get its name? What might Europe have to do with the Book of Revelation? What about "the Beast"? Is an emerging European power "the daughter of Babylon"? What is ahead for Europe? Here is a link to a video titled: Can You Prove that the Beast to Come is European?
European Technology and the Beast of Revelation Will the coming European Beast power would use and develop technology that will result in the taking over of the USA and its Anglo-Saxon allies? Is this possible? What does the Bible teach? Here is a related YouTube video: Military Technology and the Beast of Revelation.
Germany's Assyrian Roots Throughout History Are the Germanic peoples descended from Asshur of the Bible? Have there been real Christians in Germanic history? What about the "Holy Roman Empire"? There is also a You-Tube video sermon on this titled Germany's Biblical Origins.
Germany in Biblical and Catholic Prophecy Does Assyria in the Bible equate to an end time power inhabiting the area of the old Roman Empire? What does prophecy say Germany will do and what does it say will happen to most of the German people? Here is a version of the article in the Spanish language: Alemania en la profecía bíblic. Here are links to two English language sermon videos Germany in Bible Prophecy and The Rise of the Germanic Beast Power of Prophecy.
Must the Ten Kings of Revelation 17:12 Rule over Ten Currently Existing Nations? Some claim that these passages refer to a gathering of 10 currently existing nations together, while one group teaches that this is referring to 11 nations getting together. Is that what Revelation 17:12-13 refers to? The ramifications of misunderstanding this are enormous. A related sermon is titled Ten Kings of Revelation and the Great Tribulation.
World War III: Steps in Progress Are there surprising actions going on now that are leading to WWIII? Might a nuclear attack be expected? Does the Bible promise protection to all or only some Christians? How can you be part of those that will be protected? A related video would be Is World War III About to Begin? Can You Escape?
WTO/TTIP and the Babylonian Beast Will international trade agreements like WTO/TTIP/CETA lead to the fulfillment of end time prophecies concerning the Babylonian Beast power that the Book of Revelation warns against? What does the Bible teach? A related video would be WTO Trade Deal and the Rise of the European Beast Power.
Spiritual Samaritans: Old and New Who were the Samaritans? Do the represent true Christianity or something else? Here is a link to a related sermon: USA in Prophecy: Samaria.
The Gospel of the Kingdom of God This free online pdf booklet has answers many questions people have about the Gospel of the Kingdom of God and explains why it is the solution to the issues the world is facing. Here are links to three related sermons: The World's False Gospel, The Gospel of the Kingdom: From the New and Old Testaments, and The Kingdom of God is the Solution.
Is God Calling You? This is a draft booklet discussing calling, election, and selection. If God is calling you, how will you respond?
Christian Repentance Do you know what repentance is? Is it really necessary for salvation? A related sermon is also available titled: Real Christian Repentance.
USA in Prophecy: The Strongest Fortresses Can you point to scriptures, like Daniel 11:39, that point to the USA in the 21st century? This article does. A related sermon is titled: Do these 7 prophesies point to the end of the USA?
Is Russia the King of the North? Some claim it is. But what does the Bible teach? Here is a link to a video, also titled Is Russia the King of the North?
Who is the King of the North? Is there one? Do biblical and Roman Catholic prophecies for the Great Monarch point to the same leader? Should he be followed? Who will be the King of the North discussed in Daniel 11? Is a nuclear attack prophesied to happen to the English-speaking peoples of the United States, Great Britain, Canada, Australia, and New Zealand? When do the 1335 days, 1290 days, and 1260 days (the time, times, and half a time) of Daniel 12 begin? When does the Bible show that economic collapse will affect the United States? In the Spanish language check out ¿Quién es el Rey del Norte? Here is a link to a video titled: The Future King of the North.
Anglo – America in Prophecy & the Lost Tribes of Israel Are the Americans, Canadians, English, Scottish, Welsh, Australians, Anglo-Saxon (non-Dutch) Southern Africans, and New Zealanders descendants of Joseph? Where are the lost ten-tribes of Israel? Who are the lost tribes of Israel? What will happen to Jerusalem and the Jews in Israel? Will God punish the U.S.A., Canada, United Kingdom, and other Anglo-Saxon nations? Why might God allow them to be punished first? Here is a link to the Spanish version of this article: Anglo-América & las Tribus Perdidas de Israel. Information is also in the YouTube sermons titled Where are the Ten Lost Tribes? Why does it matter? and British are the Covenant People. A short YouTube of prophetic interest may be: Are Chinese threats against Australia for real?
Will the Anglo-Saxon Nations be Divided and Have People Taken as Slaves? Will the lands of the United States, United Kingdom, Canada, Australia, and New Zealand be divided? What about Jerusalem? What does Bible prophecy teach? Are there non-biblical prophecies that support this idea? Who will divide those lands? Who will end up with the lands and the people? Here is a link to a video titled Will the USA and other Anglo-nations be Divided and Their People Made Slaves? Here is a related item in the Spanish language ¿Serán divididas las naciones anglosajonas?
British are the Covenant People What do 'British' and 'Britain' mean in Hebrew? Are the descendants of the Anglo-Saxons people of the covenant? Does the British royal family connect to the throne of David? What does the Bible teach? What does history show us? Is there any DNA evidence related to British-Israelism? When did Christianity make it to the British Isles? Could Jeremiah have made it to the British Isles? What type of Christians made it to the British Isles? Did the last King of England believe in British Israelism?
Donald Trump in Prophecy Prophecy, Donald Trump? Are there prophecies that Donald Trump may fulfill? Are there any prophecies that he has already helped fulfill? Is a Donald Trump presidency proving to be apocalyptic? Two related videos are available: Donald: 'Trump of God' or Apocalyptic? and Donald Trump's Prophetic Presidency.
Trump Presidency Magic 8 Ball or Bible Prophecy? BBC reported that one might as well use a 'Magic Eight-Ball' to try to predict what will happen in the remaining time of Donald Trump's presidency. What is a 'Magic Eight-Ball'? Dr. Thiel not only explains that, but also briefly goes over 10 biblically-based warnings he wrote would happen if Donald Trump were elected that have already began to come to pass. He also goes over something he wrote back in 2008 that the Trump presidency is also helping lead to fulfillment. Should you trust Bible prophecy or not? Dr. Thiel says that Bible prophecy can be trusted, despite the view of skeptics and others that either overlook or despise the Bible. This is a video.
Donald Trump and America's Apocalypse This 188 page book is for people truly interested in prophecies related to Donald Trump and the United States, including learning about several that have already been fulfilled and those that will be fulfilled in the future. The physical book can be purchased at Amazon for $12.99 from the following link: Donald Trump and America's Apocalypse.
Donald Trump and America's Apocalypse-Kindle Edition This electronic version of the 188 page print edition is available for only US$3.99. And you do not need an actual Kindle device to read it. Why? Amazon will allow you to download it to almost any device: Please click HERE to download one of Amazon s Free Reader Apps. After you go to for your free Kindle reader and then go to Donald Trump and America's Apocalypse-Kindle Edition.