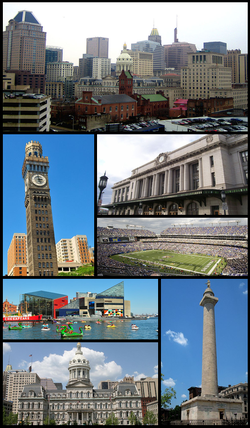 Baltimore (Excel23)
The National Guard was called out in Baltimore and even its governor has had to relocate:
April 28, 2015

National Guard troops have been deployed across the eastern U.S. city of Baltimore, Maryland as authorities attempt to restore order a day after riots broke out following the funeral of Freddie Gray, a 25-year-old black man who died from injuries sustained while in police custody earlier this month.

Maryland Governor Larry Hogan declared a state of emergency and public schools in the city are closed Tuesday. Mayor Stephanie Rawlings-Blake, who called the rioting "one of the darkest days the city has ever faced," has declared a weeklong nighttime curfew.

Firefighters continued to battle several blazes across Baltimore well into the pre-dawn hours Tuesday, including a church-run senior center that was still under construction.

What sparked violence

The violence began as hundreds of high school students marched towards a local mall after classes had dismissed for the day, then spread out across several neighborhoods, overwhelming the police department's ability to respond as the protests turned violent.

Protesters looted and burned dozens of businesses and vehicles, and threw rocks, bricks, bottles and other objects at riot police.  Police Commissioner Anthony Betts said 15 officers were injured in the clashes, including six who were hospitalized.  At least two dozen people were arrested.

"I understand anger.  What we see isn't anger, it's the destruction of a community," Mayor Rawlings-Blake told reporters late Monday, calling the protesters "thugs."

Gray's family called for the rioting to stop late Monday night.  "And I'm as hurt but I do not want you all to be out here," said Gloria Darden, Gray's mother.  "I want you all to get justice for my son but don't do it like this here. Don't tear up the whole city, man. Just for him? It's wrong."

The sister of Freddie Gray also condemned the rioting. "I think the violence is wrong… I don't like it at all," Fredericka Gray said late Monday.

The attorney for Gray's family, Billy Murphy, said the family had hoped to organize a peace march later in the week.

Initial response questioned

State and local authorities pledged to restore order and calm, but quickly found themselves responding to questions about whether their initial responses had been adequate.

Rawlings-Blake was asked why she waited hours to ask the governor to declare a state of emergency, while the governor himself hinted she should have come to him earlier.

"We were all in the command center in the second floor of the State House in constant communication, and we were trying to get in touch with the mayor for quite some time," Gov. Larry Hogan told a Monday evening news conference. "She finally made that call, and we immediately took action."

Maj. Gen. Linda Singh, adjutant general of the Maryland National Guard, said up to 5,000 troops would be available for Baltimore's streets.

"We are going to be out in massive force, and that just means basically that we are going to be patrolling the streets and out to ensure that we are protecting property," Singh said at a news conference Monday night. http://www.voanews.com/content/national-guard-deployed-as-violence-engulfs-baltimore/2737354.html

April 28, 2015

Maryland Gov. Larry Hogan is temporarily moving his office from the state capital, Annapolis, to Baltimore on Tuesday after rioting and fires broke out in the city.

Hogan spokeswoman Erin Montgomery says the governor will visit sites around the city Tuesday morning and plans to work out of state offices in downtown Baltimore with Cabinet members and senior staffers. …

Rioting erupted around the city Monday, hours after the funeral for Freddie Gray. The 25-year-old died of a spinal injury days after being taken into police custody. National Guard troops took up positions in the city, and cleanup was beginning early Tuesday morning. http://www.miamiherald.com/living/health-fitness/article19789482.html#storylink=cpy

Ex-New Black Panther chairman a notorious racist

April 26, 2015

Major news media outlets have failed to report one of the main leaders of the "splinter group" of Baltimore protesters who turned violent is a notorious racist and the former national chairman of the New Black Panther Party.

The New York Times, the Associated Press, the New York Daily News, CBS local and other news media outlets all name Malik Shabazz as a leader of the breakaway, chaotic protests. Yet each of these news outlets only identify Shabazz only as "president of Black Lawyers for Justice."

The AP reported: "One of the protest's organizers, Malik Shabazz, the president of Black Lawyers for Justice, said the crowd exceeded their expectations, adding that protesters' anger is not surprising….

Not a single news media outlet quoted above informed its readers of that which a simple Google search of "Malik Shabazz" reveals. As highlighted on his Wikipedia page, until October 2013, Shabazz notoriously served as the national chairman of the New Black Panther Party.   http://www.wnd.com/2015/04/media-fail-to-identify-leader-of-baltimore-riots/
We are seeing increased militarization of the police, seeing more documented evidence of police misconduct because of the prevalence of video equipment, as well as 'professional' agitators who try to 'add fuel to the fire.'  In the case in Baltimore, we have seen suspicious activity that resulted in the death of a man who was treated violently.  Yet when there are such issues, we also see various politicians, activists, and others who attempt to fan the flames to further their own agendas.
Anyway, I do not condone the use of excessive force by the government nor violent protests against the government. Multiple wrongs do not make a right and violence begets violence. After Jesus was being mistreated by semi-governmental authorities, one of His followers attempted to use a sword to try to change the situation. Notice what Jesus said:
52 Then said Jesus unto him, Put up again thy sword into his place: for all they that take the sword shall perish with the sword. (Matthew 26:52, KJV)
Vengeance belongs to God:
17 Repay no one evil for evil. Have regard for good things in the sight of all men. 18 If it is possible, as much as depends on you, live peaceably with all men. 19 Beloved, do not avenge yourselves, but rather give place to wrath; for it is written, "Vengeance is Mine, I will repay," says the Lord. (Romans 12:17-19, NKJV)
What is needed is peace:
9 Blessed are the peacemakers, For they shall be called sons of God. (Matthew 5:9)
As far as violence goes, the Bible also shows that God is against violence and that destruction will come because of it:
23 'Make a chain,
For the land is filled with crimes of blood,
And the city is full of violence.
24 Therefore I will bring the worst of the Gentiles,
And they will possess their houses;
I will cause the pomp of the strong to cease,
And their holy places shall be defiled. (Ezekiel 7:23-24)

28 And even as they did not like to retain God in their knowledge, God gave them over to a debased mind, to do those things which are not fitting; 29 being filled with all unrighteousness, sexual immorality…30…violent, proud, boasters,…31…unmerciful; 32 who, knowing the righteous judgment of God, that those who practice such things are deserving of death, not only do the same but also approve of those who practice them. (Romans 1:28-32)

8…And the violence of the land and the city, And of all who dwell in it. ( Habakkuk 2:8)
In my view, some of the protesters and some in the government turn too quickly to violence.
Some items of possibly related interest may include:
God's Grace is For All Is being Jewish a hindrance to salvation? What about not being a descendant of Israel? What does the Bible really teach? Here is a link to a related sermon titled Race and Grace; Do you view race as God does?
Military Service and the Churches of God: Do Real Christians Participate in Carnal Warfare or Encourage Violence? Here are current and historical perspectives on a matter which show the beliefs of the true church on military participation. Is war proper for Christians? A related sermon would be: Christians, Violence, and Military Service.
Christian Soldiers How are Christians to be like soldiers? How are they to be different?
Anglo – America in Prophecy & the Lost Tribes of Israel Are the Americans, Canadians, English, Scottish, Welsh, Australians, Anglo-Saxon (non-Dutch) Southern Africans, and New Zealanders descendants of Joseph? Where are the lost ten-tribes of Israel? Who are the lost tribes of Israel? What will happen to Jerusalem and the Jews in Israel? Will God punish the U.S.A., Canada, United Kingdom, and other Anglo-Saxon nations? Why might God allow them to be punished first? Here is a link to the Spanish version of this article: Anglo-América & las Tribus Perdidas de Israel. Information is also in the YouTube sermons titled Where are the Ten Lost Tribes? Why does it matter? and British are the Covenant People. A short YouTube of prophetic interest may be Barack Obama and the State of the Apocalypse.
Will the Anglo-Saxon Nations be Divided and Have People Taken as Slaves? Will the lands of the United States, United Kingdom, Canada, Australia, and New Zealand be divided? What about Jerusalem? What does Bible prophecy teach? Are there non-biblical prophecies that support this idea? Who will divide those lands? Who will end up with the lands and the people? Here is a link to a video titled Will the USA and other Anglo-nations be Divided and Their People Made Slaves? Here is a related item in the Spanish language ¿Serán divididas las naciones anglosajonas?
The Ten Commandments Reflect Love, Breaking them is Evil Some feel that the ten commandments are a burden. Is that what Jesus, Paul, Peter, James, and John taught?