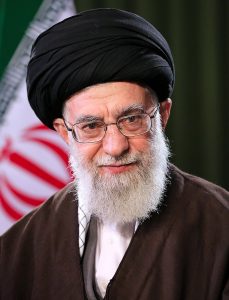 Ayatollah Ali Khamenei, (khamenei.ir)
PCG  continues to push the view that Iran is about to lead much of the Islamic world:
27 April 2018
The Bible describes a coming clash between a "king of the north" (a European power) and a "king of the south" (radical Islam, led by Iran). Notice what Trumpet editor in chief Gerald Flurry wrote in the June 1999 Trumpet:

Already friction is building between the Islamic world and the Catholic Church. The Bible says this division will lead to a great clash.

"And at the time of the end shall the king of the south PUSH at him: and the king of the north shall come against him like a whirlwind, with chariots, and with horsemen, and with many ships; and he shall enter into the countries, and shall overflow and pass over" (Daniel 11:40).

The king of the south will undoubtedly be radical Islam, led by Iran. …

Mr. Flurry continued by quoting verse 41: "He shall enter also into the glorious land, and many countries shall be overthrown: but these shall escape out of his hand, even Edom, and Moab, and the chief of the children of Ammon." The king of the north conquers the king of the south. Then he enters into "the glorious land"—Jerusalem. If the "push" is over Jerusalem, it would be a natural step to then "enter." The Hebrew word for "enter" indicates this is a peaceful entry—not an invasion by military force.

After conquering radical Islam, Catholic-led Europe will take the job as peacekeeper.
As it turns out, Iran's Supreme leader, Ayatollah Ali Khamenei, has called for other Muslims to support Iran:
Iran's supreme leader remains defiant, calling on Muslim nations worldwide to unite against America, vowing Tehran would never give in to "bullying."

"The Iranian nation has successfully resisted bullying attempts by America and other arrogant powers and we will continue to resist," said Ayatollah Ali Khamenei. "All Muslim nations should stand united against America and other enemies." 04/26/18 http://www.wnd.com/2018/04/iran-warns-of-catastrophe-if-u-s-exits-nuke-deal/#D1fJIfEPGsoAvr1G.99
So, Iran has again called on Muslim nations to unite and support it. But, other than its current allies, like Syria, we are not seeing Muslim states moving to support Iran.
Despite PCG's claims that Iran be the King of the South, notice some scriptures related to that king:
40 "At the time of the end the king of the South will engage him in battle, and the king of the North will storm out against him with chariots and cavalry and a great fleet of ships. He will invade many countries and sweep through them like a flood. 41 He will also invade the Beautiful Land. Many countries will fall, but Edom, Moab and the leaders of Ammon will be delivered from his hand. 42 He will extend his power over many countries; Egypt will not escape. 43 He will gain control of the treasures of gold and silver and all the riches of Egypt, with the Libyans and Cushites in submission. (Daniel 11:40-43, NIV)
Persians/Elamits (Iranians) are NOT listed above. The above are the Arabic, Cushite, and Turkish peoples of the Middle East and North Africa. Iran is NOT the prophesied King of the South. More proof can also be found in the article: Is the Future King of the South Rising Up?
The peoples in that prophecy–those of the Middle East and North Africa–are still mainly opposed to Iran. Furthermore, Iran is not going around threatening a European King of the North power as PCG implies will happen, but the USA.
That being said, Iran is upset about US President Donald Trump's threats to trash  the nuclear deal approved by then US President Barack Obama that did not get full USA approval:
27 April 2018
Iran received its 'frozen assets' because of that deal, hence it has little incentive to remain compliant.
But the issues are not just between the USA and Iran.
The warring rhetoric between Israel and Iran is increasing.
There appears to be a looming conflict with Israel:
27 April 2018

WASHINGTON — Direct conflict between Israeli and Iranian forces is increasingly likely in Syria as Tehran pursues a permanent military presence there, US Secretary of Defense James Mattis warned on Thursday.

Addressing a congressional panel before hosting his Israeli counterpart, Avigdor Liberman, at the Pentagon, Mattis said it was "very likely" from his perspective, "because Iran continues to do its proxy work there through Hezbollah." https://www.jpost.com/Arab-Israeli-Conflict/Mattis-receiving-Liberman-warns-of-likely-conflict-between-Israel-and-Iran-552864

RIYADH (Reuters) – Israel would retaliate against any Iranian attack on Tel Aviv by striking Tehran, Israel's defense minister said in remarks published on Thursday, as the arch-foes faced off over Syria.

The comments by Avigdor Lieberman were an unusually explicit Israeli threat to take military action within Iranian territory, and followed a surge of unprecedented confrontations between the countries' forces in civil war-torn Syria.

"Israel doesn't want war … but if Iran attacks Tel Aviv, we will hit Tehran," Avigdor Lieberman told the Arabic-language, Saudi-owned news website Elaph, which is based in London. … "Every outpost in which we see Iran positioning militarily in Syria, we will destroy, and we will not allow this no matter what the price," Lieberman told Elaph. https://www.reuters.com/article/us-israel-iran-security/israel-will-hit-tehran-if-iran-attacks-tel-aviv-minister-idUSKBN1HX15P

Israel's Defense Minister says Iran is on the brink of economic and military collapse, and that Israel will attack Tehran "and destroy every Iranian military outpost in Syria threatening Israel," according to Arab-language publication Elaph and reported by Israeli media Thursday.

"They know that the Iranian regime is in its final days and will soon collapse," said Israeli Defense Minister Avigdor Lieberman, adding "If they attack Tel Aviv, we will attack Tehran."

"Iran is trying to establish bases in Syria and arm them with advanced weapons," Lieberman said. "Every military outpost in Syria in which Iran seems to be trying to dig in militarily, we will destroy."

Lieberman says that Israel must prevent an Iranian military build-up on their border. "We won't allow it, whatever the cost," he said.

Iran has repeatedly hit back against similar rhetoric, threatening to attack Israel directly.

"If you provide an excuse for Iran, Tel Aviv and Haifa will be razed to the ground," Ali Shirazi, an adviser to Iranian Supreme Leader Ayatollah Ali Khamenei, said in mid-April according to the Washington Times. https://www.zerohedge.com/news/2018-04-26/israeli-defense-minister-iranian-regime-its-final-days
While Israeli leaders continue to remain confident that they can defeat Iran militarily, their statements bring the following scripture to mind:
11 'Let not the one who puts on his armor boast like the one who takes it off.' (1 Kings 20:11)
Israeli leaders also should consider that the Hebrew Bible also teaches the following:
6 Elam bore the quiver With chariots of men and horsemen, And Kir uncovered the shield. 7 It shall come to pass that your choicest valleys Shall be full of chariots,And the horsemen shall set themselves in array at the gate.

8 He removed the protection of Judah. You looked in that day to the armor of the House of the Forest; 9 You also saw the damage to the city of David, That it was great; And you gathered together the waters of the lower pool. 10 You numbered the houses of Jerusalem, And the houses you broke down To fortify the wall. 11 You also made a reservoir between the two walls For the water of the old pool. But you did not look to its Maker, Nor did you have respect for Him who fashioned it long ago.

12 And in that day the Lord God of hosts Called for weeping and for mourning, For baldness and for girding with sackcloth. (Isaiah 22:6-12 NKJV)
Elam and Kir appear to be an alliance of Iran and Syria. Notice that Judah (at this time the tiny nation called Israel) will lose enough protection that there will be great damage to the Jewish dominated portion of Jerusalem ('city of David' above).
It is not that Israel cannot harm Iran–it can. It is not that Syria's capital Damascus will not be destroyed–it will (Isaiah 17:1).
But for Israel to think that it will be able to cause a lot of damage and not be harmed itself is improper boasting. The USA, itself, is also subject to troubles and harm (cf. Mark 13:8).
We look to be getting closer to a regional conflict in the Middle East. Such a conflict may well lead to the 'Peace Deal' of Daniel 9:27. We will see. If so, we will see the countdown to the Great Tribulation.
Some items of possibly related interest may include:
Is the Future King of the South Rising Up? Some no longer believe there needs to be a future King of the South. Might Egypt, Islam, Iran, Arabs, or Ethiopia be involved? Might this King be called the Mahdi or Caliph? What does the Bible say? A YouTube video of related interest may be: The Future King of the South is Rising.
Iran in Prophecy Is Iran in Bible prophecy? If so, what does the Bible teach? What names, other than Persia, may be used to describe Iran? There is also a related YouTube video titled Iran In Prophecy.
Jerusalem: Past, Present, and Future What does the Bible say about Jerusalem and its future? Is Jerusalem going to be divided and eliminated? Is Jesus returning to the area of Jerusalem? There are also two related YouTube videos you can watch: Jerusalem To be divided and eliminated and God's and Satan's Plan for Jerusalem.
Syria and the start of World War 3 On April 14, 2018, Syrians were awoken by the sounds of about 120 missiles/bombs sent against areas of their country. The United States of America, United Kingdom, and France launched this attack related to claims of chemical weapons use earlier that week. Will Syria's capital one day be destroyed as prophesied in Isaiah chapter 17? If so, could this be before the start of the Great Tribulation? Are there prophecies about Syrians and the UK and USA? Is this attack against Syria leading to WWIII between the USA/UK/France and Russia/Syria/Iran? Is there an Arabic power that will rise up and be destroyed before the Great Tribulation as Tim McHyde has written related to Psalm 83? Is Ezekiel 38/39 about to be fulfilled? Who is the biblical King of the North and the biblical King of the South? Will the Beast power destroy the USA and its Anglo-Saxon descended allies (like the UK, Canada, Australia, & New Zealand)? Could this be WWIII and the start of the Great Tribulation? What is the prophetic sequence of events according to Jesus and Daniel the prophet? Dr. Thiel addresses all of these matters and more. This is a video.
Damascus and Syria in Prophecy Will Bashar Assad hold power as he has it? Does the Bible show that Damascus, the capital of Syria, will be destroyed? What will happen to Syria? Will the Syrians support the final King of the South that the Bible tells will rise up? Which scriptures discuss the rise and fall of an Arabic confederation? Does Islamic prophecy predict the destruction of Syria.
When Will the Great Tribulation Begin? 2018, 2019, or 2020? Can the Great Tribulation begin today? What happens before the Great Tribulation in the "beginning of sorrows"? What happens in the Great Tribulation and the Day of the Lord? Is this the time of the Gentiles? When is the earliest that the Great Tribulation can begin? What is the Day of the Lord? Who are the 144,000? Here is a version of the article in the Spanish language: ¿Puede comenzar la Gran Tribulación en 2018 o 2019? ¿Es el Tiempo de los Gentiles? You can also see the English language sermon videos: The Great Tribulation from the Mount of Olives and Can the Great Tribulation begin before 2020? A shorter video is: Can the Great Tribulation begin in 2018?
The Times of the Gentiles Has there been more than one time of the Gentiles? Are we in it now or in the time of Anglo-America? What will the final time of the Gentiles be like? A related sermon is available and is titled: The Times of the Gentiles.
Armageddon Who is involved and when will this gathering happen? Here is also a video from Dr. Thiel, from Tel Megiddo in Israel: Armageddon. Another video is: watch Is China paving roads to Armageddon?
The 'Peace Deal' of Daniel 9:27 This prophecy could give up to 3 1/2 years advance notice of the coming Great Tribulation. Will most ignore or misunderstand its fulfillment? Here is a link to a related sermon video Daniel 9:27 and the Start of the Great Tribulation.
How Will Middle East Peace be Brought About? Can humans bring peace to the Middle East? Here is a link to a related video: Middle East Peace? When?
Why Terrorism? Is Terrorism Prophesied? What does the Bible teach? Which nations may be affected? Here is a link to a related sermon: Terrorism, Christianity, and Islam.
The Arab and Islamic World In the Bible, History, and Prophecy The Bible discusses the origins of the Arab world and discusses the Middle East in prophecy. What is ahead for the Middle East and those who follow Islam? What about the Imam Mahdi? What lies ahead for Turkey, Iran, and the other non-Arabic Muslims? An item of possibly related interest in the Spanish language would be: Líderes iraníes condenan la hipocresía de Occidente y declaran que ahora es tiempo para prepararse para el Armagedón, la guerra, y el Imán Mahdi.
The Prophesied 'Islamic' Confederation Where is an Islamic caliphate prophesied? Will one happen? Should you be concerned about it? A related video is Will an Arabic Calphiphate Destroy the West?
Ezekiel 38: For Russia & Iran in Our Day? Is Ezekiel 38 about to be fulfilled? A related video is available titled Ezekiel 38: For Russia, Ukraine, & Iran Now? Another could be Russia, Iran, Syria, & the Bible (Code).
Teachings Unique to the Philadelphia Church of God Simply calling oneself 'Philadelphia' does not make one so (see Revelation 3:7-9), nor does Gerald Flurry calling himself "that prophet" make it so. This article provides many quotes from this group which tries to look faithful.
Donald Trump in Prophecy Prophecy, Donald Trump? Are there prophecies that Donald Trump may fulfill?  Are there any prophecies that he has already helped fulfill?  Is a Donald Trump presidency proving to be apocalyptic?  Two related videos are available: Donald: 'Trump of God' or Apocalyptic? and Donald Trump's Prophetic Presidency.
Trump Presidency Magic 8 Ball or Bible Prophecy? BBC reported that one might as well use a 'Magic Eight-Ball' to try to predict what will happen in the remaining time of Donald Trump's presidency. What is a 'Magic Eight-Ball'? Dr. Thiel not only explains that, but also briefly goes over 10 biblically-based warnings he wrote would happen if Donald Trump were elected that have already began to come to pass. He also goes over something he wrote back in 2008 that the Trump presidency is also helping lead to fulfillment. Should you trust Bible prophecy or not? Dr. Thiel says that Bible prophecy can be trusted, despite the view of skeptics and others that either overlook or despise the Bible. This is a video.
Donald Trump and America's Apocalypse This 188 page book is for people truly interested in prophecies related to Donald Trump and the United States, including learning about several that have already been fulfilled and those that will be fulfilled in the future. The physical book can be purchased at Amazon for $12.99 from the following link: Donald Trump and America's Apocalypse.
Donald Trump and America's Apocalypse-Kindle Edition This electronic version of the 188 page print edition is available for only US$3.99. And you do not need an actual Kindle device to read it. Why? Amazon will allow you to download it to almost any device: Please click HERE to download one of Amazon s Free Reader Apps. After you go to for your free Kindle reader and then go to Donald Trump and America's Apocalypse-Kindle Edition.