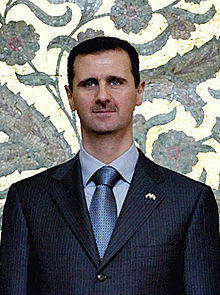 Syria's President Bashar al-Assad (Source: Agência Brasil, Wikipedia)
The Telegraph reported the following:
7 August 2012

Syria: Iran vows it will not allow Assad to fall

Iran pledged that its "axis" with Syria will "never" be allowed to break when Tehran sought to bolster President Bashar al-Assad by sending a senior envoy to Damascus.
I have been warning for some time that because Iran and Syria are close allies that they will likely stick together for a while, and also may end up fighting with Israel and/or the USA.  The statement from Iran today is intended to reassure Syria's Assad of Iran's support.  I remain of the opinion that Iran wants Syria to cooperate with it in the event of a regional conflict involving Israel and/or the USA.
Since Iran will not be the King of the South and Syria apparently will support the King of the South (Daniel 11:40-43), the situation in those countries will change–and this certainly could happen from civil unrest and/or a regional conflict.
"And what I say to you, I say to all: Watch!" (Mark 13:37).
Some articles of possibly related interest may include:
Is There A Future King of the South? Some no longer believe there needs to be. Might Egypt, Islam, Iran, Arabs, or Ethiopia be involved? Might this King be called the Mahdi? What does the Bible say?
The Arab and Islamic World In the Bible, History, and Prophecy The Bible discusses the origins of the Arab world and discusses the Middle East in prophecy. What is ahead for the Middle East and those who follow Islam? What about the Imam Mahdi? What lies ahead for Turkey, Iran, and the other non-Arabic Muslims?
Is There an Islamic Antichrist? Is Joel Richardson correct that the final Antichrist will be Islamic and not European? Find out.
When Will the Great Tribulation Begin? 2012, 2013, or 2014? Can the Great Tribulation begin today? What happens before the Great Tribulation in the "beginning of sorrows"? What happens in the Great Tribulation and the Day of the Lord? Is this the time of the Gentiles? When is the earliest that the Great Tribulation can begin? What is the Day of the Lord? Who are the 144,000?