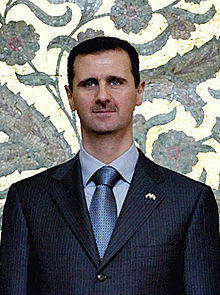 Syria's President Bashar al-Assad (Source: Agência Brasil, Wikipedia)
The Telegraph reported the following:
6 January 2013

Bashar al-Assad has pledged to continue fighting "terrorist" violence and urged foreign countries to end support for his enemies while also offering a national dialogue and a constitutional referendum to end Syria's bloody crisis.

The Syrian president used an hour-long speech in Damascus on Sunday to propose what he called a comprehensive plan that included an "expanded government". But there was no sign he was prepared to step down as the first stage of a political transition – a demand of all opposition groups. "I will go one day, but the country remains," he said.  http://www.guardian.co.uk/world/2013/jan/06/syria-president-assad-public-speech

BEIRUT-—Syrian President Bashar al-Assad, in his first address to the nation in six months, issued a defiant call to war to defend the country and rejected international peace efforts, proposing his own political plan that reforms the government but keeps him in power.  http://online.wsj.com/article/SB10001424127887323482504578225074251345046.html
Syria's Assad can make claims, but making them happen is another matter.
Now, the Muslim Brotherhood is mainly a Sunni Muslim group, while Syria's President Assad is Shi'a Muslim.  In Syria, the Muslim Brotherhood is basically in opposition to the Assad regime there.   Since the Bible suggests that Syria will support the coming final King of the South (Daniel 11:40-43; Ezekiel 30:1-8) and a change in or from the Assad regime will be necessary for this to happen–and it will come to pass.
Now, partially because of the internal civil war in Syria, if it escalates too much more, Syria's President Assad may decide that attacking Israel, probably in conjunction with support from Iran, is his best carnal option (which could include supporting Iran if it attacks Israel or Israel attacks it). Attacking Israel, however, will not be his best option (he should repent and probably leave office), though he may do that.
More trouble is coming to Damascus (Syria's capital) as it will be destroyed (Isaiah 17:1). An Islamic confederation that will include the land of Syria is coming (Daniel 11:40-43; Ezekiel 30:1-8; Psalm 83:4-8) is coming. A worsening situation in Syria would seem to be a factor in speeding up this occurrence.
"And what I say to you, I say to all: Watch!" (Mark 13:37).
Some articles of possibly related interest may include:
Is There A Future King of the South? Some no longer believe there needs to be. Might Egypt, Islam, Iran, Arabs, or Ethiopia be involved? Might this King be called the Mahdi? What does the Bible say?
The Arab and Islamic World In the Bible, History, and Prophecy The Bible discusses the origins of the Arab world and discusses the Middle East in prophecy. What is ahead for the Middle East and those who follow Islam? What about the Imam Mahdi? What lies ahead for Turkey, Iran, and the other non-Arabic Muslims?
Is There an Islamic Antichrist? Is Joel Richardson correct that the final Antichrist will be Islamic and not European? Find out.
When Will the Great Tribulation Begin? 2013, or 2014? Can the Great Tribulation begin today? What happens before the Great Tribulation in the "beginning of sorrows"? What happens in the Great Tribulation and the Day of the Lord? Is this the time of the Gentiles? When is the earliest that the Great Tribulation can begin? What is the Day of the Lord? Who are the 144,000?