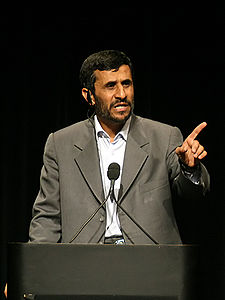 Mahmoud Ahmadinejad
Tonight, Forbes reported the following:
There Will Be War

Reza Kahlili, 06.21.10…

Iran, for its part, is also preparing for an all-out war in the Middle East. Before even a vote was cast at the U.N. on recent sanctions, Iranian leaders had ordered the Guards to build up. Reinforcement troops have been dispatched to the Iraqi and Afghanistan borders. Hezbollah has been armed to the teeth, and Syria was presented with missiles carrying larger payloads and longer range.

Meanwhile Iran is busy pursuing its nuclear bomb project and enriching its supply of uranium faster than ever before, with the hope of testing its first nuclear bomb. Accomplishing this will fulfill the prophecy sought by the radical members of the secretive society of Hojjatieh, particularly its leader Ayatollah Mesbah Yazdi, the person responsible for the initial election and fraudulent re-election of Mahmoud Ahmadinejad. The Hojjatieh movement impatiently seeks the end of times and the return of Imam Mahdi, the last messiah.

http://www.forbes.com/2010/06/21/iran-nuclear-israel-war-opinions-reza-kahlili.html
The reality is that an Islamic leader known as the final King of the South is prophesied to rise up.  It is even possible that he will have various signs and wonders with him (cf. Matthew 24:24).  And although this leader will not rise up quite as the regime in Iran hopes that he will, this leader may come on the scenes quicker because of actions by Iran.
Some articles of possibly related interest may include:
Is There A Future King of the South? Some no longer believe there needs to be. Might Egypt, Islam, Iran, Arabs, or Ethiopia be involved? What does the Bible say?
The Arab World (and Iran) In the Bible, History, and Prophecy The Bible discusses the origins of the Arab world and discusses the Middle East in prophecy. What is ahead for the Middle East and those who follow Islam?  How might Iran be involved?