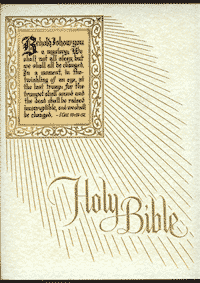 VS.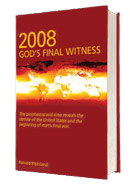 Two years or so ago, I was reporting about Ronald Weinland about twice or more per week.  Now it is more like once or twice per month.
Why?
Because there is less need to address someone who has become less significant in the internet world (Ronald Weinland had almost no other media significance).
A couple of years ago, Ronald Weinland had a couple of websites with Alexa rankings below 100,000–in other words two of his websites were among the most popular 100,000 in the world (by comparison, the COGwriter website, this morning, had an Alexa ranking of 154,642–which is quite a decent ranking).
But here, as of June 21, 2010, are the current Alexa rankings for Ronald Weinland's three primary websites:
400,600     the-end.com
1,926,302     ronaldweinland.com
2,476,804   cog-pfk.org
In other words, it took time, but relatively few are paying the self-appointed prophet and one of the self-appointed two witnesses nearly as much attention.  The fact that his "prophecies" have repeatedly proven to be false and/or allegorical likely has contributed to that.
Speaking of the two witnesses, the ronaldweinland.info site (an anti-Weinland site) had the following to say about Ronald Weinland's sermon of June 19, 2010:
Ron had to disfellowship a member from Montana.  Ron doesn't appreciate the competition, as the df'ed member believes himself to be one of the Two Witnesses.  Perhaps this member viewed this as an open position as Laura hasn't done any prophesying recently — haven't even heard her cackling recently.

Come to think of it, Ron hasn't done much prophesying either.  He's minimizing his prophecy, and hasn't even taken note that next weekend is the opening of the window for the Fifth Trumpet that he gave last fall.  Saturday is the end of the first 280-day revised time that began with the Feast of Trumpets last fall.
Neither Ronald Weinland, his wife Laura (who he claims is the other of the two witnesses), nor any who have just left his group, are now functioning as one of God's two witnesses.
But I have long written that Ronald Weinland would fall based upon biblical prophecy (I believe I have been warning against him longer than any on the internet).  And while he still, sadly, has followers who do not seem willing to see the truth of his false predictions and statements, eventually, based upon the following scripture, I believe that Ronald Weinland will fall further:
But there were also false prophets among the people, even as there will be false teachers among you, who will secretly bring in destructive heresies, even denying the Lord who bought them, and bring on themselves swift destruction.  And many will follow their destructive ways, because of whom the way of truth will be blasphemed.  By covetousness they will exploit you with deceptive words; for a long time their judgment has not been idle, and their destruction does not slumber (2 Peter 2:1-3).
Sadly, false prophets, false apostles, and other false teachers continue to arise and make it so people simply will blaspheme the way of truth that we in the Living Church of God teach. Unlike those of us in the Living Church of God who believe Jesus is God, Ronald Weinland is also "unitarian"–hence he truly does deny the truth about the Lord.
The internet popularity fall is simply one step of Ronald Weinland's fall.  He may disagree with my assessments, but time will again prove me correct and him incorrect on this.
Why?  Because, the Bible is right.
Some articles of related interest may include the following:
Concerns About Ronald Weinland's Church of God-Preparing for the Kingdom of God Ronald Weinland falsely claims to be one of the two witnesses God is raising up and that the end will come in 2008 (first April 17th, then June 2008, now December 14, 2008). Why does the Bible show that Ron Weinland is a false prophet? He also has at least one other view that suggests that he is not part of the Church of God.
Can the Great Tribulation Begin in 2010, 2011, or 2012? Can the Great Tribulation begin today? What happens before in the "beginning of sorrows"? What happens in the Great Tribulation and the Day of the Lord? When is the earliest that the Great Tribulation can begin? What is the Day of the Lord?
Who Are The Two Witnesses? What is their job? What does the Bible reveal? What has the Church of God taught on this subject? Might even Roman Catholic prophecies give some clues here?
Harold Camping's Teachings About the End of the World Do Not Agree with the Bible Harold Camping teaches that the rapture will be on May 21, 2011 and the world will end on October 21, 2011. Like Ronald Weinland, he allegorizes too many scriptures.  What does the Bible show?
2012 and the Rise of the Secret Sect This is a link related to a book by Bob Thiel (COGwriter). This also has YouTube videos related to 2012. The book is for those truly interested in understanding how prophecies inter-relate and who want to see a real sequence of end time events.  Unlike the false statements in Ronald Weinland's books, events aligning with this one are actually coming to pass.