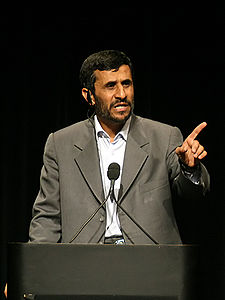 Mahmoud Ahmadinejad
Apparently, many of those who protested the "election" of Mahmoud Ahmadinejad are now on trial:
Trials Begin for Iranians Accused of Fomenting Post-Election Unrest By VOA News
02 August 2009

A trial opened in Iran Saturday for about 100 activists and political moderates accused of trying to topple the country's government.

Prominent reformists arrested during the country's post-election unrest appeared in a packed courtroom in Tehran.

The defendants include former vice president Mohammad Ali Abtahi, former parliament vice-speaker Behzad Nabavi and onetime government spokesman Abdollah Ramezanzadeh.

Some defendants, including Abtahi, retracted their claims that Iran's June presidential election was rigged.

U.S.-based group Human Rights Watch says authorities have used harsh interrogations and beatings in an effort to extract false confessions from the detainees.  And it says some prominent lawyers were recently arrested to prevent them from representing the defendants in court…

The trial opened four days before Mr. Ahmadinejad is due to be sworn into office for a second term.  Those on trial are facing charges related to mass protests following the June 12 presidential election. http://www.voanews.com/english/2009-08-02-voa1.cfm
The situation with Iran is volatile.  I suspect that Israel is watching all of this to determine if it should strike Iran's nuclear facilities or wait if it believes that all of this may lead to a different government.
Iran is having problems and simply will not be the prophesied King of the South (though it may support such an expected Islamic leader).
Two articles of possibly related interest may include:
Is There A Future King of the South? Some no longer believe there needs to be. Might Egypt, Islam, Iran, Arabs, or Ethiopia be involved? What does the Bible say?
The Arab World In the Bible, History, and Prophecy The Bible discusses the origins of the Arab world and discusses the Middle East in prophecy. What is ahead for the Middle East and those who follow Islam?