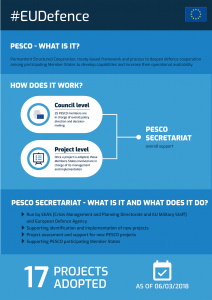 A reader sent me a link to the following article, originally written in Italian, which has been machine-translated into English:
Nato is at its sunset




Alternatives to the Alliance

18 July 2018

After a summit like the one in Brussels, many believe that unity of purpose between the United States and Europe, represented by NATO, is destined to end. …

The division between European states, from a strategic point of view, is there for all to see. What common strategic interests already link only Eastern and Western partners when they have completely different goals?

This inability to find a common plan on which to act is the reason why NATO is still substantially alive. Because nobody could find a credible alternative .

Is there a European alternative to NATO?

But are there really any alternatives? The question, for many, is contained in Pesco , that is, the permanent structured Cooperation . This is what has been defined as the Common European Defense. Officially established in December 2017, 25 States currently participate: Austria, Belgium, Bulgaria, Cyprus, Croatia, Estonia, Finland, France, Germany, Greece, Ireland, Italy, Latvia, Lithuania, Luxembourg, the Netherlands, Poland, Portugal, Czech Republic, Romania, Slovakia, Slovenia, Spain, Sweden and Hungary.

Pesco, for many within the European Union, could indeed represent a credible alternative to NATO. …


And it is hard to believe that, once the Atlantic Alliance is over, the same European states get together to form a new community. Also because the United States and Britain row against . …

Trump intends to strengthen ties with Britain by supporting the special relationship with London and Brexit in an anti-German key. (Here is a link to the actual article as written in Italian: http://www.occhidellaguerra.it/fine-nato-alternative/)
Notice that the article points to the end of NATO and the need for an alternative. It points to PESCO as a possible alternative, and then says that the USA and UK will oppose EU military unity and that the USA and UK are anti-German allies.
Well, yes, there will be a separation between Europe and the USA-UK alliance.
PESCO officially started in December of 2017. Here is a chart of what it says it has been doing and hopes to do this year: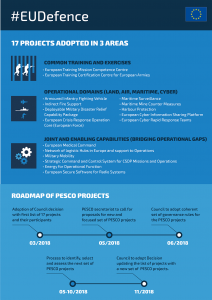 Now that the NATO summit is past, that will also likely motivate EU nations to give PESCO further consideration as an alternative to NATO.
Foreign Affairs reported the following about PESCO:
The Trump administration seems to believe that allies are meant to pay and obey. When it comes to Europe, this may pose a problem. During the Cold War, what was good for the United States was good for Western Europe. But in a multipolar world in which multiple powers are competing and cooperating with each other, this is not always the case. In June 2016, the EU adopted a new Global Strategy that formally called for strategic autonomy—the ability to pursue its own interests without being constrained by other states. …

In December 2017, amid rising anxieties about the Trump administration's commitment to European security, the EU launched Permanent Structured Cooperation (PESCO), which pools the defense efforts of 25 of the EU's 28 member states. To the surprise of Brussels, however, the United States swiftly condemned the new initiative as a threat to NATO. …

If PESCO succeeds, it will improve, not damage, transatlantic security. …

Despite what its critics have claimed, PESCO is the answer to the long-standing American demand for more burden-sharing in NATO. This is true precisely because it is an EU, rather than a NATO, initiative. https://www.foreignaffairs.com/articles/2018-07-06/letting-europe-go-its-own-way
While the article in Foreign Affairs considers that PESCO is good for the USA, it seems to not realize the ramifications of its first few statements. When Europe has to pay more for defense, it will demand a greater say in how the funds are spent as well as what to do with its military capabilities.
Contrary to the view in that Foreign Affairs article, this will turn out to be disastrous for the USA and its Anglo-Saxon allies like the UK and Canada.
It has been (correctly) reported that PESCO is about war, not peace (see 'PESCO is not about peace, it is about preparing for EU wars'). But PESCO will be more than about some small war, what is happening in Europe (whether or not the term PESCO will be used) is going to result in World War III.
Over fifty years ago, the old Radio Church of God published the following:
GERMANY in Prophecy!

Notice an amazing prophecy about the Middle East in Psalm 83:1-8. It is a time of war. "Hold not Thy peace, and be not still, O God. For, lo, Thine enemies… have taken crafty counsel against Thy people."

They have dealt treacherously with Judah and Israel — with the Jews and with America and Britain! We are God's people, Israel. The Jews are merely the tribe of Judah. But to continue: "They have said, 'Come, and let us cut them off from being a nation.'" Isn't this exactly what the Iraqi leaders have said? "For they have consulted together with one consent: they are confederate against Thee…"

What nations are these in confederation against God's people? Here is the answer of this prophecy! Here is what is yet going to take shape in the Middle East!

"Edom (Turkey), and the Ishmaelites (Saudi Arabia); Moab (part of Jordan), and the Hagarenes (part of Arabia); Gebal (this is the ancient name for Byblos in Lebanon), and Ammon (Jordan) and Amalek (part of the Turks); the Philistines (the displaced Moslems from Palestine) with the inhabitants of Tyre; ASSUR IS JOINED WITH THEM: they have helped the children of Lot."

Who is Assur? GERMANY!

So Germany — NOT atheistic, communist Russia — is ultimately going to support an Arab union against the Jews and against Israel — Britain and America! This is what prophecy foretells. This is God's warning to us today. …

Germany and World War III

But Germany is not only going to be embroiled in the hot Middle East controversy, she is going to spark World War III!

Notice the prophecies!

"O Asshur, the rod of Mine anger," declares God. Here is a prophecy concerning Germany — the descendants of Asshur today! "The staff," says God, "in their hand is Mine indignation. I will send him against an hypocritical nation (that is, Israel — America and Britain today), and… I will give him a charge to take the spoil, and to take the prey, and to tread them down like the mire of the streets" (Isaiah 10:5-6).

Our sins are mounting to heaven itself. And God is going to punish us by the very nation whom we have tried to buy for an ally! It is God who is going to permit the revival of Germany — this time in a gigantic union of 10 European powers united with a great religious power — to punish us in World War III.

We won two major wars against Germany in one generation. But the third time God is going to punish us as we have never been punished before! The sword of war is going to strike us "the third time" (Ezekiel 21:14), and we are going to be led away captive to Assyria and to all nations (Isaiah 11:10-12).

Literally dozens of prophecies speak of this terrible calamity to befall us in the 1970's. …

Germany is to be warned of her sins. Because she will not now repent, God will use her to punish us first. Then He is going to punish her.

The entire book of Nahum — one of the so-called Minor Prophets — is devoted to the final punishment of the German-dominated Church-State union yet to arise in Europe. The setting of the prophecy is the original fall of Nineveh about 612 B.C. What happened to Nineveh, the ancient capital of Assyria, was a type of what will happen in our day! Notice that the actual setting of this prophecy is the time of God's "wrath" — the Day of the Lord (Nahum 1:2, 6). That day of God's intervention is YET FUTURE. It has not happened yet! (Isaiah 19:23-25). (Hoeh H. GERMANY in Prophecy! – Part 2. Plain Truth, January 1963)
While his timing was off by many decades, we are seeing German-dominated political (European Union, which will reorganize per Revelation 17:12), economic (Eurozone), and military alliances (PESCO) beginning to rise in Europe. Expect to see church involvement in the future as well.
US President Donald Trump's style, statements, and pressures are getting Europe to look for an alternative to the USA-dominated NATO.
This does not mean that Europe will pull out of NATO. It means that the Europeans will develop military capabilities that they can use on their own as well as against the interests of the USA-UK.
The Bible teaches that Europe will have a great army:
25 "He shall stir up his power and his courage against the king of the South with a great army. (Daniel 11:25)
The "He" is identified as the final prophesied European King of the North in Daniel 11:40 (watch also Can You Prove that the Beast to Come is European?).
Europe does not have a great army yet, but PESCO may well be the instrument under which such an army is developed.
The Bible clearly shows that Europe will be a warring power (Daniel 11:39-44). It also shows that the success of the European Beast, King of the North, power will cause the world to marvel as well as defeat the strongest military power:
3 And I saw one of his heads as if it had been mortally wounded, and his deadly wound was healed. And all the world marveled and followed the beast. 4 So they worshiped the dragon who gave authority to the beast; and they worshiped the beast, saying, "Who is like the beast? Who is able to make war with him?" (Revelation 13:3-4)

39

Thus he shall act against the strongest fortresses with a foreign god, which he shall acknowledge, and advance its glory; and he shall cause them to rule over many, and divide the land for gain. (Daniel 11:39)
The Beast of Revelation 13 and the "he" of Daniel 11:39 is a European leader, also called the King of the North in Daniel 11:40.  Notice that Daniel 11:39 states that the strongest military power–which currently is the USA–will be taken over.
Europe is being pressured by Donald Trump to arise militarily. The world will be surprised when conquering by Europe happens, which is part of why I have long written that European technology will be a key factor in this (as will be deception and problems in the USA).
While Europe has been relying on the USA for defense, after developing more of its own military the time will come when Europe will conclude that it not only does not need the USA, but that it would prefer to destroy it!
The Europeans are mad at the USA for many reasons including its President Trump, the UK for the Brexit vote, and will decide that places like Canada are too connected to them to remain.
The USA and its Anglo-Saxon descended allies will be defeated (Daniel 8:24-25; Isaiah 17:3; Jeremiah 30:7).
The Bible teaches that this will come to pass (Daniel 11:39; see also USA in Prophecy: The Strongest Fortresses).
Europe is looking for an alternative to NATO. Currently, that looks like PESCO. This will not turn out well for the USA or its Anglo-Saxon descended allies.
Some items of possibly related interest may include:
Europa, the Beast, and Revelation Where did Europe get its name? What might Europe have to do with the Book of Revelation? What about "the Beast"? Is an emerging European power "the daughter of Babylon"? What is ahead for Europe? Here is a link to a video titled: Can You Prove that the Beast to Come is European?
European Technology and the Beast of Revelation Will the coming European Beast power would use and develop technology that will result in the taking over of the USA and its Anglo-Saxon allies? Is this possible? What does the Bible teach? Here is a related YouTube video: Military Technology and the Beast of Revelation.
The 'Peace Deal' of Daniel 9:27 This prophecy could give up to 3 1/2 years advance notice of the coming Great Tribulation. Will most ignore or misunderstand its fulfillment? Here is a link to a related sermon video Daniel 9:27 and the Start of the Great Tribulation.
Must the Ten Kings of Revelation 17:12 Rule over Ten Currently Existing Nations? Some claim that these passages refer to a gathering of 10 currently existing nations together, while one group teaches that this is referring to 11 nations getting together. Is that what Revelation 17:12-13 refers to? The ramifications of misunderstanding this are enormous. A related sermon is titled Ten Kings of Revelation and the Great Tribulation.
Is God Calling You? This booklet discusses topics including calling, election, and selection. If God is calling you, how will you respond?
Christian Repentance Do you know what repentance is? Is it really necessary for salvation? A related sermon is also available titled: Real Christian Repentance.
World War III: Steps in Progress Are there surprising actions going on now that are leading to WWIII? Might a nuclear attack be expected? Does the Bible promise protection to all or only some Christians? How can you be part of those that will be protected? A related video would be Is World War III About to Begin? Can You Escape?
WTO/TTIP and the Babylonian Beast Will international trade agreements like WTO/TTIP/CETA lead to the fulfillment of end time prophecies concerning the Babylonian Beast power that the Book of Revelation warns against? What does the Bible teach? A related video would be WTO Trade Deal and the Rise of the European Beast Power.
Forbes' Brexit Monster is the Beast of Revelation Various ones have been properly convinced that there is a plan for a European superstate. Forbes' writer Tom Worstall wrote that the Brexit vote was about the United Kingdom "not joining the monster of the European Union to come." The Bible tells of a Beast monster that will arise in the end times in Europe. Dr. Thiel cites news reports, as well as the Old and New Testaments, to show that the monster many fear will arise in Europe, despite the vote by the British to exit the European Union. This is a video.
Post Brexit Prophecy On June 23, 2016, the voters of the United Kingdom of Great Britain and Northern Ireland (UK) chose to leave the European Union. Now with this BRitish EXIT (Brexit) vote, what is prophesied to happen to the UK? Will the UK do well or be taken over and made slaves? Dr. Thiel explains from biblical prophecies what is ahead for the UK, Europe, and even the USA, Canada, Australia, and New Zealand. This is a video.
Brexit and the fate of Northern Ireland, Gibraltar, the UK, and the USA On April 29, 2017, 27 of the nations of the European Union agreed to certain guidelines for the negotiations with the United Kingdom of Great Britain and Northern Ireland which gave its notice to leave on March 29, 2017. These guidelines are contrary to what the UK wants. Does the EU intend the UK to pay a price for leaving the EU? What does Spain want? What does the Republic of Ireland want? Will Northern Ireland and Gibraltar eventually fall under European control? Will the UK and USA be conquered? What does the Bible teach? Dr. Thiel answer these questions and more in this video.
USA in Prophecy: The Strongest Fortresses Can you point to scriptures, like Daniel 11:39, that point to the USA in the 21st century? This article does. A related sermon is titled: Do these 7 prophesies point to the end of the USA?
Germany's Assyrian Roots Throughout History Are the Germanic peoples descended from Asshur of the Bible? Have there been real Christians in Germanic history? What about the "Holy Roman Empire"? There is also a You-Tube video sermon on this titled Germany's Biblical Origins.
Germany in Biblical and Catholic Prophecy Does Assyria in the Bible equate to an end time power inhabiting the area of the old Roman Empire? What does prophecy say Germany will do and what does it say will happen to most of the German people? Here is a link to a video Is the USA Pushing Germany to Start WWIII?
Wars, rumors of wars, and the Apocalypse Jesus foretold a time before the end where there would be wars and rumors of wars. The Apocalypse (the Book of Revelation) warns of the red horseman of war. Now, even secular writers, like Larry Edelson, are worried that wars and rumors of war are the most menacing problem that now haunts the earth? Are they right? What is the solution? This is a sermonette-length video.
Is Russia the King of the North? Some claim it is. But what does the Bible teach? Here is a link to a video, also titled Is Russia the King of the North?
Who is the King of the North? Is there one? Do biblical and Roman Catholic prophecies for the Great Monarch point to the same leader? Should he be followed? Who will be the King of the North discussed in Daniel 11? Is a nuclear attack prophesied to happen to the English-speaking peoples of the United States, Great Britain, Canada, Australia, and New Zealand? When do the 1335 days, 1290 days, and 1260 days (the time, times, and half a time) of Daniel 12 begin? When does the Bible show that economic collapse will affect the United States? In the Spanish language check out ¿Quién es el Rey del Norte? Here is a link to a video titled: The Future King of the North.
Anglo – America in Prophecy & the Lost Tribes of Israel Are the Americans, Canadians, English, Scottish, Welsh, Australians, Anglo-Saxon (non-Dutch) Southern Africans, and New Zealanders descendants of Joseph? Where are the lost ten-tribes of Israel? Who are the lost tribes of Israel? What will happen to Jerusalem and the Jews in Israel? Will God punish the U.S.A., Canada, United Kingdom, and other Anglo-Saxon nations? Why might God allow them to be punished first? Here is a link to the Spanish version of this article: Anglo-América & las Tribus Perdidas de Israel. Information is also in the YouTube sermons titled Where are the Ten Lost Tribes? Why does it matter? and British are the Covenant People. A short YouTube of prophetic interest may be: Are Chinese threats against Australia for real?
Will the Anglo-Saxon Nations be Divided and Have People Taken as Slaves? Will the lands of the United States, United Kingdom, Canada, Australia, and New Zealand be divided? What about Jerusalem? What does Bible prophecy teach? Are there non-biblical prophecies that support this idea? Who will divide those lands? Who will end up with the lands and the people? Here is a link to a video titled Will the USA and other Anglo-nations be Divided and Their People Made Slaves? Here is a related item in the Spanish language ¿Serán divididas las naciones anglosajonas?
British are the Covenant People What do 'British' and 'Britain' mean in Hebrew? Are the descendants of the Anglo-Saxons people of the covenant? Does the British royal family connect to the throne of David? What does the Bible teach? What does history show us? Is there any DNA evidence related to British-Israelism? When did Christianity make it to the British Isles? Could Jeremiah have made it to the British Isles? What type of Christians made it to the British Isles? Did the last King of England believe in British Israelism?
Donald Trump in Prophecy Prophecy, Donald Trump? Are there prophecies that Donald Trump may fulfill?  Are there any prophecies that he has already helped fulfill?  Is a Donald Trump presidency proving to be apocalyptic?  Two related videos are available: Donald: 'Trump of God' or Apocalyptic? and Donald Trump's Prophetic Presidency.
Trump Presidency Magic 8 Ball or Bible Prophecy? BBC reported that one might as well use a 'Magic Eight-Ball' to try to predict what will happen in the remaining time of Donald Trump's presidency. What is a 'Magic Eight-Ball'? Dr. Thiel not only explains that, but also briefly goes over 10 biblically-based warnings he wrote would happen if Donald Trump were elected that have already began to come to pass. He also goes over something he wrote back in 2008 that the Trump presidency is also helping lead to fulfillment. Should you trust Bible prophecy or not? Dr. Thiel says that Bible prophecy can be trusted, despite the view of skeptics and others that either overlook or despise the Bible. This is a video.
Donald Trump and America's Apocalypse This 188 page book is for people truly interested in prophecies related to Donald Trump and the United States, including learning about several that have already been fulfilled and those that will be fulfilled in the future. The physical book can be purchased at Amazon for $12.99 from the following link: Donald Trump and America's Apocalypse.
Donald Trump and America's Apocalypse-Kindle Edition This electronic version of the 188 page print edition is available for only US$3.99. And you do not need an actual Kindle device to read it. Why? Amazon will allow you to download it to almost any device: Please click HERE to download one of Amazon s Free Reader Apps. After you go to for your free Kindle reader and then go to Donald Trump and America's Apocalypse-Kindle Edition.