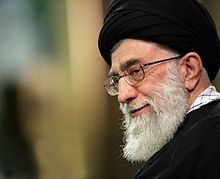 Ayatollah Ali Khamenei
Iran has taken a step that many in the international community will have concerns about:
Iran opens new centrifuge rotor factory: nuclear chief

July 18, 2018

An Iranian factory has started to produce rotors for up to 60 centrifuges a day, upping the stakes in a confrontation with the United States over the Islamic Republic's nuclear work.

The announcement by the head of Iran's atomic agency on Wednesday came a month after Supreme Leader Ayatollah Ali Khamenei ordered agencies to prepare to increase uranium enrichment capacity, if a nuclear deal with world powers falls apart after Washington's withdrawal. …

Ali Akbar Salehi, head of the Atomic Energy Organization of Iran, said the new factory did not in itself break the terms of the agreement.

"Instead of building this factory in the next seven or eight years, we built it during the negotiations but did not start it," said Salehi, according to state media. …

The factory would have the capacity to build rotors for as many as 60 IR-6 centrifuges per day, he added. https://www.aljazeera.com/news/middleeast/2018/07/iran-opens-centrifuge-rotor-factory-nuclear-chief-180718090012190.html
As I wrote on November 24, 2013 about the interim deal was that Iran would be able to delay the process, while presumably still working towards its nuclear objectives:
What this deal really does is give Iran some economic relief and time to upgrade its technology, while it agrees to get rid of some of its underdeveloped nuclear waste and centrifuges. This, in theory at least, will give Iran more money and more time to work on its nuclear technology, and at some point it time, it will likely not allow (officially or surreptitiously) inspectors to see some of what will be its newer, more advanced nuclear capacity. (Thiel B. Iran makes nuclear deal that Obama praises: Israel and Saudi Arabia are not pleased. November 24, 2013)
And, I was correct. Iran has learned that it can gain time by holding talks with the West and it continues to play that game–though the time may well come when it 'overplays its hand.'
Iran wants to takeover Jerusalem and lead the Islamic world (see, for example, Iran's Hossein Salami says Islamic army is to 'end' Israel). It then wants to takeover the world.
That is what Iran's Supreme Leader Ayatollah Ali Khamenei really wants.
The tiny nation of Israel is aware of that and has its own plans. Bloomberg reported the following:
In September 2012, standing at the podium before the United Nations General Assembly, Prime Minister Benjamin Netanyahu of Israel made one of the forum's more memorable appearances while holding up a placard showing a cartoon-like bomb. "At this late hour, there is only one way to peacefully prevent Iran from getting atomic bombs — that's by placing a clear red line on Iran's nuclear program," Netanyahu said. Then he drew a red line on the diagram just under the words "Final Stage." … The implicit threat was as clear as the red line he drew: If the world would not act, then Israel would have no choice but to carry out a military strike. …

With the possible collapse of the nuclear deal in the next few months — the result of President Donald Trump's decision to withdraw from it — we may well see renewed threats by both Israel and the U.S. to use force against Iran. This is especially true if Tehran decides to resume its production and accumulation of enriched uranium in similar quantities and purity levels to what it produced prior to the deal.

An Israeli strike on Iran's nuclear facilities remains a remote possibility. The Europeans may yet prove successful in saving the deal. Even if they don't, the Iranians are unlikely to try and "break out" to the bomb; and even if they do, they are still more than a year away from producing enough fissile material for a single weapon.

But there can be no doubt that Israel is better positioned today to carry out an effective strike against Iran's nuclear facilities, and to face the certain repercussions, than it was six years ago. …

Israel is also better positioned today to address the aftermath of such an attack. https://www.bloomberg.com/view/articles/2018-07-17/if-iran-gets-back-to-nukes-israel-is-ready-to-strike
Perhaps Bloomberg is right.
But, the Bible shows that it is possible that God will allow Iran to strike the nation of Israel, and that the damage would be great:
1 The burden against the Valley of Vision.

What ails you now, that you have all gone up to the housetops, 2 You who are full of noise, A tumultuous city, a joyous city? Your slain men are not slain with the sword, Nor dead in battle. 3 All your rulers have fled together; They are captured by the archers. All who are found in you are bound together; They have fled from afar. 4 Therefore I said, "Look away from me, I will weep bitterly; Do not labor to comfort me Because of the plundering of the daughter of my people."

5 For it is a day of trouble and treading down and perplexity By the Lord God of hosts In the Valley of Vision — Breaking down the walls And of crying to the mountain. 6 Elam bore the quiver With chariots of men and horsemen, And Kir uncovered the shield. 7 It shall come to pass that your choicest valleys Shall be full of chariots,And the horsemen shall set themselves in array at the gate.

8 He removed the protection of Judah. You looked in that day to the armor of the House of the Forest; 9 You also saw the damage to the city of David, That it was great; And you gathered together the waters of the lower pool. 10 You numbered the houses of Jerusalem, And the houses you broke down To fortify the wall. 11 You also made a reservoir between the two walls For the water of the old pool. But you did not look to its Maker, Nor did you have respect for Him who fashioned it long ago.

12 And in that day the Lord God of hosts Called for weeping and for mourning,For baldness and for girding with sackcloth. 13 But instead, joy and gladness, Slaying oxen and killing sheep, Eating meat and drinking wine: "Let us eat and drink, for tomorrow we die!"

14 Then it was revealed in my hearing by the Lord of hosts,"Surely for this iniquity there will be no atonement for you, Even to your death," says the Lord God of hosts. (Isaiah 22:1-14 NKJV)
Elam seems to be a reference to at least some in Iran. Kir is of interest as it has several possibilities. One is that the Bible tells that after Tiglath-Pileser, king of Assyria, took over Damascus, he moved Syrians to Kir. While this does not mean that Kir must (or must only) be a reference to Syria, the fact that Syria is an ally of Iran is interesting. Some believe Kir is an area in the south of Iran, while others suggest closer to the Black Sea. The Bible tells of a time when Kir will be destroyed (Isaiah 15:1b) and also says that Syria's capital Damascus will be destroyed (Isaiah 17:1).
Anyway, the point I wish to make is that Isaiah 22 shows, presuming that it has a future application (which it appears to have), that a time is coming when God will take away the protection of Judah and the City of David (Jerusalem, cf. 2 Kings 9:28). US President Donald Trump cannot prevent prophecies from being fulfilled.
Although Iran wants to dominate the Islamic world, Bible prophecy shows that it will not. This makes Iran dangerous. Iran may well damage Israel (Isaiah 22:1-14) and even the USA. But that will not end well for Iran (cf. Jeremiah 49:34-38)
But although it does provide support to various Islamic causes now, and probably will in the future, it will not be the power that the Bible teaches will be the coming King of the South.
Notice the following prophecy which indicates at least part of Iran's destruction before the latter days:
34 The word of the Lord that came to Jeremiah the prophet against Elam, in the beginning of the reign of Zedekiah king of Judah, saying, 35 "Thus says the Lord of hosts:

'Behold, I will break the bow of Elam,
The foremost of their might.
36 Against Elam I will bring the four winds
From the four quarters of heaven,
And scatter them toward all those winds;
There shall be no nations where the outcasts of Elam will not go.
37 For I will cause Elam to be dismayed before their enemies
And before those who seek their life.
I will bring disaster upon them,
My fierce anger,' says the Lord;
'And I will send the sword after them
Until I have consumed them.
38 I will set My throne in Elam,
And will destroy from there the king and the princes,' says the Lord.

39 'But it shall come to pass in the latter days:
I will bring back the captives of Elam,' says the Lord." (Jeremiah 49:34-39)
Despite prophesied problems, ultimately, however, those in Iran will have an opportunity for salvation as verse 39 above is an allusion to.
God is love (1 John 4:8,16). God intends to gather and resurrect the Iranians and offer them salvation (see also Universal Offer of Salvation: There Are Hundreds of Verses in the Bible Supporting the Doctrine of True Apocatastasis). A salvation that nearly all will accept as nearly all the Persians/Iranians who ever lived will be in the kingdom of God. A kingdom without fear or death or sorrow. A glorious kingdom. And that is the prophesied future for nearly all of the Persians as well as the Jews.
God has a plan for those in Iran and it is better than what most there seem to believe (cf. 1 Corinthians 2:9). But the current plans Iran's leaders have for it, are not good.
Some items of possibly related interest may include:
Iran in Prophecy Is Iran in Bible prophecy? If so, what does the Bible teach? What names, other than Persia, may be used to describe Iran? There is also a YouTube video titled Iran In Prophecy.
Syria and the start of World War 3 On April 14, 2018, Syrians were awoken by the sounds of about 120 missiles/bombs sent against areas of their country. The United States of America, United Kingdom, and France launched this attack related to claims of chemical weapons use earlier that week. Will Syria's capital one day be destroyed as prophesied in Isaiah chapter 17? If so, could this be before the start of the Great Tribulation? Are there prophecies about Syrians and the UK and USA? Is this attack against Syria leading to WWIII between the USA/UK/France and Russia/Syria/Iran? Is there an Arabic power that will rise up and be destroyed before the Great Tribulation as Tim McHyde has written related to Psalm 83? Is Ezekiel 38/39 about to be fulfilled? Who is the biblical King of the North and the biblical King of the South? Will the Beast power destroy the USA and its Anglo-Saxon descended allies (like the UK, Canada, Australia, & New Zealand)? Could this be WWIII and the start of the Great Tribulation? What is the prophetic sequence of events according to Jesus and Daniel the prophet? Dr. Thiel addresses all of these matters and more. This is a video.
Damascus and Syria in Prophecy Will Bashar Assad hold power as he has it? Does the Bible show that Damascus, the capital of Syria, will be destroyed? What will happen to Syria? Will the Syrians support the final King of the South that the Bible tells will rise up? Which scriptures discuss the rise and fall of an Arabic confederation? Does Islamic prophecy predict the destruction of Syria.
Ezekiel 38: For Russia & Iran in Our Day? Is Ezekiel 38 about to be fulfilled? A related video is available titled Ezekiel 38: For Russia, Ukraine, & Iran Now? Another could be Russia, Iran, Syria, & the Bible (Code).
Is the Future King of the South Rising Up? Some no longer believe there needs to be a future King of the South. Might Egypt, Islam, Iran, Arabs, or Ethiopia be involved? Might this King be called the Mahdi or Caliph? What does the Bible say? A YouTube video of related interest may be: The Future King of the South is Rising.
The Muslim Brotherhood and the Rise of the King of the South The Bible tells of the formation of a power of nations that are in the Middle East and North Africa that are part of the final "King of the South" (Daniel 11:40-43) The Muslim Brotherhood wishes to have an Islamic empire with basically the same nations. This YouTube video explains what to expect from such a confederation.
Why Terrorism? Is Terrorism Prophesied? What does the Bible teach? Which nations may be affected? Here is a link to a related sermon: Terrorism, Christianity, and Islam.
The Arab and Islamic World In the Bible, History, and Prophecy The Bible discusses the origins of the Arab world and discusses the Middle East in prophecy. What is ahead for the Middle East and those who follow Islam? What about the Imam Mahdi? What lies ahead for Turkey, Iran, and the other non-Arabic Muslims? An item of possibly related interest in the Spanish language would be: Líderes iraníes condenan la hipocresía de Occidente y declaran que ahora es tiempo para prepararse para el Armagedón, la guerra, y el Imán Mahdi.
The Prophesied 'Islamic' Confederation Where is an Islamic caliphate prophesied? Will one happen? Should you be concerned about it? A related video is Will an Arabic Calphiphate Destroy the West?
The 'Peace Deal' of Daniel 9:27 This prophecy could give up to 3 1/2 years advance notice of the coming Great Tribulation. Will most ignore or misunderstand its fulfillment? Here is a link to a related sermon video Daniel 9:27 and the Start of the Great Tribulation.
How Will Middle East Peace be Brought About? Can humans bring peace to the Middle East? Here is a link to a related video: Middle East Peace? When?
When Will the Great Tribulation Begin? 2018, 2019, or 2020? Can the Great Tribulation begin today? What happens before the Great Tribulation in the "beginning of sorrows"? What happens in the Great Tribulation and the Day of the Lord? Is this the time of the Gentiles? When is the earliest that the Great Tribulation can begin? What is the Day of the Lord? Who are the 144,000? Here is a version of the article in the Spanish language: ¿Puede comenzar la Gran Tribulación en 2018 o 2019? ¿Es el Tiempo de los Gentiles? You can also see the English language sermon videos: The Great Tribulation from the Mount of Olives and Can the Great Tribulation begin before 2020? A shorter video is: Can the Great Tribulation begin in 2018?
The Times of the Gentiles Has there been more than one time of the Gentiles? Are we in it now or in the time of Anglo-America? What will the final time of the Gentiles be like? A related sermon is available and is titled: The Times of the Gentiles.
Armageddon Who is involved and when will this gathering happen? Here is also a video from Dr. Thiel, from Tel Megiddo in Israel: Armageddon. Another video is: watch Is China paving roads to Armageddon?
Is Russia the King of the North? Some claim it is. But what does the Bible teach? Here is a link to a video, also titled Is Russia the King of the North?
The Eurasian Union, the Kings of the East, and Bible Prophecy Is there a Eurasian union that will be formed? Is one being formed right now? Are any leaders working on that in the 21st century? Does the Bible teach that there will be a Eurasian union? If some type of Eurasian union is formed, who might it benefit and who will it destroy? A related video would be Is The Eurasian Union Rising?
Anglo – America in Prophecy & the Lost Tribes of Israel Are the Americans, Canadians, English, Scottish, Welsh, Australians, Anglo-Saxon (non-Dutch) Southern Africans, and New Zealanders descendants of Joseph? Where are the lost ten-tribes of Israel? Who are the lost tribes of Israel? What will happen to Jerusalem and the Jews in Israel? Will God punish the U.S.A., Canada, United Kingdom, and other Anglo-Saxon nations? Why might God allow them to be punished first? Here is a link to the Spanish version of this article: Anglo-América & las Tribus Perdidas de Israel. Information is also in the YouTube sermons titled Where are the Ten Lost Tribes? Why does it matter? and British are the Covenant People. A short YouTube of prophetic interest may be: Are Chinese threats against Australia for real?
Will the Anglo-Saxon Nations be Divided and Have People Taken as Slaves? Will the lands of the United States, United Kingdom, Canada, Australia, and New Zealand be divided? What about Jerusalem? What does Bible prophecy teach? Are there non-biblical prophecies that support this idea? Who will divide those lands? Who will end up with the lands and the people? Here is a link to a video titled Will the USA and other Anglo-nations be Divided and Their People Made Slaves? Here is a related item in the Spanish language ¿Serán divididas las naciones anglosajonas?
Evangelical support for Donald Trump's Jerusalem policy BBC asked, "Why do US evangelicals support Trump's Jerusalem policy?" BBC provided quotes from some believing it has to do with the 'last days' while others saying that is not the reason. Hal Lindsey's book, 'The Late Great Planet Earth' is one of the sources pointed to. In this video, Dr. Thiel addresses scriptures related to Jerusalem as well as prophetic ones. He goes over the common 'fig tree' interpretation, belief about a 'Third Temple,' and statements about animal sacrifices. He explains biblical statements on those subjects as well as the views of certain modern Jewish organizations. This is a video.
Jerusalem, Donald Trump, and Prophecy On December 6, 2017, US President Donald Trump fulfilled a campaign promise related to the recognition of Jerusalem as Israel's capital. This brought anger, protests, and rockets from some Palestinians. It also brought condemnation from European allies–it has been claimed to be disruptive and even catastrophic. The Palestinian President (Mahmoud Abbas) said that this pronouncement eliminated the USA as being a fair mediator for a peace deal. Others have claimed that Donald Trump is an end time Cyrus and his pronouncement will lead to a Third Temple in Jerusalem. Is there ever going to be a peace deal? If so, will Europeans be part of it? Is Donald Trump a 'Cyrus.' Do the Jews require a Third Temple for sacrifices? Dr. Thiel answer those questions and more in this video.
Donald Trump in Prophecy Prophecy, Donald Trump? Are there prophecies that Donald Trump may fulfill?  Are there any prophecies that he has already helped fulfill?  Is a Donald Trump presidency proving to be apocalyptic?  Two related videos are available: Donald: 'Trump of God' or Apocalyptic? and Donald Trump's Prophetic Presidency.
Trump Presidency Magic 8 Ball or Bible Prophecy? BBC reported that one might as well use a 'Magic Eight-Ball' to try to predict what will happen in the remaining time of Donald Trump's presidency. What is a 'Magic Eight-Ball'? Dr. Thiel not only explains that, but also briefly goes over 10 biblically-based warnings he wrote would happen if Donald Trump were elected that have already began to come to pass. He also goes over something he wrote back in 2008 that the Trump presidency is also helping lead to fulfillment. Should you trust Bible prophecy or not? Dr. Thiel says that Bible prophecy can be trusted, despite the view of skeptics and others that either overlook or despise the Bible. This is a video.
Donald Trump and America's Apocalypse This 188 page book is for people truly interested in prophecies related to Donald Trump and the United States, including learning about several that have already been fulfilled and those that will be fulfilled in the future. The physical book can be purchased at Amazon for $12.99 from the following link: Donald Trump and America's Apocalypse.
Donald Trump and America's Apocalypse-Kindle Edition This electronic version of the 188 page print edition is available for only US$3.99. And you do not need an actual Kindle device to read it. Why? Amazon will allow you to download it to almost any device: Please click HERE to download one of Amazon s Free Reader Apps. After you go to for your free Kindle reader and then go to Donald Trump and America's Apocalypse-Kindle Edition.