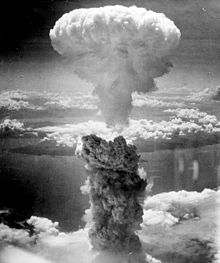 Nagasaki Nuclear Bomb (1945)
A deal that will apparently help the economy of Iran and impact its nuclear program has been made and agreed to:
November 24, 2013

GENEVA — Iranian and international negotiators have reached agreement on first steps to curtail Iran's nuclear program and ease economic sanctions, after four days of marathon high-level negotiations in Geneva that ended after 2 o'clock Sunday morning.

The foreign ministers of six of the world's most powerful countries stood side-by-side with their Iranian counterpart and the European Union's foreign policy chief to announce the accord, followed by handshakes and hugs all around.
This first-stage agreement, capping decades of dispute over Iran's nuclear program, came at the end of four days of what diplomats called "very tough" negotiations. The foreign ministers of all six nations of the U.N. Security Council's contact group flew in on short notice to seal the deal, from Britain, France, Germany, Russia, China and U.S. Secretary of State John Kerry…
At a news conference, Iranian Foreign Minister Mohammad Javad Zarif…said, "Many times, at least twice very explicitly this recognition is there that Iran will have an enrichment program. And we believe that to be our right and we are exercising that right and we only require respect for that right."

According to a U.S. summary of the accord, Iran will have to destroy its entire stockpile of near weapons grade uranium, stop production of even lower enriched uranium, stop construction and installation of centrifuges used to enrich uranium, and freeze construction of a new reactor that could produce plutonium, another nuclear bomb fuel.   http://www.voanews.com/content/iran-agreement/1796513.html
WASHINGTON — U.S. President Barack Obama says the agreement reached Sunday between Iran, the five permanent members of the U.N. Security Council and Germany, will substantially curb Iran's nuclear program and cut off Iran's most likely paths to an atomic bomb, in exchange for modest but reversible relief from international sanctions.

Obama said the agreement halts Iran's nuclear program for the first time in nearly a decade, and rolls back key parts of it, paving the way for the next phase of negotiations…The president also sought to address concerns of Israel and U.S. partners in the Gulf, saying they have "good reason to be skeptical about Iran's intentions."  http://www.voanews.com/content/obama-iran-nuclear/1796508.html
US President Obama mentioned that some validly have concerns about Iran, despite the deal it agreed to.  And that is correct.  What this deal really does is give Iran some economic relief and time to upgrade its technology, while it agrees to get rid of some of its underdeveloped nuclear waste and centrifuges.  This, in theory at least, will give Iran more money and more time to work on its nuclear technology, and at some point it time, it will likely not allow (officially or surreptitiously) inspectors to see some of what will be its newer, more advanced nuclear capacity.
Israel has already objected to the finalized deal, and Saudi Arabia has been concerned during this deal negotiation, as both of these countries consider that Iran is a significant threat:
 November 24, 2013

JERUSALEM — Israeli leaders denounced the interim Iranian nuclear pact signed by the United States and five world powers as a "historic mistake" that does little to reverse Iran's nuclear ambitions and instead makes the world a more dangerous place.

Israeli officials stressed that they would spend the next six months — the time frame for the interim agreement — seeking to push their friends and especially the White House to reach a deal with Iran that not only curbs Iran's nuclear ambitions but dismantles its program.  http://www.washingtonpost.com/world/israel-says-iran-deal-makes-world-more-dangerous/2013/11/24/e0e347de-54f9-11e3-bdbf-097ab2a3dc2b_story.html

November 24, 2013

Saudi Arabia fears rapprochement between Washington and Tehran after 30 years of estrangement will be at its expense…

Analysts in Riyadh said it would be diplomatically impossible for the Saudi government to publicly condemn an agreement designed to contain Iranian nuclear ambitions however deep its concerns about the direction of evolving US policy.

The Saudis have been unusually vocal in recent weeks in warning about a rapprochement between the US and Iran after more than 30 years of estrangement. http://www.theguardian.com/world/2013/nov/24/iran-nuclear-deal-middle-east-reaction-saudi-arabia

November 23, 2103
The Saudis are worried; they're worried about Barack Obama's sanctions strategy with Iran. This is reflected in the words of Saudi Prince Alwaleed bin Talal, who sat down with Bloomberg's Jeffrey Goldberg this week:
"There's no confidence in the Obama administration doing the right thing with Iran," he told me, with a directness that would make Benjamin Netanyahu blush. "We're really concerned — Israel, Saudi Arabia, the Middle East countries — about this."

Alwaleed also said something to Goldberg that has been obvious to us here for quite a while:
In Isaiah 22:1-14, which seems to have a reference to at least part of the area of Iran, the Bible mentions that, presuming it has a future application, a time is coming when God will take away the protection of Judah and the City of David (Jerusalem, cf. 2 Kings 9:28).  Israel is concerned that it is in danger.  And it may soon be.
Iran has claimed that it will take over Jerusalem and give it to one called the Imam Mahdi. This was the subject of a video years ago (for details, see Iran's Ahmadinejad to Conquer Jerusalem?).  That video basically indicates that Iran, possessing the strongest Islamic military, should lead a confederation of Islamic nations–which implied the Sunni Muslim Arab nations–and that all should follow Iran.  Saudi Arabia is not interested in being subject to Iran.
Because of Iranian Shit'ite Muslim beliefs about a leader called the Imam Mahdi (see also Iran's President-elect wants to negotiate with the USA and credits the 'Islamic messiah' for his election), statements that Iran intends to wipe Israel off the map, as well as statements from its Supreme Leader Khamenei (Khamenei Has Claimed Iranian Nuclear Weapons Need for the Arrival of the 12th Imam), it may well be that Iran will decide at some point in time to attack Jerusalem.
As regular readers of the COGwriter news page are aware, I have been warning for some time that a regional war involving Iran, Israel, the USA, and/or Syria seems likely.
Since Iran, however, is NOT really south of Jerusalem (though it may support such a king per certain interpretations of the peoples listed in Ezekiel 30:1-9), it will not be the final King of the South of Bible prophecy (cf. Daniel 11:40-43). Because of that, I have tended to believe that Iran may somehow get "neutralized" before this final king rises up. A serious attack by the USA and/or Israel may neutralize Iran and much of its influence–but Iran might hit hard first.
"Neutralizing" Iran would allow most of the other Islamic states (like Saudi Arabia and Egypt) to continue to exist (Syria might not do well per Isaiah 17:1) and allow for the rising of the prophesied King of the South to rise up (revolution in Iran, is also another possibility, for its "neutralization").  Israel has stated in the past that it will stop Iranian nuclear ambitions whether or not the USA will support it doing so.
Yet, Iran may have a role in Isaiah 22 and this will not bode well for Israel (and probably ultimately not Iran).  The USA, itself, may also be damaged.
We will see how this current 'interim' deal will play out.
Some items of possibly related interest may include:
Is the Future King of the South Rising Up? Some no longer believe there needs to be a future King of the South. Might Egypt, Islam, Iran, Arabs, or Ethiopia be involved? Might this King be called the Mahdi or Caliph? What does the Bible say? A YouTube video of related interest may be: The Future King of the South is Rising.
The Arab and Islamic World In the Bible, History, and Prophecy The Bible discusses the origins of the Arab world and discusses the Middle East in prophecy. What is ahead for the Middle East and those who follow Islam? What about the Imam Mahdi? What lies ahead for Turkey, Iran, and the other non-Arabic Muslims? An item of possibly related interest in the Spanish language would be: Líderes iraníes condenan la hipocresía de Occidente y declaran que ahora es tiempo para prepararse para el Armagedón, la guerra, y el Imán Mahdi. Another article related to Iran translated into the Spanish language is: Irán y líderes israelíes discuten las intenciones nucleares de Irán.
Damascus and Syria in Prophecy Will Bashar Assad hold power as he has it? Does the Bible show that Damascus, the capital of Syria, will be destroyed? What will happen to Syria? Will the Syrians support the final King of the South that the Bible tells will rise up? Which scriptures discuss the rise and fall of an Arabic confederation? Does Islamic prophecy predict the destruction of Syria. This is a YouTube video.
Jerusalem To be divided and eliminated Many want Jerusalem. Who does the Bible teach will control Jerusalem? Will the Jews be forced out of Jerusalem and many made captive? What did Jesus teach about this? Are nations even now considering providing the prophesied armies to surround Jerusalem? What is Jerusalem Day? What is Nakba Day? What events should Christians watch in Jerusalem as signs that the Great Tribulation will begin? What is the solution to Jerusalem? This is a video.
Jerusalem: Past, Present, and Future What does the Bible say about Jerusalem and its future? Is Jerusalem going to be divided and eliminated? Is Jesus returning to the area of Jerusalem?
Anglo – America in Prophecy & the Lost Tribes of Israel Are the Americans, Canadians, English, Scottish, Welsh, Australians, Anglo (non-Dutch) Southern Africans, and New Zealanders descendants of Joseph? Where are the lost ten-tribes of Israel? Who are the lost tribes of Israel? What will happen to Jerusalem and the Jews in Israel? Will God punish the U.S.A., Canada, United Kingdom, and other Anglo nations? Why might God allow them to be punished first?
Who is the King of the West? Why is there no End-Time King of the West in Bible Prophecy? Is the United States the King of the West?
When Will the Great Tribulation Begin? 2013, 2014, or 2015? Can the Great Tribulation begin today? What happens before the Great Tribulation in the "beginning of sorrows"? What is the seven-year deal? What happens in the Great Tribulation and the Day of the Lord? Is this the time of the Gentiles? When is the earliest that the Great Tribulation can begin? What is the Day of the Lord? Who are the 144,000?
Barack Obama, Prophecy, and the Destruction of the United States-Second Edition for Second Obama Term This is a 160 page book for people truly interested in prophecies related to Barack Obama and the United States, including learning about many that have already been fulfilled (which the book documents in detail) and those that will be fulfilled in the future. It also has a chapter about a Republican choice. This book is available to order at www.barackobamaprophecy.com. The physical book can also be purchased at Amazon from the following link: Barack Obama, Prophecy, and the Destruction of the United States: Is Barack Obama Fulfilling Biblical, Islamic Catholic, Kenyan, and other America-Related Prophecies? What About Republican Leaders? Second Edition for Second Obama Term.
Barack Obama, Prophecy, and the Destruction of the United States-Second Term-Amazon Kindle edition. This electronic version is available for only US$2.99. And you do not need an actual Kindle device to read it. Why? Amazon will allow you to download it to almost any device: Please click HERE to download one of Amazon s Free Reader Apps. After you go to for your free Kindle reader and then go to Barack Obama, Prophecy, and the Destruction of the United States-Second Term-Amazon Kindle edition.