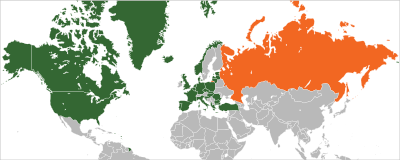 NATO in Green; Russia in Orange

ZeroHedge (ZH) reported the following:
Twitter Says It Purged Dozens Of Accounts For "Undermining Faith In NATO"

February 25, 2021

Twitter has announced it recently suspended dozens of accounts for undermining confidence in NATO. It was part of a broader purge of almost 400 Twitter accounts believed to have "ties to Russia, Armenia and Iran" state actors which were found to have "breached its platform manipulation policies," according to Reuters.

And further Twitter said according to the Reuters that "100 accounts with Russian ties were removed for amplifying narratives that undermined faith in NATO and targeted the United States and the European Union."

Their comments, published separately, come in response to a controversial interview given by France's President Emmanuel Macron earlier this week, in which he lamented that US leadership caused the "brain death" of NATO, and criticized the alliance's lack of coordination. Macron urged European allies to "wake up" to the new reality of the US with Donald Trump at the helm.

That's right, amid numerous examples of recent Twitter overreach and Silicon Valley's blatant attempts to crush speech deemed politically inconvenient or out of bounds, this one is arguably the most bizarre and blatant yet – the offending accounts were deemed to have not upheld "faith" in the NATO military alliance. (Did we miss the "oath" that was supposed to be taken upon setting up an account?…)

Some of the accounts appear to have been suspended in prior months, with Twitter now disclosing its fuller investigation results and rationale for taking action against the accounts.

Here's the official Twitter statement according to its full context:

"Today we're disclosing two separate networks that have Russian ties. Our first investigation found and removed a network of 69 fake accounts that can be reliably tied to Russian state actors. A number of these accounts amplified narratives that were aligned with the Russian government, while another subset of the network focused on undermining faith in the NATO alliance and its stability. As part of our second investigation in this region, we removed 31 accounts from two networks that show signs of being affiliated with the Internet Research Agency (IRA) and Russian government-linked actors. These accounts amplified narratives that had been previously associated with the IRA and other Russian influence efforts targeting the United States and European Union."

https://www.zerohedge.com/geopolitical/twitter-says-it-purged-dozens-accounts-undermining-faith-nato
For several decades I have believed that the USA would be betrayed by NATO. So, apparently COGwriter may also be at risk from the 'cancel culture' that Twitter and others in Big Tech have been engaging in.
They do not wish aspects of the truth taught.
The prophetic reality is that the Bible shows that Europe will end up with "a great army" (Daniel 11:25). France's President Macron and EU Commission President Ursula von der Leyen have both made public statements that are supportive of that (see France's Macron uncertain about NATO and USA has concerns about PESCO and European army? EU chief Von der Leyen says bloc must 'flex its muscles' and 'Brexit has strengthened our unity').
Partially because of Donald Trump, various ones in Europe have taken some steps and agreed to take more responsibility for defense (e.g. PESCO: EU's alternative to NATO? and Europe moving towards its own army 'Europe may soon produce its own Trumps' and With PESCO, EU entering a 'New Era': An era that will NOT end well for the USA, Canada, or the UK).
Many see this as reasonable and logical–particularly in the light of real and alleged issues with the USA.
Yet for now, while European leaders appear to be supportive of NATO, in the end Europe will betray the NATO members of the USA, Canada, and UK.
Consider the following prophecies:
21 And in his place shall arise a vile person, to whom they will not give the honor of royalty; but he shall come in peaceably, and seize the kingdom by intrigue. (Daniel 11:21)

39 Thus he shall act against the strongest fortresses with a foreign god, which he shall acknowledge, and advance its glory; and he shall cause them to rule over many, and divide the land for gain. … the king of the North (Daniel 11:39, 40)

23 "And in the latter time of their kingdom,
When the transgressors have reached their fullness,
A king shall arise,
Having fierce features,
Who understands sinister schemes.
24 His power shall be mighty, but not by his own power;
He shall destroy fearfully,
And shall prosper and thrive;
He shall destroy the mighty, and also the holy people.

25 "Through his cunning
He shall cause deceit to prosper under his rule;
And he shall exalt himself in his heart.
He shall destroy many in their prosperity. (Daniel 8:23-25)
The above leader is the final European King of the North Beast power. He will eliminate the USA and the UK. He will seemingly feign military support for the USA and the UK.
Europe will need to reorganize, but the Bible tells of at least two more reorganizations to come in Europe in Revelation 17:2-13 (see also Must the Ten Kings of Revelation 17:12 Rule over Ten Currently Existing Nations?).
Europe is moving in a military direction and USA leaders have encouraged this (including Joe Biden).
While some do not believe that Europe wants to destroy the USA or is capable of rising up to take over the USA, Canada, and the UK, consider the following two portions of scripture:
5 "Woe to Assyria, the rod of My anger
And the staff in whose hand is My indignation.
6 I will send him against an ungodly nation,
And against the people of My wrath
I will give him charge,
To seize the spoil, to take the prey,
And to tread them down like the mire of the streets.
7 Yet he does not mean so,
Nor does his heart think so;
But it is in his heart to destroy,
And cut off not a few nations.
8 For he says,
'Are not my princes altogether kings?
9 Is not Calno like Carchemish?
Is not Hamath like Arpad?
Is not Samaria like Damascus?
10 As my hand has found the kingdoms of the idols,
Whose carved images excelled those of Jerusalem and Samaria,
11 As I have done to Samaria and her idols,
Shall I not do also to Jerusalem and her idols?'" (Isaiah 10:5-11)

2 Now the beast which I saw was like a leopard, his feet were like the feet of a bear, and his mouth like the mouth of a lion. The dragon gave him his power, his throne, and great authority. 3 And I saw one of his heads as if it had been mortally wounded, and his deadly wound was healed. And all the world marveled and followed the beast. 4 So they worshiped the dragon who gave authority to the beast; and they worshiped the beast, saying, "Who is like the beast? Who is able to make war with him? (Revelation 13:2-4)
The Bible shows that the European power (called Assyria in Isaiah 10; see also Germany in Biblical Prophecy) does not think it intends to be militaristic, but that it will and will conquer. The Bible shows that the world will marvel that Europe was able to be such a military power as Europe basically had been dismissed as irrelevant.
1 How lonely sits the city
That was full of people!
How like a widow is she,
Who was great among the nations!
The princess among the provinces
Has become a slave!

2 She weeps bitterly in the night,
Her tears are on her cheeks;
Among all her lovers
She has none to comfort her.
All her friends have dealt treacherously with her;
They have become her enemies. (Lamentations 1:1-2)
The USA has been great among the nations and will be destroyed by those it considers friends–many of which are part of NATO!
This will take the USA by surprise.
For those that think that deceit and destruction cannot happen to the USA, understand that Daniel 11:39 shows that a European power will destroy the 'strongest fortresses'–which in the 21st century belong to the USA, this shows that the USA will be defeated, despite its military strength (see also USA in Prophecy: The Strongest Fortresses).
For those unfamiliar with the term blitzkrieg, it was a German war strategy utilized in World War II. Here is some information about it:
Blitzkrieg means "lightning war". It was an innovative military technique first used by the Germans in World War Two and was a tactic based on speed and surprise. Blitzkrieg relied on a military force be based around light tank units supported by planes and infantry (foot soldiers). The tactic was based on Alfred von Schlieffen's 'Schlieffen Plan' – this was a doctrine formed during WWI that focused on quick miliatry victory. It was later developed in Germany by an army officer called Heinz Guderian who looked at new technologies, namely dive bombers and light tanks, to improve the German army's manoeuvrability. …

Blitzkrieg was based on speed, co-ordination and movement; the major science of this approach was the ability to get large mobile forces through weak points in the enemies defences and then cause damage when behind his static lines. …

The Blitzkrieg was fundamentally about moving away from the tried and tested methods of modern warfare and creating a new, more effective doctrine. To that end, Hitler had given his full backing to Guderian. Ironically, he had got his idea for Blitzkrieg from two officers – one from France and one from Britain and he had copied and broadened what they had put on paper. …In 1940, Britain and France still had a World War One mentality. http://www.historylearningsite.co.uk/blitzkrieg.htm
It is interesting to me that Germany got the blitzkrieg ideas from France and the UK. In other words, Germany got tactics and information from nations it was later going to invade. I expect the same in the future. It should be noted that the USA still has the 'cold war' mentality about the Germans and acts like they will always be USA allies. I read something a while back in the Wall Street Journal where the writer could not fathom that Germans could consider that the USA is a threat. Many do not understand the mentality of the Germans and where all of this will lead (cf. Isaiah 10:5-11).
As far as blitzkrieg goes, consider the following biblical prophecy:
3 For when they say, "Peace and safety!" then sudden destruction comes upon them (1 Thessalonians 5:3)
In WWIII, I expect that the Germans will lead a type of blitzkrieg against the USA, the UK, and other Anglo-Saxon descended nations. It will be based upon technology, coordination, intelligence, and deception. It is likely that the attack will be under the guise of a NATO exercise and/or otherwise feigned support.
It is quite likely that some version of NATO will survive, but that Europe will use NATO as a shield from Russia, and eventually turn against the USA and its Anglo-Saxon descended allies.
We made a few BibleNewsProphecy videos related to Germany and the European military:
9:49
Germany and World War 3 Could preparations for WWIII have begun? German Chancellor Angela Merkel and French President Emmanuel Macron called for a European army to be independent of the USA and NATO. One of the reasons was to be able to protect against the USA. Is the fourth German Reich in progress? What does the Bible teach about Germany, Europe, and WW3? Dr. Thiel addresses these matters in this video.
Here is a link to the sermonette video: Germany and World War 3.

15:25
PESCO and a Great European Army In November 2018, French President Macron called for a "true European army" because of China, Russia, and the USA. Some others in Europe have echoed that sentiment. On November 9, 2018, US President Donald Trump called that an insult, but the next day said that the USA wanted "a very strong Europe." Emmanuel Macron referred to Donald Trump as "my friend" and indicated a desire to strengthen Europe's military spending. In December 2017, 25 European nations agreed to be part of a military alliance called PESCO. Europe also has NATO and IEI. Will Europe end up with "a great army"? Has Donald Trump's announcement to withdraw from the 1987 Intermediate-Range Nuclear Forces Treaty gotten some to say that Europe must rebel against the USA? Is the idea of a United States of Europe and a European army a "paranoid fantasy" or a biblical reality? Will the USA regret Europe becoming a stronger military power? Will the USA be betrayed by "friends" such as its continental European allies? Does the Bible teach any or all of this? Are there connections to the Beast of Revelation or the King of the North of Daniel 11? Dr. Thiel addresses these matters in this video.
Here is a link to that video: PESCO and a Great European Army.
15:27
Nuclear bombers for the Beast? It is reported that the Germans are looking for a new bomber to be able to be used to deliver US B61-12 atomic bombs. Does Germany already have access to American nuclear weapons it can now use? What about Belgium, Italy, and the Netherlands? Has there been increased interest in more independent European nuclear capacity since the election of US President Donald Trump? What has Berthold Kohler, Herbert W. Armstrong, Nigel Farage, Jean-Claude Juncker, and Maximilian Terhalle said about Europe's militaristic ambitions? What about Bible prophecy? Could the Great Tribulation begin with a thermonuclear strike? What has Time, NTI, and Global Research reported about European nuclear weapons available to European nations? Is a nuclear attack consistent with prophecies? Might the coming Beast use nuclear weapons against the USA? Dr. Thiel addresses these issues and more.
Here is a link to the sermonette video: Nuclear bombers for the Beast?
Remember that Lamentations 1:1-2, indicates that the USA will be betrayed and destroyed militarily by its "friends." Europe does not have to be stronger in all areas than the USA, only enough to win when the USA is not expecting it.
NATO will not end well for the USA (Daniel 11:39) and its Anglo-descended allies (Daniel 8:24-25). Nor for that matter, many Muslim countries, nor even Europe (cf. Daniel 11:40-45; Revelation 17:14; Revelation 18-19).
Some items of possibly related interest may include:
Spiritual Samaritans: Old and New Who were the Samaritans? Do the represent true Christianity or something else? Here is a link to a related sermon: USA in Prophecy: Samaria.
USA in Prophecy: The Strongest Fortresses Can you point to scriptures, like Daniel 11:39, that point to the USA in the 21st century? This article does. A related sermon is titled: Do these 7 prophesies point to the end of the USA?
Who is the King of the West? Why is there no Final End-Time King of the West in Bible Prophecy? Is the United States the King of the West? Here is a version in the Spanish language: ¿Quién es el Rey del Occidente? ¿Por qué no hay un Rey del Occidente en la profecía del tiempo del fin? A related sermon is also available: The Bible, the USA, and the King of the West.
Canada in Prophecy: What Does Bible Prophecy, Catholic Prophecy, and other Predictions Suggest About the Future of Canada? There are prophecies that suggest involvement with Canada. And many are not positive about its future. A sermon of related interest is also available: Canada in Prophecy.
Germany's Assyrian Roots Throughout History Are the Germanic peoples descended from Asshur of the Bible? Have there been real Christians in Germanic history? What about the "Holy Roman Empire"? There is also a You-Tube video sermon on this titled Germany's Biblical Origins.
Germany in Biblical Prophecy Does Assyria in the Bible equate to an end time power inhabiting the area of the old Roman Empire? What does prophecy say Germany will do and what does it say will happen to most of the German people? Here are links to two sermon videos Germany in Bible Prophecy and The Rise of the Germanic Beast Power of Prophecy.
Who is the King of the North? Is there one? Do biblical and Roman Catholic prophecies for the Great Monarch point to the same leader? Should he be followed? Who will be the King of the North discussed in Daniel 11? Is a nuclear attack prophesied to happen to the English-speaking peoples of the United States, Great Britain, Canada, Australia, and New Zealand? When do the 1335 days, 1290 days, and 1260 days (the time, times, and half a time) of Daniel 12 begin? When does the Bible show that economic collapse will affect the United States? In the Spanish language check out ¿Quién es el Rey del Norte? Here is a link to a video titled: The Future King of the North.
Europa, the Beast, and Revelation Where did Europe get its name? What might Europe have to do with the Book of Revelation? What about "the Beast"? Is an emerging European power "the daughter of Babylon"? What is ahead for Europe? Here is a link to a video titled: Can You Prove that the Beast to Come is European?
European Technology and the Beast of Revelation Will the coming European Beast power would use and develop technology that will result in the taking over of the USA and its Anglo-Saxon allies? Is this possible? What does the Bible teach? Here is a related YouTube video: Military Technology and the Beast of Revelation.
Must the Ten Kings of Revelation 17:12 Rule over Ten Currently Existing Nations? Some claim that these passages refer to a gathering of 10 currently existing nations together, while one group teaches that this is referring to 11 nations getting together. Is that what Revelation 17:12-13 refers to? The ramifications of misunderstanding this are enormous. A related sermon is titled Ten Kings of Revelation and the Great Tribulation.
WTO/TTIP and the Babylonian Beast Will international trade agreements like WTO/TTIP/CETA lead to the fulfillment of end time prophecies concerning the Babylonian Beast power that the Book of Revelation warns against? What does the Bible teach? A related video would be WTO Trade Deal and the Rise of the European Beast Power.