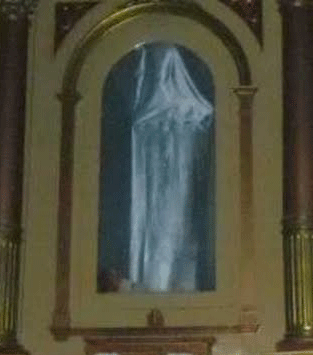 Alta Gracia Image (Original © Franco Farias; above cropped and reformatted)
A reader sent me an article in Italian, that I machine-translated into English (and the original article was written in Spanish):
The statue of the Madonna is not there, but people see it
The picture looks very good from the front door and vanishes if you approach the altar
t may sound unbelievable, but it's true. In the niche of the altarpiece of a chapel of the sanctuary of Our Lady of Lourdes to Alta Gracia (Argentina) there is no statue of the Virgin, but in fact you can see the image, even if it has been verified that the site is empty.

The image is not flat but in relief, three-dimensional; you may feel the folds of her dress. Resembles holography. It is not the result of a psychological illusion exalted devotion of some pilgrims.

All those who go to the shrine – believers or not – they see it, and remains recorded in the photographs that are taken.

The picture looks very good from the front door and vanishes approaching the altar.

When did this begin to happen?

The chapel was built and consecrated in 1927, and for many years the center of the altar there was a statue of Our Lady of Lourdes. In August 2011, the statue was removed from the niche to be restored. One of the priests of the sanctuary was about to close the chapel and the main door has seen an image that seemed to chalk the place that was previously occupied by the statue. He approached and as he did so he saw that the image vanished. The statue was not there, but where it had been placed.

In front of the phenomenon, visible to anyone coming in place, the Discalced Carmelite friars of the shrine of Our Lady of Lourdes have issued a statement in which they said: "The event of the image of the Blessed Virgin Mary has so far not a rational explanation. Must be interpreted by the people of God as a sign to increase and deepen the Christian faith and stir the hearts of men the conversion to love of God and participation in the life of the Church. "

History

The chapel is located in a large building located in a park of several hectares which in 1916 was inaugurated a replica of the grotto of Massabielle in Lourdes, where the Virgin Mary appeared to St. Bernadette Soubirous in 1858. …

Since it was built in the cave, the place has become a pilgrimage destination with growing manifestations of love for the Mother of God. In 1922 a committee was formed to build a chapel next to the cave, the cornerstone of which was placed in the in 1924 and that has been blessed by the then Bishop of Córdoba, Monsignor Jose Anselmo Luque, in 1927. (Here is a link to the article in Italian: http://www.aleteia.org/it/religione/articolo/la-statua-della-madonna-non-ce-ma-la-gente-la-vede-5786008402526208)
Thus far, I have seen no comment from the Vatican about this.
There are also two videos about this, which I watched today here is a link to one: https://vimeo.com/39901679.  Both of the narrators of the videos said the image appeared to be three-dimensional.
Here is also more I found when I tried to look into the Alta Gracia matter today:
Lourdes' Grotto. This is a very popular site for prayer among the faithful and it has become well-known because an apparition of the Virgin is said to have taken place there in 2011. http://www.welcomeargentina.com/altagracia/citytour-in-alta-gracia.html

In Alta Gracia, a small city south of Córdoba, Argentina, a rare phenomenon is happening. In August of 2011 a statue of Our Lady of Lourdes was removed from the altar to be restored and while the statue was gone, a mysterious image has replaced it. You can only see the image from the back of the church and the lights have to be off and doors closed to see it. When you get close to it, you can see that there is nothing there. It appears like a white light illuminating a statue of Our Lady of Lourdes, and many scientists and artists have come to try to figure out what it is, and no one can explain it. The Priests of the chapel have announced that there is no explanation for it. When it was made public that there was an image of Mary appearing without explanation, within 48 hours 50,000 people came to see it. Since August thousands and thousands of people have come to see this phenomenon. When we got close to the image, we felt a presence and a peace, we were both very moved and stayed there a long time praying with the volunteers of the chapel. We think that the image is the presence of Mary calling us all to her son, Jesus. https://vimeo.com/39848141
The above link is to a video as well.  The narrator indicates that seeing this image is changing people's faith.  Whether it is a fraud, a natural phenomena, or a demonic manifestation, it is impacting people.  The two videos I watched both said that the image was appearing after the initial appearance in August (most sources) or September (one source) 2011.
In my book, Fatima Shock! there are warnings that apparitions of 'Mary' may be public in the future.  I actually went to hire an editor for it around the time the 'image' started appearing in Alta Gracia, and did not learn of the Alta Gracia matter until today.  Here is something I wrote before the image appeared:
The Bible warns that signs and lying wonders will appear which will deceive almost everyone until God stops it.  Might public appearances of a Lady that performs wonders be a factor? (p. 201)

Vatican reporter Giuseppe De Carli wrote that because of Fatima, "John Paul II elevated Marian devotion to a new status."

That is part of what is so dangerous about Fatima. Misunderstandings of Fatima have helped elevate the concept of Marian devotion to be so pervasive that if a public apparition appears shortly many people will be willing to overlook the unbiblical flaws associated with Fatima to embrace the messages the apparition will be advocating. These alleged Marian apparitions have been, and will be unbiblical.  It is not that they will not get anything right, but they have often had and likely will have again, parts of their message that are false and/or in contradiction to sacred scripture. (p. 227)

Apparitions claiming to be Mary are very likely to make public appearances — the one apparently currently restraining  these  things  is  prophesied  to  move  out  of the  way  (2  Thessalonians  2:7,  NJB).    Partially,  because of Fatima, many more may take "Marian" apparitions seriously—especially if they are highly public.

It will take signs and wonders, including possibly claimed Marian Apparitions, for the Europeans and many others to be less secular—and while some believe this is good, biblically it will be bad (2 Thessalonians 2:8-12). The Bible warns that a certain virgin, lady, city, mother, and harlot, all make the same type of statements and all are condemned (Isaiah 47:1-14; Zephaniah 2:15; Revelation 17:1-18; 18:7-8), despite "miraculous signs" called sorceries (Isaiah 47:9, 12; Nahum 23:4; Revelation 18:23) being involved—do not fall for them or their Babylonian system.

All should realize that Mary of the Bible is NOT prophesied in sacred scripture to return, be seen, or to help save humankind.  If some apparition appears that does so, please do not believe it.  God has limited Satan's power such that His faithful people will not be deceived (1 Corinthians 10:13; Matthew 24:24) if they truly love the truth (2 Thessalonians 2:10).  There is a way of escape for people who love God, love His word, and who love the truth (1 Corinthians 10:13).

1 My dearest, believe not every spirit, but prove the spirits if they be of God, because many false prophets are gone out into the world. (1 John 4:1, Original DRB)

Please believe what is taught in your Bible and do not be taken in by the massive deception that the Bible warns will be coming to the earth (2 Thessalonians 2:9-12; Mark 13:22; Revelation 13:2-18). (pp. 232-233)

Religious deception, in a more direct and public form, is  coming.    Signs,  "lying  wonders,"  and  sorceries  are expected to increase before Jesus returns and deceive many (2 Thessalonians 2:9; Matthew 24:24; Revelation 13:2-15; 18:23). (p. 253)
Presuming what is happening in Alta Gracia is not a fraud or has no actual physical explanation, then this is demonic deception.  Expect much, much more.
Here is some of what my book Fatima Shock! said about the Lourdes apparition and message:
In the 19th century, there was a female apparition in France, known as the Lady of Lourdes. One of the statements she reportedly stated in 1858 was, "I am the Immaculate Conception!"

Now this is an unusual and biblically contradictory idea as the Bible teaches that all have sinned (Roman 3:23) except Jesus (Hebrews 4:15), as He is the only one who had a biblically immaculate conception, but not the Marian kind.

For non-Catholics, let me explain that what became an extra-biblical Catholic doctrine was that Mary was conceived unlike all other humans and free of what many refer to as "original sin." Specifically this "dogma" has been explained in Dr. Ludwig Ott's 20th century book Fundamentals of Catholic Dogma as:

"Mary's freedom of original sin was an unmerited gift of God, and an exception from the law that was vouchsafed to her only."

His book also teaches:

The doctrine of the Immaculate Conception of Mary is not explicitly revealed in scripture… Neither the Greek nor the Latin Fathers explicitly (explicite) teach the Immaculate Conception of Mary.

So where did it come from?…Jumping forward to the 12th century, a British monk Eadmer began to promote the idea of an Immaculate Conception of Mary. When he did so, "St. Bernard of Clairvaux… (about 1140), warned the faithful that this was an unfounded innovation…"

So was the Catholic saint Bernard wrong in condemning Monk Eadmer's heresy here?

Of course not!

Others, at least as late as the 17th century supported Bernard's position on this. (Fatima Shock! pp. 85-86)
Mary is not one to pray to or to entrust oneself to.
The Bible is clear that massive deception is coming (Matthew 24:24; 2 Thessalonians 2:9-12). Pope Francis has been encouraging Marian devotion through his words and actions.
It remains my position that it is very likely that apparitions that people will claim will be Mary, the mother of Jesus, will be part of the signs and lying wonders that are mentioned in 2 Thessalonians 2:9 and Matthew 24:24 (cf. Isaiah 47; Nahum 3:4-5).
The current Marian focused Argentinian Pope Francis, as well as somewhat like-minded bishops, will likely be a factor in this.  The visits by Pope Francis to various Marian shrines is encouraging people to look to his version of Mary.
The Alta Gracia image is being used to promote ecumenical unity with the Church of Rome.
Here is something I warned about ecumenical unity, in Fatima Shock!:
All people, whether they profess Christ or not, need to take heed and NOT support the coming ecumenical unity even if it is supported by signs and apparent miracles (2 Thessalonians 2:7-12).  Despite denials by many who now oppose ecumenical unity, the Bible warns that nearly all, however, will end up being deceived (Mark 13:22; 2 Thessalonians 2:7-12; Revelation 13:1-4,8).

Only the elect, those who truly will "walk by faith, not by sight"(2 Corinthians 5:7) and who received "the love of the truth"(2 Thessalonians 2:10) will not fall for this (Matthew 24:24). (p. 173)
Expect more religious deception.  This is part of Satan's Plan.
UPDATE 3/08/15: Here is a link to a new video: Marian wonder in Argentina?
Some items of possibly related interest may include:
Mary, the Mother of Jesus and the Apparitions Do you know much about Mary? Are the apparitions real? What happened at Fatima? What might they mean for the rise of the ecumenical religion of Antichrist? Are Protestants moving towards Mary? How do the Eastern/Greek Orthodox view Mary? How might Mary view her adorers? Here is a link to a YouTube video Marian Apparitions May Fulfill Prophecy.
Satan's Plan Does Satan have a plan? What is it? Has it already been successful? Will it be successful in the future? Here are links to a two-part sermon series: What are Some of the Parts of Satan's Plan? and Satan's Plan is More Dramatic than Many Realize.
Mystery of Civilization Why is civilization like it is? How will it end? What will replace it?Here is a link to a related sermon titled: Mystery of Civilization and How it Will End.
Why Should American Catholics Fear Unity with the Orthodox? Are the current ecumenical meetings a good thing or will they result in disaster? Is doctrinal compromise good? Here is a link to a related video Should you be concerned about the ecumenical movement?
Beware: Protestants Going Towards Ecumenical Destruction! What is going on in the Protestant world? Are Protestants turning back to their 'mother church' in Rome? Does the Bible warn about this? What are Catholic plans and prophecies related to this? Is Protestantism doomed? See also World Council of Churches Peace Plan.
Will the Interfaith Movement Lead to Peace or Sudden Destruction? Is the interfaith movement going to lead to lasting peace or is it warned against? A video of related interest could be Do You Know That Babylon is Forming?
Satan's Plan Does Satan have a plan? What is it? Has it already been successful? Will it be successful in the future? Here is a link to a related sermon: What are Some of the Parts of Satan's Plan?
Pope Francis and the Devil's Unity Pope Francis has spoken about unity and his ecumenical agenda. He has also claimed the devil is "the father of division. He is the one who always divides." Is that true? Pope Francis prayed for 'Mary' to unite Christians–is that something that the Bible teaches? Patriarch Bartholomew of Constantinople has called those opposed to his ecumenical efforts "unacceptably fanatical." Does the Bible teach that true Christian unity comes before or after Jesus returns? Is there a Babylonian unity that the Bible warns against? What is the Devil's unity? Might 'Mary' be used to set up the time of the final Antichrist? This is a video.
Pope Francis: Could this Marian Focused Pontiff be Fulfilling Prophecy? Pope Francis has taken many steps to turn people more towards his version of 'Mary.' Could this be consistent with biblical and Catholic prophecies? This article documents what has been happening. There is also a video version titled Pope Francis: Could this Marian Focused Pontiff be Fulfilling Prophecy?
Feast of the Immaculate Conception? Did early Christians teach Mary had an immaculate conception and led a sinless life?
Origin of the Marian Dogmas: Where Do Catholic Scholars Say The Four Dogmas of Mary Came From?
Assumption of Mary Did Mary die? Was she taken to heaven on August 15th? What is known? What does the Bible show?
What Did the Early Church Teach About Idols and Icons? Did Catholic and Orthodox "saints" endorse or condemn idols and icons for Christians?
Fatima Shock! What the Vatican Does Not Want You to Know About Fatima, Dogmas of Mary, and Future Apparitions. Whether or not you believe anything happened at Fatima, if you live long enough, you will be affected by its ramifications (cf. Isaiah 47; Revelation 17). Fatima Shock! provides concerned Christians with enough Catholic-documented facts to effectively counter every false Marian argument. In addition to the print version, there is a Kindle version of Fatima Shock! which you can acquire in seconds.