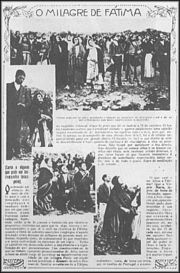 A photostatic copy of a page from Ilustração Portugueza, October 29, 1917
Tomorrow is the 95th anniversary of something commonly called 'the miracle of the sun.'  On October 13, 1917, an apparition who did not initially give her name, was seen seen by three Portuguese children: Lucia, Jacinta, and Francisco.  Though others did not see here, there was apparently some type of change in the sky on October 13, 1917 that many others (supposedly around 70,000) reported witnessed.  Every year, throngs of people visit Fatima this day because of it (others visit throughout the year, but the 13th of May and the 13th of October seem to be the most attended times).  The "Lady" that appeared gave various messages that many believe have been confirmed by world events.  Millions falsely believe that the "Lady of Fatima" was Jesus' mother Mary.
As far as this "miracle of the sun" goes, let me simply state that there were various accounts of what was scene and I do not believe it was a miracle from God.
Since we in the Church of God do not believe that Mary, the mother of Jesus, appeared in Fatima, Portugal in 1917, why pay attention to this?
There are at least three reasons:
1) Some of the events claimed to have been predicted in 1917 (though not written down until years later) appear to have taken place. This has given the Fatima messages credibility even among those not part of the Catholic faith.
2) The Fatima appearances, though not necessarily all the messages, have been accepted as legitimate and/or "worthy of belief" by the Vatican. As there are at least 1-2 billion people with at least some minimal ties with the Church of Rome, this means that a huge portion of the West (Europe and the Western Hemisphere), as well as people throughout the rest of the world, have reasons to pay attention to the Fatima.
3) Some of the Fatima messages are claimed to still be for the future. And whether people believe them or not, there will be repercussions from them. Some of those repercussions will likely shock the world. If you survive, you will likely be affected by these repercussions in the not too distant future. This is mainly because of warnings in the Bible about a woman (Isaiah 47) that seems to have had a lot in common with the apparition that supposedly appeared nearly a century ago.
Furthermore, the Bible warns that signs and lying wonders will deceive those that do not have the love of the truth (2 Thessalonians 2:9-12).   And prophecies in both the Old and New Testaments suggest that a "Lady" who is considered a virgin.
And while I (who have looked into Fatima extensively) do not believe that Mary of the Bible appeared there, it is possible that messages believed to have been given may affect the world in a few years. And I hope to report more on that in the future.
For more information on Fatima and other mystic Catholic claims, please check out the following:
Mary, the Mother of Jesus and the Apparitions Do you know much about Mary? Are the apparitions real? What happened at Fatima? What might they mean for the rise of the ecumenical religion of Antichrist? Are Protestants moving towards Mary? How do the Orthodox view Mary? How might Mary view her adorers?
Fatima Shock! What the Vatican Does Not Want You to Know About Fatima, Dogmas of Mary, and Future Apparitions. Whether or not you believe anything happened at Fatima, if you live long enough, you will be affected by its ramifications (cf. Isaiah 47; Revelation 17). Fatima Shock! provides concerned Christians with enough Catholic-documented facts to effectively counter every false Marian argument.
Fatima Shock! Amazon Kindle version.  Fatima Shock! is also available on Amazon Kindle.  If you do not have a Kindle, that is okay. Why? Amazon will allow you to download it to almost any device: Please click HERE to download one of Amazon's Free Reader Apps.  After you go to for your free Kindle reader and then go to Fatima Shock! Amazon Kindle version and download it.  You can have the complete book in minutes.