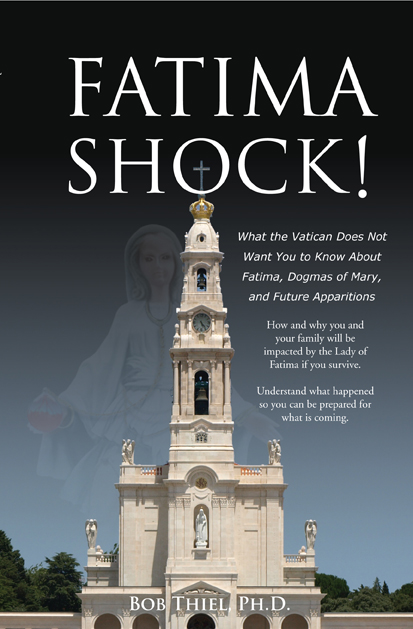 The Vatican decided to publish guidelines about Marian apparitions and other such "revelations":
May 24, 2012

VATICAN CITY (CNS) — To help bishops determine the credibility of alleged Marian apparitions, the Vatican has translated and published procedural rules from 1978 that had previously been available only in Latin…

The doctrinal office "believes it is now opportune to publish these 'Norms,' providing translations in the principle languages" so as to "aid the pastors of the Catholic Church in their difficult task of discerning presumed apparitions, revelations, messages or, more generally, extraordinary phenomena of presumed supernatural origin," the cardinal wrote in a note…Cardinal Levada wrote that he hoped the norms "might be useful to theologians and experts in this field of the lived experience of the church, whose delicacy requires an ever-more thorough consideration."

More than 1,500 visions of Mary have been reported around the world, but in the past century only nine cases have received church approval as worthy of belief…Pope Benedict XVI has reaffirmed that the church never requires the faithful to believe in apparitions, not even those recognized by the church…Church approval of a private revelation, in essence, is just the church's way of saying the message is not contrary to the faith or morality…  http://www.catholicnews.com/data/stories/cns/1202151.htm
The current pope is known for having severe doubts about some of the relatively few "approved" apparitions.  And as the above shows, the approval by the Church of Rome is only limited to message contents and does not mean that the Vatican actually endorses that an Apparition of Mary, for one example, has truly occurred.
One of my concerns is that the next pope will probably differ greatly from Pope Benedict XVI on this.  If the next pope is the last pope (and he would be if certain Catholic prophecies are correct; and he could be because of biblical prophecies related to God's 6,000 year plan), according to certain Marian Catholic prophecies, he likely would promote the acceptance of one or more Marian apparitions as valid.
The reality, which can be verified from the Bible, as well as my book Fatima Shock! What the Vatican Does Not Want You to Know About Fatima, Dogmas of Mary, and Future Apparitions (and it goes into more specific detail about the apparitions than the Bible does as it does not ever refer to any future apparition being Mary), is that Mary, the Mother of Jesus, has not publicly appeared to any despite various claims to the contrary.
Tens of millions of people visit sites of various alleged Marian apparitions each year–because of this, people are more likely to accept future apparitions as being from God.  And, at least for Fatima, what was actually seen differs from what apparently hundreds of millions of people believe was seen–enough so, that multiple millions would not believe in that apparition if they actually knew the truth (a picture of what people think was seen as well as what was really seen is in the book Fatima Shock!, along with the actual original descriptions).
Demonic apparitions, which the apparition seers have tended to falsely identify as Mary, have played an important role in the advancement of the Church of Rome and against the Church of God.  Very few seem to know the truth about how "Marian apparitions" have impacted the professing Christian world.
Those who have so far read Fatima Shock! have told me that they were shocked to learn what they did as they had not realized the importance or details about the apparitions that zealous Christians would want to know.
How apparitions are likely to affect the world at the end seems to be a missing dimension in understanding prophecy by most who profess Christ.  Although Dr. Meredith of the Living Church of God has warned about the sorcery of  "Lady of the Kingdoms" in Isaiah 47 affecting end times, relatively few in the Church of God truly understand how important it is to better know the truth about that "Lady."  The dangers, and even more details, are covered in my book Fatima Shock! What the Vatican Does Not Want You to Know About Fatima, Dogmas of Mary, and Future Apparitions.
Fatima Shock! also, and mainly from Catholic writings, exposes where the "rosary" came from, where many "dogmas of Mary" came from, and explains how Satan has used "Marian" apparitions in the past to interfere with the Church of God and to promote  "Counterfeit Christianity." Fatima Shock! also explains what appears to be Satan's plans for apparitions in the future based upon biblical and other prophecies.
Fatima Shock! is available at www.fatimashock.com; Amazon.com (http://www.amazon.com/Fatima-Shock-Truth-Future-Apparitions/dp/0984087176/ref=sr_1_3?ie=UTF8&qid=1336687621&sr=8-3); AmazonKindle (http://www.amazon.com/Fatima-Shock-ebook/dp/B0081APXBC/ref=sr_1_1?ie=UTF8&qid=1336687621&sr=8-1); Barnes & Noble Nook (http://www.barnesandnoble.com/w/fatima-shock-bob-thiel/1110624059?ean=2940014385640).
All interested in the truth should follow the Apostle Peter's admonition, "always be ready to give a defense to everyone who asks" (1 Peter 3:15). Learn the real truth to be able to answer those who point to non-biblical signs and wonders. Do you want to really know the documented truth?
Fatima Shock! provides concerned Christians enough Catholic-documented facts needed to effectively counter every false Marian argument.
If you want a deeper understanding of these matters than can be covered in news posts, you should read Fatima Shock!