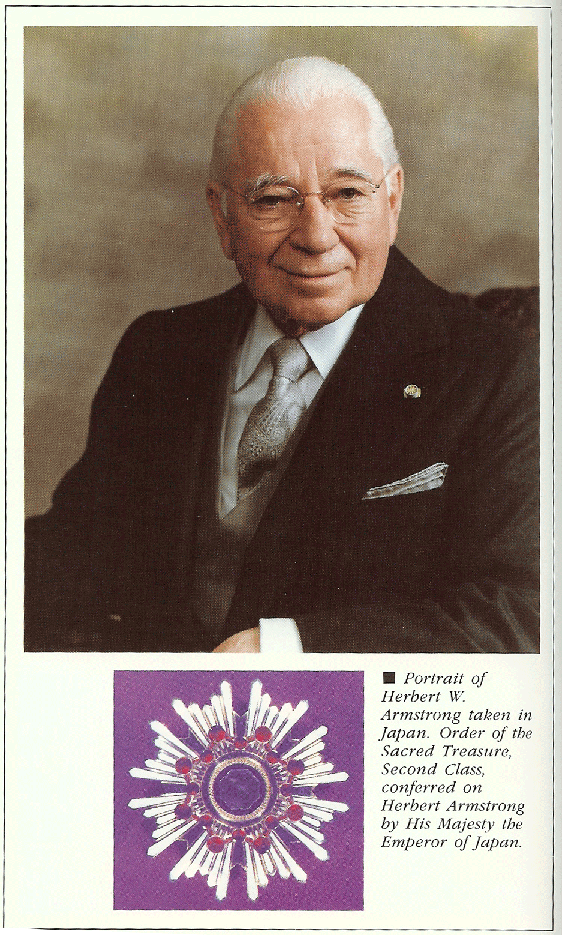 Hebert W. Armstrong died on January 16, 1986, at age 93 1/2.
Here is some of what he wrote on how he felt when he first found the Church of God:
The only Church I had so far found which "kept the commandments of God, and the testimony of Jesus Christ," and at the same time bore the NAME of the original true Church, was this almost unknown little Church of God with its small publishing house in Stanberry, Missouri.

But this left me quite confused. For this was a little Church, especially compared to the Roman Catholic, the Methodist, the Baptist, the Presbyterian, the Lutheran, or other large churches numbering millions of members. Then I saw where Jesus called His Church the "little flock."

But still I was not completely satisfied. I was deeply concerned. I prayed a great deal over it. For here was a church, which, compared to the large-scale activities of the Catholic and big Protestant bodies, was ineffective. I could see that it was imperfect. It wielded no great power…

I was deeply perplexed. Here was a little church, with scattered members probably numbering less than 2,000 — mostly in rural areas. Apparently, as nearly as I could learn, it had only a very limited number of local churches, none as large as 100 members. As I began to come in contact with some of its leaders, they seemed to be men of little education — no college degrees — its ministry could hardly be described as an educated ministry. Their preaching had a certain fire, yet seemed totally to lack the POWER that attracts sizable audiences, that moves people, stirs hearts, and changes lives. I could see no visible results.

Could this be God's one and only true Church on earth? The very question seemed preposterous!

And yet —

Yes and yet, small, powerless, resultless, impotent though it appeared to be, here was a church with the right name, "keeping the commandments of God and the testimony of Jesus Christ," and closer, in its doctrines and teachings, to what God had been opening my eyes to see plainly in His Word than any other church of which I knew! Small and impotent though it appeared, it had more Bible TRUTH than any church I could find!
More information on what happened to the true Church of God and how the mainstream took over can be found at the History of Early Christianity page. 
Here is a brief account of some of Herbert Armstrong's later years:
And after taking over responsibilities as full-time presenter on The World Tomorrow at age 85, the program became one of the highest-rated religious programs on television. The Plain Truth, Good News and Youth circulations all skyrocketed.

In 1985, while nearly blind, Mr. Armstrong began yet another monumental project. "With the writing of the new book Mystery of the Ages," he wrote, "God has helped me this year to do the best work of my 93 years of life!"…

Mr. Armstrong kept right on serving God even as an elderly, blind man. And in doing so, he got the Worldwide Church of God back on track, defeated the state of California in a nationally known lawsuit, became one of the most popular religious personalities on television, nearly quadrupled the church's growth in every major category, raised up and promoted numerous youth programs, traveled the world to meet with presidents and prime ministers and wrote a 363-page book.

"For Many People"

Herbert W. Armstrong prepared his last will and testament on Jan. 12, 1986—four days before he died. Knowing he was near death, his first directive was that Herman Hoeh officiate the funeral "without pomp and undue ceremony."

In his second directive, he bequeathed all his property of "every kind and nature" to the Worldwide Church of God. Think about that. He had been pastor general of that church for more than 50 years. And though it started pitifully small, at the time of his death, the church's annual income was $164 million. As founder and pastor general of the Worldwide Church of God, Herbert W. Armstrong could have amassed a personal fortune by the time he died. As it was, the house he died in belonged to the church. The plane he traveled in belonged to the church. The cars he commuted in belonged to the church. And what he actually did own at the time of his death—even though he had three living children—he left to the church…

In his will, he explained that he chose not to leave his descendants anything—not because of any ill will toward them—but because he believed they had "adequate means of their own" and because leaving what he had to the church would ensure that it "be put to more permanent and beneficial use for many people."

That about sums up Herbert W. Armstrong's legacy.

Even on his deathbed, his final wish was for everything he owned to go toward the work so that "many people" might benefit.

Mr. Armstrong put God's Family and God's work first. And as difficult as that might be to grasp, looking at it humanly, isn't that what we should expect from a man of God? Jesus Christ, after all, said, "He that loveth father or mother more than me is not worthy of me." That's what Jesus taught—and lived.

(Flurry S. Stewardship, Part II. The Trumpet, Nov-Dec 2007. p. 31).
Sadly many have falsely maligned Herbert W. Armstrong (please see the article 15 Accusations and Truthful Responses About Herbert W. Armstrong), while others have exalted him beyond appropriateness (please see the article The Elijah Heresies ).
Those truly interested in learning more about Herbert W. Armstrong, should read the article Who Was Herbert W. Armstrong? How is He Viewed Today?.
And everyone should try to live by the following teaching of Herbert W. Armstrong: 
"Don't believe me – BELIEVE YOUR BIBLE – BELIEVE GOD! I always say…check up! Listen without prejudice, with open mind, then check up–go to your BIBLE, and BELIEVE what you read there."
Herbert W. Armstrong, Plain Truth magazine, Sept. 1963, Personal pg.1
Several articles of possibly related interest include:
Who Was Herbert W. Armstrong? How is He Viewed Today? Includes quotes from the 1973 edition of The Autobiography of Herbert W. Armstrong and explains how he is and should be viewed today.
Should the Church Still Try to Place its Top Priority on Proclaiming the Gospel or Did Herbert W. Armstrong Change that Priority for the Work? Some say the Church should mainly feed the flock now as that is what Herbert W. Armstrong reportedly said. Is that what he said? Is that what the Bible says? What did Paul and Herbert W. Armstrong expect from evangelists?
Here are Some Quotes from Herbert W. Armstrong on Laodicea and Holding to Doctrine.
There are Many COGs: Why Support the Living Church of God? This is an article for those who wish to easily sort out the different COGs. It really should be a MUST READ for current and former WCG members or any interested in supporting the faithful church. It also explains a lot of what the COGs are all about.