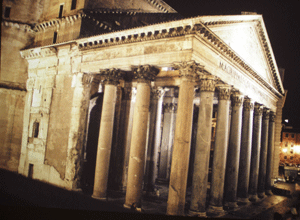 Pantheon of Rome: A Symbol of Religious Confusion
This morning, I noticed that Ronald Weinland had written the following:
We are about to enter the period when God begins to bring a full end to man's self-rule. The fulfillment to end-time prophetic events is about to be thrust upon the whole world, and man's way, as well as Satan's, is about to begin to be shut down!

The world economy is shaking/quaking worse each day and is coming more and more to the forefront of news commentary. Next year will see the Dollar collapse and the Euro become the new strength for the world's economy. The thunders of Revelation are now going to begin to increase in intensity and frequency. Beginning in February, those thunders will increase dramatically, and by April this world will begin to be shaken to its foundations.

Everything I am doing, and everything the Church of God – PKG is doing is geared towards these realities. There is no wavering and there is no hesitation!…

February will be here soon! Don't squander the time that is in front of you. Use it wisely! (Weinland R. YEAR NEARLY OVER. November 24, 2007. http://www.ronaldweinland.com/ viewed 01/15/08).
Hence Ron Weinland seems convinced that the end will begin in 2008. I am not sure what he part of the thunders he expects to occur in February 2008.
It may be of interest to note that Ronald Weinland does plan to make a trip to Canada in February, as well as four trips within the USA that month.
He also has trips listed for the UK and continental Europe for March 2008–however, no later trips as of this morning (January 15, 2008) were listed at his Upcoming Trips page.
Of course, he wrote that "by April this world will begin to be shaken to its foundations"–so that may be why he has not trips scheduled after March (although I do believe he will ultimately schedule some after then).
And while events of prophetic interest will occur, the Great Tribulation will not begin in 2008 (some reasons are in the news post At Least Two Wrongly Claim Great Tribulation Will Begin in 2008).
(Note: Ronald Weinland later changed his dates, and this is in the article Concerns About Ronald Weinland's Church of God-Preparing for the Kingdom of God).
Several articles of related interest may include:
Concerns About Ronald Weinland's Church of God-Preparing for the Kingdom of God Ronald Weinland falsely claims to be one of the two witnesses God is raising up and that the end will come in 2008. Is he a false prophet? He has at least one other view that suggests that he is not part of the COG.
Why Be Concerned About False and Heretical Leaders? There have been many false leaders–here is some of why you should be concerned about them.
Who is the King of the North? Is there one? Do biblical and Roman Catholic prophecies point to the same leader? Should he be followed? Who will be the King of the North discussed in Daniel 11?
Is There A Future King of the South? Some no longer believe there needs to be. Might Egypt, Islam, Iran, Arabs, or Ethiopia be involved? What does the Bible say?