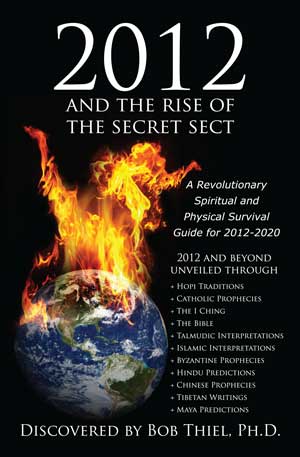 Page 85 of my book 2012 and the Rise of the Secret Sect states the following:
In 2013, the Europeans are planning on having their own global positioning system (GPS), called Galileo, available for military applications.  This will allow the Europeans to track the world and attack others without relying on the U.S.A.'s GPS.  This will be the first time in the 21st century that Europeans will be able to have that type of independent military capability.

Furthermore, according to a 2009 report from the U.S. government, the U.S. Air Force may have to start relying on the European Galileo system (at least to a degree) beginning in 2013, as the U.S. GPS capabilities are expected to deteriorate by then (other problems are also appearing in the newer U.S. satellites). Because the Europeans will be able to control Galileo, they will also likely be capable of derailing certain sophisticated U.S. military applications.  This will give the Europeans a unique defensive (as well as offensive) capability that no others on the planet will have.
When I wrote that, the U.S. Air Force denied that there was such a problem:
The U.S. Air Force said that a report released by the U.S. Government Accountability Office (GAO), which claimed that the U.S. military GPS system is experiencing serious degradation, is not accurate, according to a May 25 statement by Air Force Col. Dave Buckman.
I disagreed with the Air Force's public assessment then, and disagree that now relying on the satellites of powers like the
European Union
is in the USA's best interest.  I maintain that it will lead to the USA being successfully attacked and even taken over as that is consistent with biblical,
Catholic
, and other prophecies.
As early as today, the Obama Administration is expected to confirm that the USA will partially rely on Europe's Galileo satellite system:
New Space Policy Calls for Global Cooperation

…Faced with mounting GPS program costs and escalating demands to transfer dollars from Pentagon space accounts to other U.S. defense programs, Air Force officials have been quietly considering postponing some GPS satellite launches, according to people familiar with the details.The new policy, one Obama administration official said over the weekend, allows foreign navigation satellites "to augment but not replace" GPS capabilities.

Europe is currently building its own independent navigation system, while Russian officials have talked about improving their rival system and perhaps teaming up with a foreign partner…

http://online.wsj.com/article/SB10001424052748704212804575332420948502224.html?mod=googlenews_wsj
The Obama Administration can call it "global cooperation" but the USA is not now truly going to trust Russia for any serious military capabilities (other than perhaps certain launches, etc.)–but the EU is another story.

Yet, Europe's Galileo satellite system initially had US critics as there were "early objections from the Americans who thought a rival system to GPS might be used to attack its armed forces" (Amos J. EU awards Galileo satellite-navigation contracts.  BBC, Jan 7, 2010. http://news.bbc.co.uk/2/hi/science/nature/8442090.stm).  Certain officials remembered that the USA fought two major world wars against European powers and considered that a Europe with its own military satellite capabilities was an important threat.  What changed?
The economy amongst other things, and international pressures from rising powers such as China.
Notice that page 147 of my book 2012 and the Rise of the Secret Sect warns of the following:
Because of domestic economic concerns and international pressures, Barack Obama is shifting priorities away from defense spending, while encouraging the Europeans to increase their military might.  This will help lead to the destruction of the United States, when the Europeans are ready and the U.S.A. is not.
Sadly, this is happening right now.
Linking up with Galileo puts the USA at major risk of not being able to launch an effective counter-strike if the EU attacks the USA.  Do Americans not remember that the wars in Kuwait and Iraq were waged first by the USA having vastly superior air/space systems?  And now the USA's financial mess is leading the USA to rely on other nations for part of this capability.  The world is changing and the USA is losing its military supremacy.  And top powers that lose their military supremacy have historically been taken over by others.  Yes, this satellite matter is that serious.
More and more world events are aligning with the biblically-backed predictions in the book 2012 and the Rise of the Secret Sect.
More events will also align with what it says.  Events that will affect you and your loved ones.  While some may say that the Europeans do not want to take over the USA, Bible prophecies suggest it will happen anyway (Isaiah 10).
Aspects of 2012, y2k, and other false pronouncements of the end (including from "prophets" who claim to be Christian) will turn people off to the truth of biblical prophecy (cf. 2 Peter 2:1-2; 3:3-13).  But they will come to pass.  Most will be ignorant of what really will and will not be happening.  But you do not have to be.
If you have not already done so, please get my book 2012 and the Rise of the Secret Sect.  Compare what it teaches with the Bible.  Compare what it teaches with what is happening in the world.  World events have already aligned with at least 11 predictions that the book documents.
You do not have to be one who will be confused in these trying times.
For those with mailing issues or in a hurry, the book is also available electronically.  Here are the electronic links:
2012 and the Rise of the Secret Sect (English)
2012 y el surgimiento de la secta secreta (Spanish)
2012 und das Auftreten der geheimen Sekte (German)
The book has long also been available from Amazon.com in English, Spanish, and German, and its Kindle version in English. It is also now available from Barnes and Noble .com at the following title links 2012 and the Rise of the Secret Sect, 2012 Y El Surgimiento De La Secta Secreta, and 2012 Und Das Auftreten Der Geheimen Sekte.
The 2012 and the Rise of the Secret Sect book has more details, more prophecies, and is quite a bit a lot longer (about 384 pages in English) than my online article on 2012.  To order a hard copy, simply go to the link 2012 and the Rise of the Secret Sect.
World events are aligning with what it shows need to come to pass.  If you have any interest in end time events, you really need to read 2012 and the Rise of the Secret Sect.