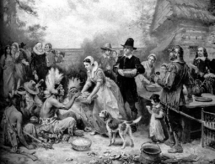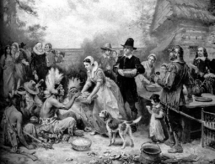 November 25, 2010 is the date for the American holiday of Thanksgiving this year.
Here is some of what LCG's Richard Ames wrote about it:
On Thanksgiving Day, millions gather with their families and friends to enjoy good food and fellowship, and the blessings of living in a prosperous nation. They enjoy the blessings of freedom and opportunity. But do they thank God for their blessings? Do they understand why their nation has been blessed? In particular, do we who live in the United States and British-descended nations understand why we have received blessings unparalleled in the history of mankind?
Whether it is celebrated on the fourth Thursday of November as in the U.S., or the second Monday of October as in Canada, Thanksgiving Day is a time when people are supposed to count their blessings. We who live in these nations have received blessings unprecedented in the history of mankind. In the 20th century, the U.S. and British Commonwealth became the richest and most powerful nation and group of nations in the world. But that national power and prestige has greatly declined. The U.S. was once an economic powerhouse, and nations around the world eagerly bought its exports. Today, however, the U.S. is the world's largest debtor…
Scripture records Jacob passing this blessing to his grandsons Ephraim and Manasseh: "The Angel who has redeemed me from all evil, bless the lads; let my name [Israel] be named upon them [Ephraim and Manasseh], and the name of my fathers Abraham and Isaac; and let them grow into a multitude in the midst of the earth" (Genesis 48:16).

These blessings are called the birthright promises. These prophetic promises, which included wealth, abundance, military power, and international dominance, were to be fulfilled in the descendants of Joseph. It may be surprising to many of you, but those divine blessings given to Manasseh and Ephraim have been fulfilled in the U.S. and British-descended nations…
At Thanksgiving, we give thanks to God for the beauty and abundance with which He has blessed our countries. But at the same time we should be deeply concerned as our national character becomes more and more blemished with immorality. Will our Western nations continue to disobey the Ten Commandments and increasingly reject the biblical truths that once led to their prosperity—and that lead to true life, liberty and happiness?…
Today's Christians are also thankful for the promised future. We are thankful for the true Gospel—the message Jesus preached about the coming Kingdom of God on earth, when all nations will learn the way to peace. We know that the world will not end in a nuclear holocaust or be snuffed out by a biological pandemic—because Jesus Christ promised that for the elect's sake He would return, just in time to prevent us from destroying ourselves (Matthew 24:22)!

The world needs the Kingdom of God on earth. Do you realize how much you are blessed compared to many countries around the world? As of October 2008, the United Nations labeled as "Least Developed Countries" the 49 nations with annual per capita gross national incomes below $750. Many of those countries have annual per person incomes below $400! Can you imagine living in such poverty? How thankful are you? As Jesus said, "To whom much is given, from him much will be required!" (Luke 12:48). We must be faithful stewards of our blessings, and we must be willing, nationally and individually, to give to others. We especially need to be giving the good news of the Gospel to the rest of the world! Our national purpose should be to live God's way of life—and to share that way of life with the rest of the world! God's ways should be our nation's ways.
The entire articles is available at http://www.tomorrowsworld.org/cgi-bin/tw/tw-mag.cgi?category=Magazine57&item=1225523144
And while the gospel warning message will be made quite clear to the English-speaking peoples (especially since the Living Church of God is based in the English-speaking U.S.A.) prior to Daniel 11:38 and the Great Tribulation, because the Anglo-American nations are not likely to heed that warning, they will have to answer for their lack of response (cf. Ezekiel 33:7-9).
Let's briefly look at a warning in Isaiah 30:12-13:
12 Therefore thus says the Holy One of Israel:

"Because you despise this word, And trust in oppression and perversity, And rely on them,  13 Therefore this iniquity shall be to you Like a breach ready to fall, A bulge in a high wall, Whose breaking comes suddenly, in an instant.
Of course, more and more, the Anglo-American nations are trusting in policies that encourage perversity. Prostitution is legal in New Zealand, Australia, and parts of the USA. New Zealand, interestingly, has the highest promiscuity rate for women in the entire world according to one study (New Zealand women most promiscuous Sydney Morning Herald AAP – Oct 13, 2007. http://www.smh.com.au/articles/2007/10/13/1191696214489.html). The Anglo-nations have seen rises in homosexuality and are often changing laws to accomodate this biblically prohibited practice.
While there is oppression in these nations (especially racial), the Hebrew word used for it in Isaiah 30:13  can also be translated "unjust gain".  This can include not just the historical exploitation of of various peoples, but can probably also include the fact that the economies of the Anglo-American nations for the past few decades has been benefiting from the gains of foreigners loaning money to it.
Since the Roe vs. Wade pro-abortion decision, the USA has became the greatest debtor nation in the history of humankind.
Yet, abortion is wrong (see Abortion, the Bible, and a Woman's Right to Choose) and a terrible national sin. And on March 9, 2009 President Obama lifted a ban on embryonic stem cell research (see LCG on Stem Cells) another morally wrong sin.
Habakkuk 2:3,6,7, which is consistent with Isaiah 30:12-13, also teaches that the destruction America may face will be sudden. And it mentions that this destruction will happen to those that increased their debt at the end times:
3 For the vision is yet for an appointed time; But at the end it will speak, and it will not lie. Though it tarries, wait for it; Because it will surely come, It will not tarry…5 Indeed, because he transgresses by wine, He is a proud man… 6 "Will not all these take up a proverb against him, And a taunting riddle against him, and say, 'Woe to him who increases What is not his–how long? And to him who loads himself with many pledges'? 7 Will not your creditors rise up suddenly? Will they not awaken who oppress you? And you will become their booty. 8 Because you have plundered many nations, All the remnant of the people shall plunder you (Habakkuk 2:3,5,6-8).
The above prophecy will be fulfilled at the time of the end (cf. "The message was true, but the appointed time was long…in the latter days, for the vision refers to many days yet to come", Daniel 10:1,14). Daniel 8:19, 11:27,29,35 use same the Hebrew term for "appointed time" as Habakkuk 2:3, while Daniel 10, using a different term, ties the latter days to the time in Daniel 8:19. Habakkuk 2 was not fulfilled in its entirety anciently. Also, it makes little sense that Habakkuk would be directed towards the modern nation of Israel as it does not have enemy creditors. It must be a nation or group of nations with some prominence at the appointed time of the end.
This problem will cause sudden destruction among those who are spiritually drunk:
3 For when they say, "Peace and safety!" then sudden destruction comes upon them, as labor pains upon a pregnant woman. And they shall not escape. 4 But you, brethren, are not in darkness, so that this Day should overtake you as a thief. 5 You are all sons of light and sons of the day. We are not of the night nor of darkness. 6 Therefore let us not sleep, as others do, but let us watch and be sober. 7 For those who sleep, sleep at night, and those who get drunk are drunk at night. (1 Thessalonians 5:3-7)
Notice that both Paul and Habakkuk seem to have tied drunkenness in with this sudden calamity (so did Jesus in Luke 21:34-35). Truly the Anglo-nations are not spiritually sober.
Notice how Ezekiel's writings confirm that those who made profits improper will be punished:
13 "Behold, therefore, I beat My fists at the dishonest profit which you have made, and at the bloodshed which has been in your midst. 14 Can your heart endure, or can your hands remain strong, in the days when I shall deal with you? I, the Lord, have spoken, and will do it. 15 I will scatter you among the nations, disperse you throughout the countries, and remove your filthiness completely from you. (Ezekiel 22:13-15)
Borrowing money that will not be paid back is a "dishonest profit" which the American and British peoples have been living on for the past several years. They will be scattered for this and their filthiness (see also Will the Anglo-Nations be Divided?). Sexual immorality and abortion are simply some outward signs of this filthiness.
While all should give thanks to God, those in the Anglo-American nations should also realize that because of who were the majority that they descended from, they will receive the blessings AND the cursings of the children of Israel.
And national repentance is needed soon as the cursings are starting to be realized.
Notice something from the Old Testament:
34 Oh, give thanks to the Lord, for He is good!
For His mercy endures forever.
35 And say, "Save us, O God of our salvation;
Gather us together, and deliver us from the Gentiles,
To give thanks to Your holy name,
To triumph in Your praise."  (1 Chronicles 16:34-35)
This is a warning that even after the Gentiles take over, that those taken over should still praise God as He ultimately will deliver.  I would suggest that it is better to praise and thank God sooner than just later.
But specifically why else will the Anglo-nations be destroyed?
Why would God allow some of the greatest nations of all time to be destroyed as the Anglo-Americans have been in the forefront of distributing Bibles, helping in humanitarian matters, assisting with international disasters, etc.?
Because the New Testament clearly teaches:
48 For everyone to whom much is given, from him much will be required (Luke 12:48).
The U.S.A. and its Anglo-allies have been given much.
The Old Testament teaches:
6 My people are destroyed for lack of knowledge.
Because you have rejected knowledge,
I also will reject you from being priest for Me;
Because you have forgotten the law of your God,
I also will forget your children.

7 "The more they increased,
The more they sinned against Me;
I will change their glory into shame.
8 They eat up the sin of My people;
They set their heart on their iniquity.
9 And it shall be: like people, like priest.
So I will punish them for their ways,
And reward them for their deeds (Hosea 4:6-9).
Notice that God promises to turn the glory of a people (like the Anglo-American powers) into shame because they have REJECTED knowledge and the law of God.
The religious leaders in these nations have by and large failed to warn their followers that they need to keep the law of God.  This is knowledge that the people and the leaders should have as the Anglo-American powers have likely printed up more Bibles than the rest of the world combined.
The Bible warns that those that are obese and eat too much will suffer (for details see Obesity and Prophecy). The Bible also seems to warn that polluters will be punished (cf. Revelation 11:18).
Also notice what the Prophet Ezekiel was inspired to record:
23 The Gentiles shall know that the house of Israel went into captivity for their iniquity; because they were unfaithful to Me, therefore I hid My face from them. I gave them into the hand of their enemies, and they all fell by the sword. 24 According to their uncleanness and according to their transgressions I have dealt with them, and hidden My face from them. (Ezekiel 39:23-24)
Thus, unfaithfulness, uncleanness, and transgressions (sins) are major reasons.
The Great Tribulation itself will initially mainly be directed to those who are descended from Jacob/Israel:
6 Ask now, and see,
Whether a man is ever in labor with child?
So why do I see every man with his hands on his loins
Like a woman in labor,
And all faces turned pale?
7 Alas! For that day is great,
So that none is like it;
And it is the time of Jacob's trouble,
But he shall be saved out of it. (Jeremiah 30:6-7)

25… Gentiles, who do not know You…they have eaten up Jacob, Devoured him and consumed him,
And made his dwelling place desolate. (Jeremiah 10:25)

23 But woe to those who are pregnant and to those who are nursing babies in those days! For there will be great distress in the land and wrath upon this people. 24 And they will fall by the edge of the sword, and be led away captive into all nations. And Jerusalem will be trampled by Gentiles until the times of the Gentiles are fulfilled. (Luke 21:23-24)

2 But leave out the court which is outside the temple, and do not measure it, for it has been given to the Gentiles. And they will tread the holy city underfoot for forty-two months. (Revelation 11:2)
Notice that Jeremiah, Jesus (whose words are recorded in Luke), and John (who penned Revelation) are talking about the same time. Also notice that "it is the time of Jacob's trouble" and that the "Gentiles" are dominating. This means those that are descended from Israel or have the name of Jacob (cf. Genesis 48:14-16) will be mainly be trampled. One of the peoples that God says He will use to punish the descendants of Israel, Assyria (Isaiah 10:5-11), are a Gentile people.
And while all peoples everywhere should thank and praise God, unless the USA and its Anglo-allies repent nationally, they will soon find out what the times of the Gentiles will be like.  And events, including the national debt of the USA, are lining up with the fulfillment of end time prophecy.
But God does have a loving plan that many simply do not understand (see The Gospel of the Kingdom of God was the Emphasis of Jesus and the Early Church and Universal Offer of Salvation: There Are Hundreds of Verses in the Bible Supporting the Doctrine of True Apocatastasis).
Some articles of possibly related interest may include:
Thanksgiving: A Time To Give Thanks and Praise the LORD Is this American holiday appropriate? Why or why not?
The Gospel of the Kingdom of God was the Emphasis of Jesus and the Early Church Did you know that? Do you even know what the gospel of the kingdom is all about? True religion should be based upon the true gospel.
Abortion, the Bible, and a Woman's Right to Choose Do you know what the Bible teaches on this? Has the Roman Catholic Church allowed abortions? What about the Living Church of God?
Anglo – America in Prophecy & the Lost Tribes of Israel Are the Americans, Canadians, British, Scottish, Welsh, Australians, Anglo-Southern Africans, and New Zealanders descendants of Joseph? Where are the lost ten-tribes of Israel? Who are the lost tribes of Israel? Will God punish the U.S.A., Canada, United Kingdom, and other Anglo nations? Why might God allow them to be punished first?
Will the Anglo-Nations be Divided? Will the lands of the United States, United Kingdom, Canada, Australia, and New Zealand be divided? What does Bible prophecy teach? Are there non-biblical prophecies that support this idea? Who will divide those lands? Who will end up with the lands and the people?
Can the Great Tribulation Begin in 2010, 2011, or 2012? Can the Great Tribulation begin today? When is the earliest that the Great Tribulation can begin? What is the Day of the Lord?  Will the Gentiles dominate?  What happens when the Gentiles take over?
Prophecies of Barack Obama? Are there biblical and non-biblical prophecies about Barack Obama. Did Nostradamus predict Barack Obama dealing with the Antichrist?
Universal Offer of Salvation: There Are Hundreds of Verses in the Bible Supporting the Doctrine of True Apocatastasis Do you believe what the Bible actually teaches on this? Will all good things be restored? Does God's plan of salvation take rebellion and spiritual blindness into account?