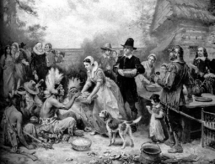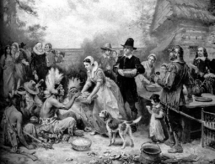 November 26, 2009 is the date for the USA holiday of Thanksgiving this year.  The Smithsonian Institute said the following about it:
The first Thanksgiving service known to be held by Europeans in North America occurred on May 27, 1578 in Newfoundland, although earlier Church-type services were probably held by Spaniards in La Florida. However, for British New England, some historians believe that the Popham Colony in Maine conducted a Thanksgiving service in 1607 (see Sources: Greif, 208-209; Gould, and Hatch). In the same year, Jamestown colonists gave thanks for their safe arrival, and another service was held in 1610 when a supply ship arrived after a harsh winter.

Berkley Hundred settlers held a Thanksgiving service in accordance with their charter which stated that the day of their arrival in Virginia should be observed yearly as a day of Thanksgiving, but within a few years an Indian uprising ended further services (Dabney). Thus British colonists held several Thanksgiving services in America before the Pilgrim's celebration in 1621.

The Pilgrims, with a puritanical rejection of public religious display, held a non-religious Thanksgiving feast, aside from saying grace. In fact, they seem to have used the three days for feasting, playing games, and even drinking liquor.

In 1623, the Pilgrims at Plymouth Plantation, Massachusetts, held another day of Thanksgiving. As a drought was destroying their crops, colonists prayed and fasted for relief; the rains came a few days later. And not long after, Captain Miles Standish arrived with staples and news that a Dutch supply ship was on its way. Because of all this good fortune, colonists held a day of Thanksgiving and prayer on June 30. This 1623 festival appears to have been the origin of our Thanksgiving Day because it combined a religious and social celebration.

Festivals of Thanksgiving were observed sporadically on a local level for more than 150 years. They tended to be autumn harvest celebrations. But in 1789, Elias Boudinot, Massachusetts, member of the House of Representatives, moved that a day of Thanksgiving be held to thank God for giving the American people the opportunity to create a Constitution to preserve their hard won freedoms. A Congressional Joint Committee approved the motion, and informed President George Washington. On October 3, 1789, the President proclaimed that the people of the United States observe "a day of public thanksgiving and prayer" on Thursday, the 26th of November.

It also had the following proclamation from George Washington:
Transcription of George Washington's Proclamation:

By the President of the United States of America–

A Proclamation

Whereas it is the duty of all Nations to acknowledge the providence of Almighty God, to obey his will, to be grateful for his benefits, and humbly to implore his protection and favor–and Whereas both Houses of Congress have by their Joint Committee requested me "to recommend to the People of the United States a day of public thanksgiving and prayer to be observed by acknowledging with grateful hearts the many signal favors of Almighty God, especially by affording them an opportunity peaceably to establish a form of government for their safety and happiness."

Now therefore I do recommend and assign Thursday the 26th day of November next to be devoted by the People of these States to the service of that great and glorious Being, who is the beneficent Author of all the good that was, that is, or that will be–That we may then all unite in rendering unto him our sincere and humble thanks–for his kind care and protection of the People of this country previous to their becoming a Nation–for the signal and manifold mercies, and the favorable interpositions of his providence, which we experienced in the course and conclusion of the late war–for the great degree of tranquility, union, and plenty, which we have since enjoyed–for the peaceable and rational manner in which we have been enabled to establish constitutions of government for our safety and happiness, and particularly the national One now lately instituted, for the civil and religious liberty with which we are blessed, and the means we have of acquiring and diffusing useful knowledge; and in general for all the great and various favors which he hath been pleased to confer upon us.

And also that we may then unite in most humbly offering our prayers and supplications to the great Lord and Ruler of Nations and beseech him to pardon our national and other transgressions–to enable us all, whether in public or private stations, to perform our several and relative duties properly and punctually–to render our national government a blessing to all the People, by constantly being a government of wise, just, and constitutional laws, discreetly and faithfully executed and obeyed–to protect and guide all Sovereigns and Nations (especially such as have shown kindness unto us) and to bless them with good government, peace, and concord–To promote the knowledge and practice of true religion and virtue, and the increase of science among them and Us–and generally to grant unto all mankind such a degree of temporal prosperity as he alone knows to be best.

Given under my hand at the City of New York the third day of October in the year of our Lord 1789.

http://www.si.edu/encyclopedia_si/nmah/thanks.htm#Transcription%20of%20George%20Washington's%20Proclamation
The Bible often tells that people should give thanks to God.  And while an American holiday should not necessarily be needed for such, people seem to need to be reminded that they should thank God for His many blessings.
Those blessings include not only His creation and our physical blessings, but His loving plan of salvation that will offer salvation to all that ever lived.
Some articles of possibly related interest may include:
Thanksgiving: A Time To Give Thanks and Praise the LORD Is this American holiday appropriate? Why or why not?
The Gospel of the Kingdom of God was the Emphasis of Jesus and the Early Church Did you know that? Do you even know what the gospel of the kingdom is all about? True religion should be based upon the true gospel.
What is the Meaning of Life? Who does God say is happy? What is your ultimate destiny? Do you really know? Does God actually have a plan for YOU personally?
Universal Offer of Salvation: There Are Hundreds of Verses in the Bible Supporting the Doctrine of True Apocatastasis Do you believe what the Bible actually teaches on this? Will all good things be restored? Does God's plan of salvation take rebellion and spiritual blindness into account?