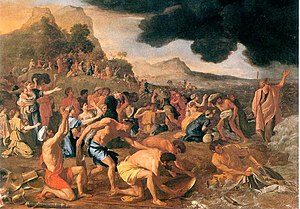 "The Crossing of the Red Sea" by Nicolas Poussin c. 1634
Today is the last day of unleavened bread.
Here is some information on it from the old Radio Church of God:
Over 3450 years ago, more than three million Israelites crossed the Red Sea dry shod! In this unusual photo the Red Sea stretches as a barrier between the desolate wilderness of Egypt in the foreground and the peaks of the Sinai peninsula which rise hazily on the horizon. …

Did God Almighty get His people safely across the Red Sea before daylight? Exodus 14:21-27. 10. Then on the daylight part of Wednesday, the seventh and last day of Unleavened Bread, was there great rejoicing? Since the seventh day of Unleavened Bread was an annual Sabbath, was there a Sabbath meeting in which newly composed congregational hymns were sung in memoriam and thanksgiving to God? Ex. 15:1-18, 20-21. (Lesson 34 – Days of Unleavened Bread – Your Part In God's Master Plan, Ambassador College, 1965)

After finally escaping Egypt, by crossing the Red Sea dry shod on the seventh day of Unleavened Bread (Lesson 35 – Feast of Pentecost – The Church In God's Master Plan, Ambassador College, 1965)
Here is some information about it from a Jewish source:
Exodus … On the seventh day after leaving Egypt, "the children of Israel lifted up their eyes, and behold! the Egyptians were advancing after them. They were very frightened, and the children of Israel cried out to HaShem." (ibid 14:10) All of a sudden, following orders was no longer an option. The Egyptians were closing in. This, as far as Israel was concerned, was not part of the plan. Something had to be done! This was a brand new reality for Israel, and they scrambled as they tried to wrap their collective brain around the threat to their continues existence. The people cried out to G-d, but then they quickly turned to Moshe: "Is it because there are no graves in Egypt that you have taken us to die in the desert?" (ibid 14:11) At first glance this appears to be a feeble attempt at gallows humor, a cynical rebuke of Moshe. But on second thought, it is actually a very logical and insightful question: Would the G-d that wrought miracles in Egypt on our behalf, and humbled the greatest power on earth, do it all for naught? There must be some way out of here! …


And now Israel is looking to Moshe for instruction. This is also a new reality for Moshe. Up till now he has been confronting Pharaoh, a most powerful despot, to be sure, but a man, who by his own admission, doesn't know and doesn't recognize HaShem, the G-d of Israel, placing Moshe in a distinct advantage. But now Moshe must confront his own people whom he loves, who like him, know and trust in the G-d of Israel. Moshe seeks to console the people: "Don't be afraid! Stand firm and see HaShem's salvation that He will wreak for you today, for the way you have seen the Egyptians is only today, but you shall no longer continue to see them for eternity. HaShem will fight for you, but you shall remain silent." (ibid 14:13-14) What Moshe says is true, but G-d reproaches him: "Why do you cry out to Me? Speak to the children of Israel and let them travel!" (ibid 14:15) The children of Israel turn to Moshe, Moshe turns to G-d and G-d turns right back to Moshe, saying, what you have told Israel may be true, but it is not a matter of what they need to hear, but a matter of what they need to do: to extricate themselves form this situation, to move on, to overcome their adversaries, to overcome their own self-doubts. They need to make the first move. They need to move forward. They need to trust themselves before they can believe in me!

And so it was, on the seventh day after leaving Egypt forever, Israel found itself in an impossible situation, the impassable sea before them, and the world's largest, most powerful army closing in behind them. This might seem like a familiar situation to us today, nothing unusual, especially to those who read the daily headlines, a situation that Israel finds itself in time after time. But this was very new to Israel at the time, a nation of seven days, a babe in the woods, whose great faith in G-d, and ultimately, great trust in themselves, G-d would immortalize with these words: "Go and call out in the ears of Jerusalem, saying: so said HaShem: I remember to you the lovingkindness of your youth, the love of your nuptials, your following Me in the desert, in a land not sown." (Jeremiah 2:2) G-d had already understood what the infant nation of Israel had yet to begin to realize: Their great trust and faith in HaShem, and their great trust and faith in themselves, the children of G-d, the nation chosen by HaShem to bear witness to His great presence in our world. "Let them travel!" G-d told Moshe. Let them be free! Let them be independent! And as surely as I am your G-d, I will open before them a path to the future, a path to the promised land, to Jerusalem, to the Holy Temple! Chag Sameach! A joyful Seventh Day of Passover to all! ("Speak to the children of Israel and let them travel!" (Exodus 14:15). Temple Institute, Nisan 20, 5778/April 5, 2018 )

The Bible calls this day the seventh day of unleavened bread, not the seventh day of Passover:
15

Seven days you shall eat unleavened bread. On the first day you shall remove leaven from your houses. For whoever eats leavened bread from the first day until the seventh day, that person shall be cut off from Israel.

16

On the first day there shall be a holy convocation, and on the seventh day there shall be a holy convocation for you. No manner of work shall be done on them; but that which everyone must eat–that only may be prepared by you.

17

So you shall observe the Feast of Unleavened Bread, (Exodus 12:15-16, NKJV throughout unless otherwise noted)

Christians need to overcome the world and its sinful ways.
As far as the sequence of events, Passover was after sunset on the 14th of Nisan/Abib (Exodus 12:6) and the death angel passed-over at midnight (Exodus 12:23-29). During the early daylight hours on the 14th of Nisan/Abib, the children of Israel received gold and precious things from the Egyptians (Exodus 12:35-36). They left Egypt at night of the 15th of Nisan/Abib (Exodus 12:42; Deuteronomy 16:1). Late on the 16th of Nisan/Abib, the children of Israel arrived in Succoth (Exodus 12:37). Later, apparently on the 18th of Nisan/Abib, Pharaoh decided to pursue them (Exodus 14:5). On the 20th of Nisan/Abib, Pharaoh's armies get near the children of Israel (Exodus 14:9). On the 21st of Nisan/Abib, God parted the Red Sea and the children of Israel crossed it on dry land (Exodus 14:20-22,29). During the daylight hours of the 21st, the Egyptian army pursues and is destroyed (Exodus 14:23-28).
The children of Israel had to fully leave the area where Egypt had influence. As Christians, we realize that we are to flee sin (e.g. 1 Corinthians 6:18) and to want its influence to remain in the past (1 Corinthians 6:9-11; 1 Peter 4:1-4).
Christians realize that Jesus died for our sins. The Bible makes this clear:
3 For I delivered to you first of all that which I also received: that Christ died for our sins according to the Scriptures (1 Corinthians 15:3).

3 Grace to you and peace from God the Father and our Lord Jesus Christ, 4 who gave Himself for our sins, that He might deliver us from this present evil age, according to the will of our God and Father, 5 to whom be glory forever and ever. Amen. (Galatians 1:3-5)
Through biblical observances such as Passover and Days of Unleavened Bread (it is currently the Days of Unleavened Bread in 2018), Christians are better able to learn the price of sin through Jesus' sacrifice, the prevalence of sin in the world, and the necessity to put sin out of our lives.
Just like the children of Israel had to leave the bondage of physical Egypt (Deuteronomy 5:6), Christians need to leave the bondage of spiritual Egypt (Revelation 11:8) of this present evil world (Galatians 1:4). Christians need to come out of sin, but they need God's help in overcoming sin.
Verses to Memorize to Help with Overcoming Sin
Before going into sin and repentance, there are some portions of scripture that perhaps should be shown first. These are also verses that you really should memorize.
Here is the first:
5 Trust in the Lord with all your heart,
And lean not on your own understanding;
6 In all your ways acknowledge Him,
And He shall direct your paths. (Proverbs 3:5-6)
Nearly every day I pray a slightly modified version of the above more or less as follows:
Father in heaven, let us trust in You with all our hearts and lean not to our own understandings. In all our ways help us acknowledge You and You will direct our paths.
If you sin, at the time you do so you are not obviously trusting in God with all your heart.
Interestingly, notice the verse that comes immediately after Proverbs 3:6:
7 Do not be wise in your own eyes; Fear the Lord and depart from evil. (Proverbs 3:7)
So, we see that not trusting in God, but trusting in ourselves (vanity) can lead to evil. But that fearing and trusting God is the way to depart from evil.
Christians should also consider the following words of Jesus:
31 "Therefore do not worry, saying, 'What shall we eat?' or 'What shall we drink?' or 'What shall we wear?' 32 For after all these things the Gentiles seek. For your heavenly Father knows that you need all these things. 33 But seek first the kingdom of God and His righteousness, and all these things shall be added to you. (Matthew 6:31-33)
I would suggest that all memorize at least the first half of Matthew 6:33.
If you are truly seeking first the kingdom of God, this will help you overcome sin–unlike the children of Israel who did not seek God's righteousness (cf. Romans 10:1-3).
There is another verse that all should memorize, and it is bolded below:
1 Moreover, brethren, I do not want you to be unaware that all our fathers were under the cloud, all passed through the sea, 2 all were baptized into Moses in the cloud and in the sea, 3 all ate the same spiritual food, 4 and all drank the same spiritual drink. For they drank of that spiritual Rock that followed them, and that Rock was Christ. 5 But with most of them God was not well pleased, for their bodies were scattered in the wilderness.

6 Now these things became our examples, to the intent that we should not lust after evil things as they also lusted. 7 And do not become idolaters as were some of them. As it is written, "The people sat down to eat and drink, and rose up to play." 8 Nor let us commit sexual immorality, as some of them did, and in one day twenty-three thousand fell; 9 nor let us tempt Christ, as some of them also tempted, and were destroyed by serpents; 10 nor complain, as some of them also complained, and were destroyed by the destroyer. 11 Now all these things happened to them as examples, and they were written for our admonition, upon whom the ends of the ages have come.

12 Therefore let him who thinks he stands take heed lest he fall. 13 No temptation has overtaken you except such as is common to man; but God is faithful, who will not allow you to be tempted beyond what you are able, but with the temptation will also make the way of escape, that you may be able to bear it. (1 Corinthians 10:1-13)
The children of Israel saw the miracles, but although they went along with God's physical plan, they did not truly repent. We, as Christians, all must however.
Putting Sin Out Requires the Help of Jesus
During the Days of Unleavened Bread we are to have no sin in our lives, symbolically, by having no leaven in our dwellings (see also Christians and the Days of Unleavened Bread). This annual reminder helps Christians better focus on the need to try to live without sin.
Just as you are not to have a little leaven then, you are not to have a little sin as it affects you (cf. Galatians 5:9; 1 Corinthians 5:7; James 2:8-13)
Christians, however, still sin, but upon confessing them, Jesus will forgive them:
8 If we say that we have no sin, we deceive ourselves, and the truth is not in us. 9 If we confess our sins, He is faithful and just to forgive us our sins and to cleanse us from all unrighteousness. 10 If we say that we have not sinned, we make Him a liar, and His word is not in us. (1 John 1:8-10)
But that does not mean we are to deliberately and intentionally sin and remain in it:
26 For if we sin willfully after we have received the knowledge of the truth, there no longer remains a sacrifice for sins, 27 but a certain fearful expectation of judgment, and fiery indignation which will devour the adversaries. (Hebrews 10:26-27)
Sometimes the sin is so within one that it seems to defy human will. Notice some of what the Apostle Paul wrote:
15 For what I am doing, I do not understand. For what I will to do, that I do not practice; but what I hate, that I do. 16 If, then, I do what I will not to do, I agree with the law that it is good. 17 But now, it is no longer I who do it, but sin that dwells in me. 18 For I know that in me (that is, in my flesh) nothing good dwells; for to will is present with me, but how to perform what is good I do not find. 19 For the good that I will to do, I do not do; but the evil I will not to do, that I practice. 20 Now if I do what I will not to do, it is no longer I who do it, but sin that dwells in me.

21 I find then a law, that evil is present with me, the one who wills to do good. 22 For I delight in the law of God according to the inward man. 23 But I see another law in my members, warring against the law of my mind, and bringing me into captivity to the law of sin which is in my members. 24 O wretched man that I am! Who will deliver me from this body of death? 25 I thank God — through Jesus Christ our Lord! (Romans 7:15-25)
Jesus also said, "with men it is impossible, but with God all things are possible" (Matthew 19:26).
We all have lost the struggle with sin at times, but through Christ we can overcome.
Jesus was tempted as we are and understands:
14 Seeing then that we have a great High Priest who has passed through the heavens, Jesus the Son of God, let us hold fast our confession. 15 For we do not have a High Priest who cannot sympathize with our weaknesses, but was in all points tempted as we are, yet without sin. 16 Let us therefore come boldly to the throne of grace, that we may obtain mercy and find grace to help in time of need. (Hebrews 4:14-16)
No matter how much you feel you messed up, you still can boldly go to the throne of grace to obtain mercy.
Do Not Put Yourself in a Place that You Are Tempted to Sin
There are also practical, physical, considerations that can help you overcome sin.
When you pray, "lead us not into temptation, but deliver us from evil" (Matthew 6:13, KJV), the implication is that you do not intentionally place yourself in areas to be tempted.
For example, if one is inclined to overly gamble, one should avoid going to casinos or visiting cities such as Las Vegas.
One who is inclined to smoke should not hang out with others who smoke. Nor should they ever buy cigarettes. However, since smoking is a very difficult habit to break, sometimes one may find replacement behaviors or some other physical item helpful to break the habit. But if someone wants to stop smoking, they really need to stop buying cigarettes. They should also repent and ask forgiveness of their sins each time they smoke (or commit any other sin).
As far one's diet goes, God tells His people to "eat what is good" (Isaiah 55:2), thus Christians should be careful about their diets and not eat that which is not good for them.
Jesus lived without sin (Hebrews 4:5) and the Bible teaches that we do not have to allow sin in our lives either, but we are to put on Christ:
13 Let us walk properly, as in the day, not in revelry and drunkenness, not in lewdness and lust, not in strife and envy. 14 But put on the Lord Jesus Christ, and make no provision for the flesh, to fulfill its lusts. (Romans 13:13-14)
When it comes to alcohol, one should not hang out with those that overly drink. Notice what the Apostle Peter wrote:
1 Therefore, since Christ suffered for us in the flesh, arm yourselves also with the same mind, for he who has suffered in the flesh has ceased from sin, 2 that he no longer should live the rest of his time in the flesh for the lusts of men, but for the will of God. 3 For we have spent enough of our past lifetime in doing the will of the Gentiles — when we walked in lewdness, lusts, drunkenness, revelries, drinking parties, and abominable idolatries. 4 In regard to these, they think it strange that you do not run with them in the same flood of dissipation, speaking evil of you. (1 Peter 4:1-4)
Peter even warns that some will think it strange if you stop such improper behaviors, but that is what Christians are to do. Furthermore:
33 Do not be deceived: "Evil company corrupts good habits." (1 Corinthians 15:33).
Christians are not to run with the crowd and go along with the world. Sin grows (James 1:15) and spreads (Romans 5:12).
When it comes to sexual immorality, the Apostle Paul wrote:
18 Flee sexual immorality. Every sin that a man does is outside the body, but he who commits sexual immorality sins against his own body. (1 Corinthians 6:18)
One flees sexual immorality by not getting oneself in a situation that could be somewhat expected to possibly lead to it, or immediately leaving a situation if it appears possible.
And Jesus taught:
27 "You have heard that it was said to those of old, 'You shall not commit adultery.' 28 But I say to you that whoever looks at a woman to lust for her has already committed adultery with her in his heart. 29 If your right eye causes you to sin, pluck it out and cast it from you; for it is more profitable for you that one of your members perish (Matthew 5:27-29)
So, it is not just doing something wrong that is sin, but also wishing to do the sin is a sin. And if internet pornography is a problem for someone, then they should avoid the internet completely–at least for a while. They also should not go to improper movies, have or buy improper magazines, etc.
But you have to do more than avoid temptation: you are supposed to do good (Matthew 5:44; Luke 6:35).
Now you may say that you do not have a problem with gambling, alcohol, drugs, fornication, or pornography, and if you do not, then that is good. But probably all of us have been guilty of the type of murder that Jesus warned against:
21 "You have heard that it was said to those of old, 'You shall not murder, and whoever murders will be in danger of the judgment.' 22 But I say to you that whoever is angry with his brother without a cause shall be in danger of the judgment. And whoever says to his brother, 'Raca!' shall be in danger of the council. But whoever says, 'You fool!' shall be in danger (Matthew 5:21-22)
And furthermore, notice what Jesus called the greatest commandment:
29 Jesus answered him, "The first of all the commandments is: 'Hear, O Israel, the Lord our God, the Lord is one. 30 And you shall love the Lord your God with all your heart, with all your soul, with all your mind, and with all your strength.' This is the first commandment. 31 And the second, like it, is this: 'You shall love your neighbor as yourself.' There is no other commandment greater than these." (Mark 12:29-31)
I would submit that this first commandment is the commandment that is violated the most, by probably everyone on the planet, Christian and non-Christian alike. Anytime you sin, you show God that you love something more than Him. The second is also violated a lot.
Basically, humans have a very difficult time getting sufficiently serious about God and His ways to put Him and them above EVERYTHING, ALL THE TIME, in their lives.
As Christians, it is not just enough not to sin, we are to do the work of God. Furthermore, consider that when you pray God is not limited to what He can give you–in other words do not neglect to pray for major change, not to just not sin, but to do and support His work.
Pray, study the Bible, meditate, fast, and live life as a Christian (see also Living as a Christian: How and Why? and/or the video version Living as a Christian: How and Why?).
If you have a problem to overcome, pray.
But you probably are telling yourself, I have done that before and still have not overcome.
So, then what should you do?
Pray.
And if that does not seem to help enough, then, pray more.
Take a lesson from those who successfully lose weight and keep it off. Surveys have found that the number 1 rule of successful weight-loss is to keep doing the right thing, even when it looks like one is failing. The scale might say someone is failing, but if they do the right thing anyway, and keep doing it, they are the ones that will be successful. Do not give up when discouraged or it looks like you keep failing. Even if you actually are faling, keep trying to do the right thing.
The Apostle Paul wrote that Christians are to "pray without ceasing" (1 Thessalonians 5:17). It may be for whatever problem you need to overcome you may need to pray more than you have.
I will also add that if you are on your knees praying, that, at least for many problems, stops you from engaging in the improper behavior you need to overcome. Remember that although God's thoughts are not your thoughts (Isaiah 55:7-8)–He knows best.
Jesus taught and warned:
25 For whoever desires to save his life will lose it, but whoever loses his life for My sake will find it. 26 For what profit is it to a man if he gains the whole world, and loses his own soul? Or what will a man give in exchange for his soul? 27 For the Son of Man will come in the glory of His Father with His angels, and then He will reward each according to his works. (Matthew 16:25-27)
Christians need to do the true work of God no matter what it costs. This involves personal growth, trusting and loving God, loving others, and supporting God's end time work.
But there are rewards for doing so:
3 Trust in the Lord, and do good;
Dwell in the land, and feed on His faithfulness.
4 Delight yourself also in the Lord,
And He shall give you the desires of your heart.

5 Commit your way to the Lord,
Trust also in Him,
And He shall bring it to pass. (Psalms 37:3-5)
We Christians must truly trust God and commit our ways to God.
6 Now I know that the Lord saves His anointed;
He will answer him from His holy heaven
With the saving strength of His right hand.

7 Some trust in chariots, and some in horses;
But we will remember the name of the Lord our God. (Psalms 20:6-7)
If Christians truly trust in God, and not themselves, they will be saved.
That is part of why Jesus taught:
9 In this manner, therefore, pray: Our Father in heaven, Hallowed be Your name. 10 Your kingdom come. Your will be done On earth as it is in heaven. (Matthew 6:9-10)
Notice it is God's will that is to be done and what we are to pray for, as well as His kingdom to come.
Notice what God really wants:
8 He has shown you, O man, what is good;
And what does the Lord require of you
But to do justly,
To love mercy,
And to walk humbly with your God? (Micah 6:8)
Satan's problem was that he refused to walk humbly. He was the anointed cherub (Ezekiel 28:14)–he had it all–but his pride got in the way (cf. Ezekiel 28:17). Humans often let their pride get in the way (Proverbs 29:33)–and pride puffs people up (cf. 1 Timothy 3:6).
Yet, Christians are to try to think like God:
5 Let this mind be in you which was also in Christ Jesus, 6 who, being in the form of God, did not consider it robbery to be equal with God, 7 but made Himself of no reputation, taking the form of a bondservant, and coming in the likeness of men. (Philippians 2:5-7)
Jesus had more than we humans can imagine, yet He was humble enough to give it up to serve and die for us. That is the attitude to have to truly overcome.
Here is a suggested service for the Last Day of Unleavened Bread:
Some items of possibly related interest may include:
Overcoming Sin What is sin? How are Christians suppose to overcome it? Here is a link to a version in Mandarin Chinese: QKg f/'͉v". Here is a link to a version in Spanish: Vencer al pecado. Here is also a link to a video in English titled How YOU Can Overcome Sin.
Should Christians Keep the Days of Unleavened Bread? Do they have any use or meaning now? What is leaven? This article supplies some biblical answers. Here are two YouTube videos intended to be viewed for the first day of unleavened bread:Leaven and Sin and Christians and the Days of Unleavened Bread.
EXODUS Exodus sermons include Exodus 1-4: Jewish Myths or Lessons for Christians Today?, Exodus 5-7: Serpents, Blood, and Revelation, Exodus 8-9: Plagues and Prophecy, Exodus 10-12: The Last Plagues & 21st Century Prophecies, and Exodus 13-15: Passover Protection and Armageddon. There is also more, such as the arrticle: When was the Exodus? Did it Happen? Some deny the biblical account of the Exodus. Was Ramses II the pharaoh then? When did the Exodus occur?  Is there proof outside of the Bible that there was an Exodus? Here is a related article in the Spanish language: ¿Cuándo fue el Éxodo? ¿Ocurrió realmente? Also: Reasons, Proofs, and Ramifications of the Ten Plagues of Exodus What do you know about these plagues? What happened to the 'gods of Egypt'? Is there any confirmation outside the Bible? Might something worse be coming? A related two-part sermon is available: Egypt and the Plagues (Part 1) and Exodus Plagues and Prophecy (Part 2). Also: Exodus and the Days of Unleavened Bread This article discusses parts of the Book of Exodus with some connections to the Days of Unleavened Bread. Related sermons are available Exodus 1-4: Jewish Myths or Lessons for Christians Today?, Exodus 5-7: Serpents, Blood, and Revelation, Exodus 8-9: Plagues and Prophecy and Unleavened Bread: Lessons in Exodus. Another sermon is Exodus, Judgments, and Jesus. Also Exodus 4:24, Why would God have sought to kill Moses? What did Moses do wrong? Do you have a similar problem?
Are You Being Called by God? Norman Shoaf wrote various points to consider.
Is God Calling You? Alfred E Carrozzo wrote this.
What Did Christ Mean Many Are Called, But Few Are Chosen? This article was by Raymond McNair.
Christian Repentance Do you know what repentance is? Is it really necessary for salvation? A related sermon is also available titled: Real Christian Repentance.
When You Sin: Do You Really Repent? This is an article by Charles F. Hunting. A related sermon is Confess to God and truly repent.
Do Christians Sin? This is an article by Herbert W. Armstrong.
What is the Unpardonable Sin? What is it? Can you repent of it? Do you know what it is and how to avoid it? Here is a link to a related sermon video The Unpardonable Sin and the Prodigal Son. Here is a link to a shorter video The 'Unpardonable Sin' and 'Climate Change'?
History of Auricular Confession and the 'Sacrament of Confession' Did early Christians confess their sins to priests? A related sermon is Confess to God and truly repent.
Living as a Christian: How and Why? In what ways do Christians live differently than others. What about praying, fasting, tithing, holy days, and the world? There is also a YouTube video related to that also called: Living as a Christian: How and Why?
What is the Meaning of Life? Who does God say is happy? What is your ultimate destiny? Do you really know? Does God actually have a plan for YOU personally?
The History of Early Christianity Are you aware that what most people believe is not what truly happened to the true Christian church? Do you know where the early church was based? Do you know what were the doctrines of the early church? Is your faith really based upon the truth or compromise?
Where is the True Christian Church Today? This free online pdf booklet answers that question and includes 18 proofs, clues, and signs to identify the true vs. false Christian church. Plus 7 proofs, clues, and signs to help identify Laodicean churches. A related sermon is also available: Where is the True Christian Church? Here is a link to the booklet in the Spanish language: ¿Dónde está la verdadera Iglesia cristiana de hoy? Here is a link in the German language: WO IST DIE WAHRE CHRISTLICHE KIRCHE HEUTE? Here is a link in the French language: Où est la vraie Église Chrétienne aujourd'hui?
Continuing History of the Church of God This pdf booklet is a historical overview of the true Church of God and some of its main opponents from Acts 2 to the 21st century. Related sermon links include Continuing History of the Church of God: c. 31 to c. 300 A.D. and Continuing History of the Church of God: 4th-16th Centuries and Continuing History of the Church of God: 17th-20th Centuries. The booklet is available in Spanish: Continuación de la Historia de la Iglesia de Dios, German: Kontinuierliche Geschichte der Kirche Gottes, French: L Histoire Continue de l Église de Dieu and Ekegusii Omogano Bw'ekanisa Ya Nyasae Egendererete.