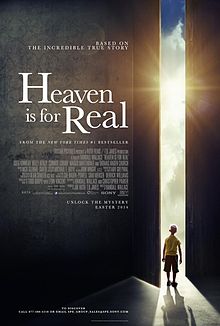 In the latest edition of its Bible Advocate, CG7's former President Calvin Burrell had the following:
Truth or myth?

Statement 1: Heaven is the eternal home of the faithful, promised in Scripture.

Comment: Jesus and His apostles seldom speak or write about heaven as the destiny of God's people. Neither is that sort of talk and teaching found in the Old Testament. The phrases go to heaven , going to heaven , or went to heaven may occur in a few paraphrases, but not in literal translations of Scripture. Instead, terms like kingdom of God , My Father's house , a city whose builder and maker is God , Zion , a place , with Christ , where I Am , before the throne , in His temple, and glory describe our eternal home — but rarely heaven . Thus, statement 1 is mostly myth.

Statement 2: Heaven is the wispy, far-away dreamland of popular imagination.

Comment: The Bible's gospel is not much about us going there, as three-year-old Colton Burpo claimed he did; it's more about heaven's Lord coming here. He came to earth once to live, die, and live again. And He's coming again to resurrect the dead and restore all created things. When this millennial restitution is complete, the Holy City will come down from heaven to the new earth, where God him – self will live with His people for – ever. Statement 2 states a cultural truth, not scriptural fact.

Statement 3: Heaven is the intermediate state between death and resurrection.

Comment: The thought that people go to heaven or hell when they die weakens major Bible teachings about the future…

Statement 4: Heaven is our escape from great tribulation, via the rapture.

Comment: The hope of escape from a troubled earth to heaven can furnish many alibis for not doing all we should to improve earthly life here and now. Besides lacking firm Bible support, the pre-tribulation and mid-tribulation rapture theories exacerbate this no-fear blooper: The earth will soon burn, but we'll be gone! Statement 4 too is more myth than truth.
Statements 1 (see Did Early Christians Teach They Were Going to Heaven?), 3 (see What Did Early Christians Understand About the Resurrections? and Did Early Christians Believe that Humans Possessed Immortality? ), and 4 (see Is There A Secret Rapture for the Church? When and Where is the Church Protected?) are myths.
Regarding Calvin Burrell's comments on statement 2, a film was released earlier this year titled Heaven is for Real and was based upon a story that was based on an incident involving Colton Burpo, hence the reference by Calvin Burrell (for information about that movie see Heaven is for real, but the movie's premise is not).
Heaven is for real, it is the place where God's throne now is (Matthew 5:34), but Colton Burpo did not go there.
Notice what Jesus taught:
12 If I have told you earthly things and you do not believe, how will you believe if I tell you heavenly things? 13 No one has ascended to heaven but He who came down from heaven, that is, the Son of Man who is in heaven. (John 3:12-13)
Notice what the Apostle Peter taught:
29 "Men and brethren, let me speak freely to you of the patriarch David, that he is both dead and buried, and his tomb is with us to this day. 30 Therefore, being a prophet, and knowing that God had sworn with an oath to him that of the fruit of his body, according to the flesh, He would raise up the Christ to sit on his throne, 31 he, foreseeing this, spoke concerning the resurrection of the Christ, that His soul was not left in Hades, nor did His flesh see corruption. 32 This Jesus God has raised up, of which we are all witnesses. 33 Therefore being exalted to the right hand of God, and having received from the Father the promise of the Holy Spirit, He poured out this which you now see and hear.

34 "For David did not ascend into the heavens, but he says himself:

'The Lord said to my Lord,
'Sit at My right hand,
35 Till I make Your enemies Your footstool." (Acts 2:29-35)
Humans do not go to heaven upon death. They await the resurrection.
Notice also what the Old Testament teaches:
5 For the living know that they will die;
But the dead know nothing, (Ecclesiastes 9:5)

14 If a man dies, shall he live again?
All the days of my hard service I will wait,
Till my change comes. (Job 14:14)
While I do not doubt that Colton Burpo could not have an encounter with demonic sources that gave him information, he was not in heaven. God was not going to bring him there and send him back.
Early Christians absolutely did not believe that when they died they immediately went to heaven (see Did Early Christians Teach Going to Heaven?). Early Christians taught that they were in the grave awaiting the resurrection.
As far as 'near death experiences' go, they were covered in a sermon titled Questions and Continuing Church of God Answers that is available to watch online.
Some items of related interest may include:
Did Early Christians Teach They Were Going to Heaven? What do the Bible and scholars teach? What about 'near-death experiences'? Here is a link to a related sermon: Heaven and Christianity.
What Is the Place that Jesus Is Preparing? Dr. Herman Hoeh wrote this and answered whether the saints go to heaven upon death.
What Did Early Christians Understand About the Resurrection? Is there more than one future resurrection? Did early Christians teach a physical resurrection? Did early Christians teach three resurrections?
Did Early Christians Believe that Humans Possessed Immortality? What does John 3:16, and other writings, tell us? Did a doctrine kept adopted from paganism? Here is a YouTube video titled Are humans immortal?
The Gospel of the Kingdom of God was the Emphasis of Jesus and the Early Church Did you know that? Do you even know what the gospel of the kingdom is all about? You can also see a YouTube video sermon The Gospel of the Kingdom.
Is There A Secret Rapture for the Church? When and Where is the Church Protected? What does the Bible really teach? Does the Church flee or is it taken up just prior to the great tribulation? Who really is left behind? There is also a YouTube video with information Did Jesus Teach a Pre-tribulation Rapture?
Church of God, (Seventh Day): History and Teachings Nearly all COG's I am aware of trace part of their history through some affiliation with this group. Whaid Rose is the president of the largest CG7 group (Denver). Do you know much about them?
The History of Early Christianity Are you aware that what most people believe is not what truly happened to the true Christian church? Do you know where the early church was based? Do you know what were the doctrines of the early church? Is your faith really based upon the truth or compromise?