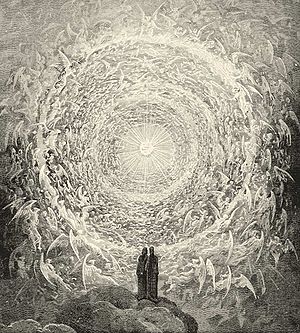 Gazing into the "highest heaven", Dante
For some time, I have been thinking about writing an article on heaven.  Until then, the following news reports were of interest:
Book review: 'Heaven: Our Enduring Fascination with the Afterlife,' by Lisa Miller

Washington Post – April 11, 2010

Why are Americans so credulous about heaven?

Slate – April 4, 2010    By Johann Hari   excerpt…

We know precisely when this story of projecting our lack into the sky began: 165 B.C., patented by the ancient Jews. Until then, heaven—shamayim—was the home of God and his angels.

http://www.slate.com/id/2249657/

The heaven you think you're headed to—a reunion with your lost relatives in the light—is a very recent invention…




Heaven: A Jewish invention

Yet Judaisn puts less emphasis on the afterlife than other faiths. Contemplating a Passover-Easter conundrum

Toronto Star – April 1, 2010    by Cathal Kelly   excerpt…

As Lisa Miller points out in her new book, Heaven, the great party in the sky has abandoned its strict door policy. Everybody's acting as if no matter how late they arrive, they're bound to get in. Nearly 80 per cent of Americans now profess to believe in Heaven. Canada continues to be the careful country cousin — only 58 per cent of us feel similarly, according to Gallup…
So according to the research of Lisa Miller, the idea of heaven as many now accept really came from a Jewish writer around 165 B.C. (which means it did not come from the Bible as the Hebrew scriptures were complete prior to that time).
And less some feel that it came from the New Testament for Christians, let's start with something that Jesus taught:
13 No one has ascended to heaven but He who came down from heaven, that is, the Son of Man who is in heaven (John 3:13).
The Apostle Peter taught:
29 "Men and brethren, let me speak freely to you of the patriarch David, that he is both dead and buried, and his tomb is with us to this day (Acts 2:29).

34 "For David did not ascend into the heavens (Acts 2:34).
And this shows that even AFTER the resurrection of Jesus, no one was in heaven, except Jesus.
There were various pagan concepts of heaven, and in my view, that is what influenced the Jews and finally those who follow Greco-Roman faiths in later times.
Notice that in the 2nd century, the Greco-Roman saint Justin wrote the following:
"For I choose to follow not men or men's doctrines, but God and the doctrines [delivered] by Him. For if you have fallen in with some who are called Christians, but who do not admit this [truth], and venture to blaspheme the God of Abraham, and the God of Isaac, and the God of Jacob; who say there is no resurrection of the dead, and that their souls, when they die, are taken to heaven; do not imagine that they are Christians" (Dialogue. Chapter 80).
It never fails to amaze me that the Greco-Romans (including Protestants) consider that Justin was a saint, yet he taught that if someone believed that they went to heaven upon death, that they were not Christian.  That is something that the Greco-Romans should ponder.
The Bible clearly teaches that while our reward is IN heaven (Matthew 5:12), that it comes down from heaven to the earth:
2 Then I, John, saw the holy city, New Jerusalem, coming down out of heaven from God, prepared as a bride adorned for her husband. 3 And I heard a loud voice from heaven saying, "Behold, the tabernacle of God is with men, and He will dwell with them, and they shall be His people. God Himself will be with them and be their God. 4 And God will wipe away every tear from their eyes; there shall be no more death, nor sorrow, nor crying. There shall be no more pain, for the former things have passed away."  (Revelation 21:2-4)
To learn more, please consider the following articles:
The Gospel of the Kingdom of God was the Emphasis of Jesus and the Early Church Did you know that? Do you even know what the gospel of the kingdom is all about? True religion should be based upon the true gospel.
Are You Saved? Do You Love Jesus? What is a True Christian? What is the Gospel? Evangelist Richard Ames answers those important questions.
Did The Early Church Teach Millenarianism? Was the millennium (sometimes called chiliasm) taught by early Christians? Who condemned it. Will Jesus literally reign for 1000 years on the earth? Is this time near?
Did Early Christians Believe that Humans Possessed Immortality? What does John 3:16, and other writings, tell us? Did a doctrine kept adopted from paganism?
Are The Wicked Tormented Forever or Burned Up? How does one explain Revelation 14:11 in light of Malachi 4:3? What happens to the incorrigibly wicked?
What Did Early Christians Understand About the Resurrection? Is there more than one future resurrection? Did early Christians teach a physical resurrection? Did early Christians teach three resurrections?