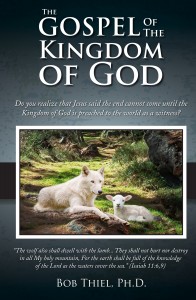 The following article was put out by the Church of God, a Worldwide Association (COGWA):
Five Damaging Beliefs About Jesus Christ

Could sincerely held but inaccurate beliefs and theological dogmas really be damaging to our understanding and relationship with our Lord and Savior?

Damaging Belief 1: Jesus wasn't sinless.

According to research by Barna, more than half of Americans (52 percent) agree that Jesus "committed sins like other people."

But if they are right, the Bible is not true and Jesus could not be our Savior. Without a Savior, all hope would be lost.

The Bible says it many times, but let's look at one. Speaking of Jesus, Hebrews 4:15 says, "For we do not have a High Priest who cannot sympathize with our weaknesses, but was in all points tempted as we are, yet without sin" (emphasis added throughout). …

Damaging Belief 2: Jesus loves us so much, He doesn't care if we sin.

Americans were asked to respond to this statement: "Even the slightest sin deserves eternal damnation," and a startling 61 percent strongly disagreed (Ligonier Ministries and LifeWay Research).

Lots of people either think sin isn't so bad, or that Jesus doesn't really care about it that much.

Jesus does love us, but the Bible also shows that He does care if we sin! Sin is what killed Him—our sins!

Why does He care about sin so much?

Consider what sin is. It is breaking the laws that God designed for our good (1 John 3:4; Deuteronomy 10:13). When we break His laws, we bring evil results. Sin is the ultimate cause of all evil and suffering.

In addition to all of the suffering sin causes throughout life, the way of sin ends in death. "The wages of sin is death" (Romans 6:23). Every sin is the opposite of love, the opposite of God's nature. God hates it!

But God the Father and Jesus Christ loved us so much that Jesus died in our place to give us a fresh start. That certainly doesn't mean He doesn't care if we continue to sin (Romans 6:1-2)! Jesus' message to the woman taken in adultery is a message for us all: "Go and sin no more" (John 8:11).

Jesus loves us so much, He wants us to repent of sin (Mark 1:15) and to strive to keep His commandments (Matthew 19:17; John 15:10).

Damaging Belief 3: Satan is winning.

If you look at the number of people, past and present, who have claimed to be Christians compared to the whole population of the world, then it would seem Satan is winning. But will Satan really win in the long run, and are most people really lost forever?

God says He "desires all men to be saved and to come to the knowledge of the truth" (1 Timothy 2:4). But is that just a pointless wish from a Being who seems to be losing the majority of people to Satan?

The Bible shows there is a battle (Luke 4:1-13; Revelation 12:7-12), but God controls every part of it, including the eventual outcome. For example, in the book of Job, the devil had to get permission for the trials and tests he wanted to bring on Job (Job 1:11-12; 2:4-6). …

Damaging Belief 4: People who have never heard Jesus' name will suffer in hell forever.

Related to damaging belief 3, we must consider: What about the billions of people who never heard the name of Jesus Christ—the only name by which we must be saved? As the apostle Peter said about the name of Jesus Christ: "Nor is there salvation in any other, for there is no other name under heaven given among men by which we must be saved" (Acts 4:12).

Some churchgoers answer this by disagreeing with Peter. In a LifeWay Research survey, 26 percent agreed, "If a person is sincerely seeking God, he/she can obtain eternal life through religions other than Christianity." …

Damaging Belief 5: Jesus is only figuratively a King.

Many churches teach that the millennial reign of Jesus Christ is only figurative. Amillennialists don't believe Jesus will be King on the earth for 1,000 years as promised in Revelation 20:4.

But Jesus told the Roman governor Pilate that He was born to be a king (John 18:37). His Kingdom is not "of this world" (verse 36)—not "of earthly origin or nature" (Thayer's Greek Lexicon). It will be of heavenly origin, but the Bible clearly says He will literally come to earth again (Zechariah 14:4; Acts 1:11; Revelation 1:7; 11:15; 19:11-21). Then His disciples will also sit on thrones judging the 12 tribes of Israel (Luke 22:29-30).

Jesus said the meek would inherit the earth (Matthew 5:5), and they literally will as the Kingdom of God envelopes the world. In fact, Jesus said we should regularly pray, "Your kingdom come" (Matthew 6:10).

If we don't believe Jesus is returning as King of Kings to rule on earth, we won't be preparing to assist Him. Jesus warned us to watch, be ready, be faithful, be wise, be serving, be giving, be prepared (Matthew 24:42-47; 25:34-36; Luke 21:34-36). The Millennium and the Kingdom of God are essential parts of God's plan—and followers of Christ must embrace them.
The above article was written by Mike Bennett. My wife Joyce and I met him and his wife several decades ago.
Anyway, he is right that there are many misconceptions of Jesus and God's plan of salvation, plus a major disconnect as to the message of the Kingdom of God.
Some items of possibly related interest may include:
Concerns about Church of God, a Worldwide Association This seems to be the largest group that came out of the United Church of God. Here is some history and concerns about it.
Jesus: The Son of God and Saviour Who was Jesus? Why did He come to earth? What message did He bring? Is there evidence outside the Bible that He existed? Here is a YouTube sermon titled Jesus: Son of God and Saviour.
The Gospel of the Kingdom of God This free online pdf booklet has answers many questions people have about the Gospel of the Kingdom of God and explains why it is the solution to the issues the world is facing. Here are links to three related sermons: The World's False Gospel, The Gospel of the Kingdom: From the New and Old Testaments, and The Kingdom of God is the Solution.
Universal Offer of Salvation: There Are Hundreds of Verses in the Bible Supporting the Doctrine of True Apocatastasis Do you believe what the Bible actually teaches on this? Will all good things be restored? Will God call everyone? Will everyone have an opportunity for salvation? Does God's plan of salvation take rebellion and spiritual blindness into account? Related sermon videos include Universal Offer of Salvation I: God is love  and Universal Offer of Salvation II: The Age to Come and the 'Little Flock' and Universal Offer of Salvation III: All Are to Know Jesus, But When? and Universal Offer of Salvation IV: Will the Guilty be Pardoned? and Universal Offer of Salvation V: All Israel Will be Saved? A version of the main article was also translated in the Spanish language: Oferta universal de salvación: Hay cientos de versículos en la Biblia que apoyan la verdadera doctrina de la Apocatastasis.
Did the Early Church Teach Purgatory? Is there a place called purgatory? Does God have a plan to help those who did not become saints in this life?
What is Limbo? Is There Such a Place as Limbo? What Happens to Babies When They Die? When did Limbo start being taught? What is the truth about dead babies?
What Happens After Death? Is death like sleep, or is that a cultic idea? Can you speak to the dead? Here is a link to a related sermon: What really happens after death?
Are The Wicked Tormented Forever or Burned Up? How does one explain Revelation 14:11 in light of Malachi 4:3? What happens to the incorrigibly wicked?
The Final Phase of the Work What is the final phase of the work? Who will lead it? Do you have the courage to support it? Here is a related YouTube video titled The Final Phase of the Work. The written article has been translated into Spanish La Fase Final de la Obra.
Leading the Final Phase of the Work Matthew 24:14 teaches "And this gospel of the kingdom will be preached in all the world as a witness to all the nations, and then the end will come " will be fulfilled and RCG is not the group doing this. Who is leading the final phase of the work? What did Herbert Armstrong and the old WCG teach about that and about prophets? Does Bob Thiel meet the criteria that the Bible and the old WCG set? What is the proof? What has the Continuing Church of God been doing? This is a sermonette length video.
The Laodicean Church Era has been predominant circa 1986 A.D. to present. The Laodiceans are non-Philadelphians who mainly descended from the old WCG or its offshoots. They do not properly understand the work or biblical prophecies and will face the Great Tribulation if they do not repent.