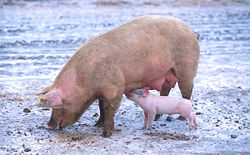 A month after British scientists called for human GMOs (see British scientists insisting on human GMOs), there is a proposal to make pig-human GMOs:
October 12, 2015
Prof George Church and colleagues used a technique called Crispr to alter the DNA of pig cells to create a better match for humans.

The early work, in the journal Science, aims to address concerns about rejection and infection by viruses embedded in pig DNA. …

Years more research is needed before genetically modified pigs could be bred to grow organs for people. …

In tests on early pig embryos, Prof Church was able to eliminate all 62 copies of porcine endogenous retroviruses from the pig cells using Crispr.

Next, he checked if the modified pig cells would still easily pass the retrovirus on to human cells. They did not, although there was still a small amount of transmission.

Prof Church says the discovery holds great promise for using animal organs in people – what doctors call xenotransplantation.

Prof Church, who part-owns a company that wants to develop modified pigs to grow organs, said: "It was kind of cool from two stand points. http://www.bbc.com/news/health-34506572
Of course, this will be promoted as something good and helpful.
Genetic modification of plants and animals sometimes involves placing genes from one species into another. In ancient times, the combination of humans and animals were called 'chimeras.'  Some have suggested, and have tried to, put human DNA into other species.
Some have claimed that 'men are pigs' and with the current proposal, this could become more literally correct.
That being said, I believe that the whole field of genetic-modification is fraught with dangerous risks, and often other moral issues, that proponents wish to ignore (the loss of monarch butterflies comes to immediate mind: see also Government looking into devastation of bees and butterflies: GMOs and pesticides are factors).
The use of GMOs is likely to be part of a 'perfect storm' that will result in the end of the UK and its allies like the USA.
Some items of possibly related interest may include:
GMOs and Bible Prophecy What are GMOs? Since they were not in the food supply until 1994, how could they possibly relate to Bible prophecy? Do GMOs put the USA and others at risk? Here is a related YouTube video GMO Risks and the Bible.
Chimeras: Has Science Crossed the Line? What are chimeras? Has science crossed the line? Does the Bible give any clues?
The New Testament Church, History, and Unclean Meats Are foods considered to have been unclean in the Old Testament considered to be food in the New Testament? This article discusses this from the perspective of the New Testament. It also has a list of clean and unclean animals. It also answers the question, is pork healthy or is pork dangerous? There is also a sermon-length video on this: Christians and Unclean Meats; a short video is also available: Did Jesus declare all animal flesh food?
The Gospel of the Kingdom of God was the Emphasis of Jesus and the Early Church Did you know that? Do you even know what the gospel of the kingdom is all about? You can also see a YouTube video sermon The Gospel of the Kingdom.
Just What Do You Mean the Kingdom of God? A booklet that was written by Herbert Armstrong answers questions about the Kingdom.
Anglo – America in Prophecy & the Lost Tribes of Israel Are the Americans, Canadians, English, Scottish, Welsh, Australians, Anglo-Saxon (non-Dutch) Southern Africans, and New Zealanders descendants of Joseph? Where are the lost ten-tribes of Israel? Who are the lost tribes of Israel? What will happen to Jerusalem and the Jews in Israel? Will God punish the U.S.A., Canada, United Kingdom, and other Anglo-Saxon nations? Why might God allow them to be punished first? Here is a link to the Spanish version of this article: Anglo-América & las Tribus Perdidas de Israel. Information is also in the YouTube sermons titled Where are the Ten Lost Tribes? Why does it matter? and British are the Covenant People. A short YouTube of prophetic interest may be Barack Obama and the State of the Apocalypse.
Will the Anglo-Saxon Nations be Divided and Have People Taken as Slaves? Will the lands of the United States, United Kingdom, Canada, Australia, and New Zealand be divided? What about Jerusalem? What does Bible prophecy teach? Are there non-biblical prophecies that support this idea? Who will divide those lands? Who will end up with the lands and the people? Here is a link to a video titled Will the USA and other Anglo-nations be Divided and Their People Made Slaves? Here is a related item in the Spanish language ¿Serán divididas las naciones anglosajonas?
British are the Covenant People What do 'British' and 'Britain' mean in Hebrew? Are the descendants of the Anglo-Saxons people of the covenant? Does the British royal family connect to the throne of David? What does the Bible teach? What does history show us? Is there any DNA evidence related to British-Israelism? When did Christianity make it to the British Isles? Could Jeremiah have made it to the British Isles? What type of Christians made it to the British Isles? Did the last King of England believe in British Israelism?