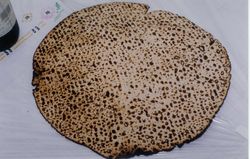 Unleavened Bread

Today is the last, the seventh, day of unleavened bread. Here is some of what the Hebrew scriptures teach about it:
6 And on the fifteenth day of the same month is the Feast of Unleavened Bread to the Lord; seven days you must eat unleavened bread. 7 On the first day you shall have a holy convocation; you shall do no customary work on it. 8 But you shall offer an offering made by fire to the Lord for seven days. The seventh day shall be a holy convocation; you shall do no customary work on it. (Leviticus 23:6-8)

18 In the first month, on the fourteenth day of the month at evening, you shall eat unleavened bread, until the twenty-first day of the month at evening. (Exodus 12:18)
So, today (the 21st of Nisan or Abib on the Hebrew calendar) faithful Christians are off work/school and attending some type of church service (including perhaps watching a sermon video).
Here is some of what the Greek scriptures teach about it:
7 Therefore purge out the old leaven, that you may be a new lump, since you truly are unleavened. For indeed Christ, our Passover, was sacrificed for us. 8 Therefore let us keep the feast, not with old leaven, nor with the leaven of malice and wickedness, but with the unleavened bread of sincerity and truth. (1 Corinthians 5:7-8)
In Exodus it states that the Days of Unleavened Bread, "shall be a sign to you on your hand and as a memorial between your eyes, that the LORD's law may be in your mouth" (13:9). Keeping seven days of unleavened bread pictures that we are to live in sincerity and truth by keeping God's law–that we are not continue in false religion, not to continue in sin.
Why seven days?
In the Bible God seems to use the number seven to show completeness. There are seven days in a week (Exodus 20:6), seven days of creation (Genesis1), seven Churches in Rev 2&3, seven candlesticks (Revelation 1:20), seven days of the Feast of Tabernacles (Leviticus 23:34), etc. The seven Days of Unleavened Bread seem to picture that after our sins have been forgiven through the sacrifice of Jesus (Romans 3:25, I Corinthians 5:7)), that we are to no longer continue in the old ways but to walk in the true ways of the Bible (I Corinthians 5:8). The Days of Unleavened Bread help us to understand that sin is to put out of our lives; throughout the year it reminds us that false religion is all around and needs to be avoided.
People who do not keep the Days of Unleavened Bread are not reminded about false religion and sin through this symbol during the year; maybe they do not want to be.
For those of you who are scattered or otherwise and have interest, here is a suggested format for services for the Last Day of Unleavened Bread (April 21, 2014):
This last Day of Unleavened Bread lasts until sunset tonight (April 1, 2013). Are you keeping it? If not, why not start now?
Some items of possibly related interest may include:
Should Christians Keep the Days of Unleavened Bread? Do they have any use or meaning now? What is leaven? This article supplies some biblical answers.
Living as a Christian: How and Why? In what ways do Christians live differently than others. What about praying, fasting, tithing, holy days, and the world? There is also a YouTube video related to that also called: Living as a Christian: How and Why?
Tradition and Scripture: From the Bible and Church Writings Are traditions on equal par with scripture? Many believe that is what Peter, John, and Paul taught. But did they?
Did Early Christians Celebrate Easter? If not, when did this happen? Where did Easter come from? What do scholars and the Bible reveal?
Why Easter? Did early Christians observe Easter? What are the origins of Easter? What does Easter have to do with the goddess Ishtar. Where did the word Easter come from? Where do Easter eggs come from? What do rabbits have to do with Easter? Was Jesus resurrected on a Sunday? This is a video.
Michael's Feasts and Fasts Quiz 15 questions, amusing wrong answer screens.
Is There "An Annual Worship Calendar" In the Bible? This paper provides a biblical and historical critique of several articles, including one by WCG which states that this should be a local decision. What do the Holy Days mean? How do the Holy Days picture God's plan of salvation? Also you can click here for the calendar of Holy Days.
The History of Early Christianity Are you aware that what most people believe is not what truly happened to the true Christian church? Do you know where the early church was based? Do you know what were the doctrines of the early church? Is your faith really based upon the truth or compromise?