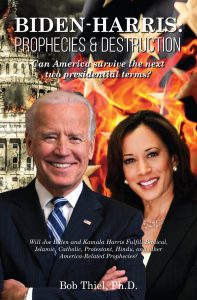 The Biden-Harris Administration was inaugurated yesterday (see Biden-Harris Inaugurated: Gerald Flurry and Don Billingsley again proven wrong).
Joe Biden signed a variety of executive orders:
January 20, 2021

Among the 17 executive actions U.S. President Joe Biden signed during his first hours in office Wednesday, two will strengthen frayed cooperation with the United Nations on boosting global health and combating climate change.

Making good on campaign promises, Biden halted the U.S. withdrawal from the World Health Organization and rejoined the 2015 Paris Climate Accord. https://www.voanews.com/usa/us-politics/biden-orders-us-rejoin-paris-climate-accord-who

January 20, 2021

WASHINGTON – President Joe Biden signed wide-ranging executive orders Wednesday to end travel restrictions from predominantly Muslim and African countries, initiate a halt to border wall funding and strengthen protections for immigrants brought to the country illegally as children. The orders dismantled major portions of former President Donald Trump's restrictive immigration policies.

Travel restrictions

The Biden-Harris White House reversed proclamations that barred most people from several majority Muslim and African countries to travel to the U.S. In a conference call with reporters, Biden's national security adviser, Jake Sullivan, described Trump's policy as "nothing less than a stain on our nation" and "rooted in xenophobia and religious animus." The former Trump White House had defended the proclamations as needed to keep America safe. https://www.voanews.com/2020-usa-votes/day-1-biden-dismantles-some-trumps-immigration-orders
What else will the Biden-Harris Adminstration bring?
Well, I wrote a new book titled Biden-Harris: Prophecies and Destruction. Here is the description of the book that is at Amazon:
Biden-Harris: Prophecies & Destruction
Can America survive the next two presidential terms?
Do world conditions concern you? Could ancient prophecies help you understand what will come to pass? This highly referenced book answers many questions, including some shocking ones. Such as: Are there Biblical and Hindu prophecies that point to the end of the USA by 2028? Is the view that Jesus could come by 2031 consistent with Jewish prophetic traditions about 6,000 years in the Talmud and the beliefs of early Christians? Could actions by a Biden-Harris Administration be factors in the end coming? Have Roman Catholic leaders called Joe Biden 'apocalyptic' and 'antichristic'? Could Joe Biden or Kamala Harris be the Antichrist? If not, where would the Antichrist come from? Are any publicly stated debt and morality-related proposals from the Biden-Harris team an existential threat to the United States of America? Was destruction of a massively indebted nation prophesied 2,600 years ago? Are there prophecies pointing to Iran, Israel, Syria, and others in the Middle East that begin the 'final countdown' to the start of the 'great tribulation' and coming end of the USA? Is there any convergence of certain Biblical, Islamic, Hindu, Native American, Roman Catholic, Eastern Orthodox, Protestant, and other prophecies? Where will the Beast and False Prophet come from? How does the sequence of events in Daniel 11 tie in with the USA, Europe, Russia, China, and Asia? What about Canada, Australia, New Zealand, and the United Kingdom? Where is the United States and its destruction mentioned in prophecy? Hundreds of prophecies, references, and insights provide answers that can help you and your loved ones.

CHAPTERS OF THE BOOK
1. Joe Biden: Background, Controversies, and Hebrew Prophecy
2. Kamala Harris: Immorality has Prophetic Consequences
3. Europeans are Not Pleased
4. Islam and Prophecy
5. Could Joe or Kamala be the Antichrist?
6. The End of the United States Before Two Presidential Terms?
7. 19 Reasons Why the Biden-Harris Administration will be Apocalyptic
8. Native American Prophecies
9. Nostradamus and the End
10. The King of the North and the End of the United States, and its Anglo-Saxon Allies
11. The Biden-Harris Administration will Help Fulfill End Time Prophecies
The printed edition is available at Amazon.com for $19.98. Here is a link: Biden-Harris: Prophecies and Destruction.
That being said, you can, through TODAY get the electronic Kindle version for FREE!
And you do not need an actual Kindle device to read it. Why? Amazon will allow you to download it to almost any device: Please click HERE to download one of Amazon s Free Reader Apps. After you go to your free Kindle reader and then go to: Biden-Harris: Prophecies and Destruction (Kindle).
Of course, if you DO have a Kindle reader, you can go directly to the following link: Biden-Harris: Prophecies and Destruction (Kindle).
It will only be FREE through today, January 21, 2021 as that is the longest time Kindle allows this. So, if you want it for FREE, please get it now or as soon as possible.
Kindle only allows giving a new book away free for five days, afterwards you would need to pay for the book. So, if you are concerned about world affairs and interested in learning about various prophecies, including some that would tie in with a Biden-Harris Administration, and you would like this for free, do not delay in getting this up-to-date and highly-documented book.
When you download it, it is for your personal use only.
Please tell any others you want to see it to download their own version.