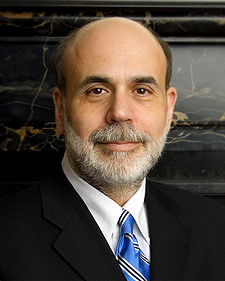 Ben Bernanke
The U.S. Federal Reserve Chairman spoke today and caused several reactions:
Dollar falls sharply after Bernanke; euro rallies

Bernanke: Fed May Launch New Round of Stimulus

Putin Calls Bernanke A Hooligan, Angry At American Money Printing
Replying to Ben Bernanke's comments (and how the USA has handled itself), Russia's Prime Minister Putin actually said:
They are behaving like hooligans, switching on the printing press and tossing them around the whole world, forgetting their main obligations.
So, the Russian leader does not agree that there should be another round of "quantitative easing" by the US Federal Reserve.  And actually a few weeks ago, some at the Wall Street Journal thought that Ben Bernanke had eliminated that as a possibility (see http://online.wsj.com/article/BT-CO-20110622-713773.html).  But I did not (see Bernanke Clueless on Economy, Bible is Not).
The Russian Prime Minister is correct that what the USA is doing is wrong.
Inflating the money supply through currency debasing (QE1 and QE2) and debt ("stimulus" programs) is not something advocated in the Bible. Notice:
4 Take away the dross from silver (Proverbs 25:4a).

25 I will turn My hand against you,
And thoroughly purge away your dross,
And take away all your alloy. (Isaiah 1:25)

22 Your silver has become dross, Your wine mixed with water. (Isaiah 1:22)
Dross is a cheaper metal that is normally placed inside a covering of a precious metal like silver. Governments began to do this thousands of years ago when they had financial problems. Putting dross into silver cheapens currency, just like putting water into wine dilutes the wine's value. In modern times, government spending in excess of revenues and quantitative easing programs (QE1 and QE2, from the Fed Chairman) are a way to dilute the value of currencies. This is not the biblical solution to US economic problems.
Now, the real cause of why all of this is happening is sin. Because of it's increasing secularism, greed, and tolerance for sexual, abortive, and other sins, the USA is getting closer to reaping more what it has sown:
7 Do not be deceived, God is not mocked; for whatever a man sows, that he will also reap. 8 For he who sows to his flesh will of the flesh reap corruption, but he who sows to the Spirit will of the Spirit reap everlasting life. (Galatians 6:7-8)
One of the many cursings that were prophesied in the Bible to be reaped for disobedience was that of accumulation of debt:
43 The alien who is among you shall rise higher and higher above you, and you shall come down lower and lower. 44 He shall lend to you, but you shall not lend to him; he shall be the head, and you shall be the tail. 45 Moreover all these curses shall come upon you and pursue and overtake you, until you are destroyed, because you did not obey the voice of the LORD your God, to keep His commandments and His statutes which He commanded you (Deuteronomy 28:42-45).
As the Anglo-American nations have not kept God's commandments, they have become the greatest debtor nations of all time.  And while some do not count quantitative easing as "debt", it is an improper "solution" to the USA's economic woes.
But since Ben Bernanke will not advocate that the USA turn to God, he seems to think that diluting the currency is the best choice.
Interestingly, he also had a discussion with US Congressman, and presidential candidate, Ron Paul today.  Now, while I am not saying that gold (or Ron Paul) is the answer, notice that the Fed Chairman got upset with one or more of his questions:
Bernanke Fights Ron Paul In Congress: 'Gold Isn't Money'

Forbes – July 13, 2011…

Rep. Ron Paul, Republican for Texas, asked Bernanke why a capital injection of more than $5 trillion "hasn't done much" to help the consumer, who makes up about two-thirds of GDP in the U.S., and prop up the economy, while it helped boost corporate profits. "You could've given $17,000 to each citizen," Ron Paul claimed.

Bernanke, clearly on the defensive, told Rep. Ron Paul that his institution hadn't spent a single dollar, rather, the Fed has been a "profit center" according to the Chairman, returning profits to the federal government. As Bernanke began to sermon Rep. Paul on the history of the Fed ("we are here to provide liquidity [in abnormal situations]," the Chairman said), he was interrupted.

"When you wake up in the morning, do you think about the price of gold," Rep. Paul asked. After pausing for a second, Bernanke responded, clearly uncomfortable, that he paid much attention to the price of gold…asked Rep. Paul…"Is gold money?"…

Clearly bothered, Bernanke told the representative "no, gold is not money, it's an asset. Treasuries are an asset, people hold them, but I don't think of them as money," said Bernanke.http://blogs.forbes.com/afontevecchia/2011/07/13/bernanke-fights-ron-paul-in-congress-golds-not-money/
Gold tends to stop the possibility of massive inflation as governments still have not figured out ways to massively produce it.  Yet, they can do that to their paper/electronic money.
At some point in time, the USA will likely start to experience massive inflation (which is something that the Fed Chairman should realize). And afterwards, its creditors will rise up (Habakkuk 2:7).  Speaking of inflation, notice another item of interesting fiscal note that happened:
(Reuters)  Moody's Investors Service jolted White House debt talks on Wednesday with a warning that the United States may lose its top credit rating in the coming weeks, piling pressure on Washington to lift its debt ceiling.  http://www.reuters.com/article/2011/07/13/us-usa-debt-idUSTRE7646S620110713
IF Moody's and certain other credit rating agencies lower the credit rating of the USA, this will increase interest rates which will then increase the debt of the USA and contribute to an inflationary spiral that ultimately will get out of control (even if it is sometimes tempered).
The world is changing and the USA and its Anglo-descended allies are losing their financial dominance in the world. And while there will be some temporary rises in the value of the US dollar for a while (and likely when there is more civil unrest in Europe), the trend for the US dollar and economy is clearly down.
Without massive national repentance, the Bible is clear that complete destruction of the economy, and even government, of the USA is certain. This is something that leaders, such as the Fed Chairman (and even Ron Paul), need to know.
Ben Bernanke and others may wish to consider studying the following prophetically-oriented articles:
Anglo – America in Prophecy & the Lost Tribes of Israel Are the Americans, Canadians, British, Scottish, Welsh, Australians, Anglo-Southern Africans, and New Zealanders descendants of Joseph? Where are the lost ten-tribes of Israel? Who are the lost tribes of Israel? Will God punish the U.S.A., Canada, United Kingdom, and other Anglo nations? Why might God allow them to be punished first?
Will the Anglo-Nations be Divided? Will the lands of the United States, United Kingdom, Canada, Australia, and New Zealand be divided? What does Bible prophecy teach? Are there non-biblical prophecies that support this idea? Who will divide those lands? Who will end up with the lands and the people?
Prophecies of Barack Obama? Eight reasons why Barack Obama is apocalyptic and eight reasons why Barack Obama is not the Antichrist. This article includes many biblical and non-biblical prophecies, from around the world, that seem to discuss Barack Obama. Did Nostradamus predict Barack Obama dealing with the Antichrist? Might Barack Obama set the stage for the kings of the North and South as at least one Shiite prophecy suggests? This is the longest and most complete article on this page on Barack Obama prophecies. Read it and decide for yourself if President Obama seems to be fulfilling various prophecies.
Barack Obama, Prophecy, and the Destruction of the United States Some claim that Barack Obama is the prophesied "son of Kenya", based up an early 20th century writing.
Canada in Prophecy: What Does Bible Prophecy, Catholic Prophecy, and other Predictions Suggest About the Future of Canada? There are prophecies that suggest involvement with Canada. And many are not positive about its future.
Who is the King of the West? Why is there no End-Time King of the West in Bible Prophecy? Is the United States the King of the West?
Abortion, the Bible, and a Woman's Right to Choose Is abortion sin? What exactly are a woman's reproductive rights? Do you know what the Bible teaches on this?
The Plain Truth About Gold in Prophecy. How Should a Christian View Gold? What do economists and the Bible teach about gold? Gold and silver may drop in value. Inflation/deflation? What do Christians need to know about gold?
Russia: Its Origins and Prophesied Future Russia in prophecy. Where do the Russians come from? What about those in the Ukraine? What is prophesied for Russia and its allies? What will they do to the Europeans that supported the Beast in the end?
Is Russia the King of the North? Some claim it is. But what does the Bible teach?