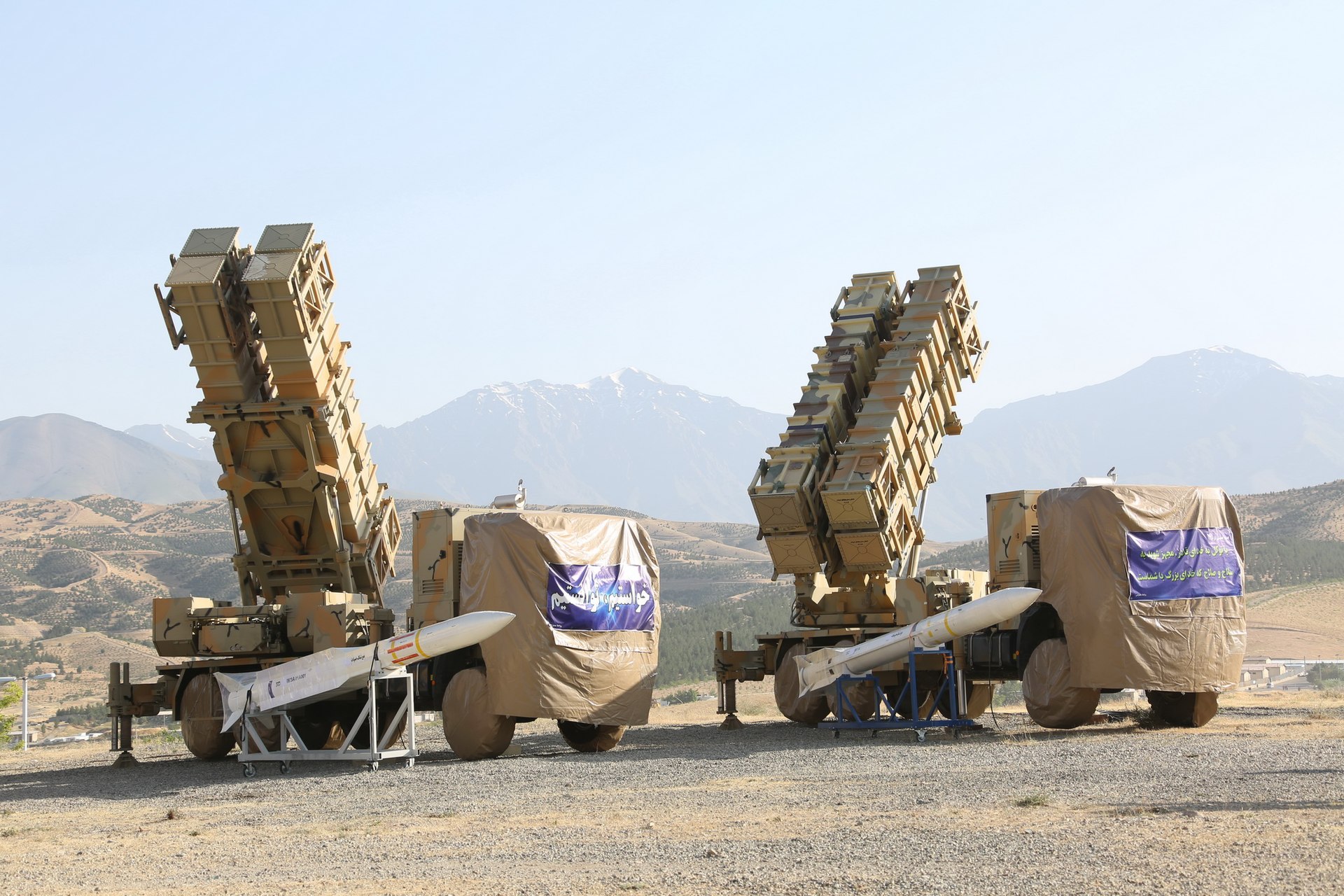 Khordad Air Defense System (Photo by www.defanews.ir)

Breaking Israel News (BIN) reported the following:
Iran Puts Air-Defense Systems on 'High Alert'

July 19, 2020

There are "several" indications Iran has parts of its air-defense system on "high alert" following mysterious explosions occurring throughout the country …
The move means "Iranian surface-to-air missile batteries would be ready to fire at targets perceived to be a threat," according to CNN, which mentioned that the U.S. official wouldn't disclose how America detected the Iranian change in alert status.

U.S. officials declined to comment to CNN about this apparent development, which comes as at least seven Iranian ships caught fire in the port city of Bushehr on Wednesday in a series of mysterious explosions and fires around Iranian military, nuclear and industrial facilities in recent weeks. …

Israeli Defense Minister Benny Gantz said earlier this month that the country is not behind every incident that occurs in Iran. https://www.breakingisraelnews.com/155010/report-iran-puts-air-defense-systems-on-high-alert/
No, Israel is not behind EVERY incident that occurs in Iran, but that does not mean it is not behind many significant ones.
Iran must be attempting to figure out how to retaliate against Israel for recent explosions and other incidents some have tied to one or more cyber attacks (e.g. 'Yet Another Explosion at Iranian Nuclear Site' and BIN: Israeli Cyber-Attack Caused Secret Iranian Nuclear Missile Plant to Explode).
Iran has drones that could cause great damage. Forbes reported:
July 19, 2020

The proliferation of armed drones, also known as unmanned aerial vehicles (UAV), in the Middle East over the past decade is alarming. …

Iran also operates an array of loitering munitions and has supplied some to non-state actors in the region.

Iranian Ra'ad 85 drones reportedly have an operational range of around 80 miles and reportedly can reach a top speed of about 250 mph.

Unlike the tiny Kargu-2 or Hero-30 loitering munitions, the Ra'ad 85s are designed to strike larger targets with precision. Tehran showcased the drone's capabilities during military drills in December 2016.

Three months earlier, the Iranian Navy unveiled another drone that officials claimed "can carry payloads of explosives for combat missions" and "collide with the target and destroy it, (whether) a vessel or an onshore command center."

However, the officials also pointed out this is a secondary role of the unmanned aircraft, the primary role being maritime surveillance. The drone has a purported range of about 600 miles. …

In September, loitering munitions and cruise missiles damaged Saudi oil facilities after managing to evade the kingdom's air defenses. That attack aptly demonstrated the effectiveness of, and threat posed by, such weapons. https://www.forbes.com/sites/pauliddon/2020/07/19/turkey-israel-and-iran-have-built-some-very-lethal-loitering-munitions/#112488a259de
The claim of precision related to Iranian drones was something of interest.
Why?
Because there are prophecies about peoples that look to be in Iran and Syria attacking the tiny nation of Israel and causing damage to Jerusalem in the end times:
1 The burden against the Valley of Vision.

What ails you now, that you have all gone up to the housetops, 2 You who are full of noise, A tumultuous city, a joyous city? Your slain men are not slain with the sword, Nor dead in battle. 3 All your rulers have fled together; They are captured by the archers. All who are found in you are bound together; They have fled from afar. 4 Therefore I said, "Look away from me, I will weep bitterly; Do not labor to comfort me Because of the plundering of the daughter of my people."

5 For it is a day of trouble and treading down and perplexity By the Lord God of hosts In the Valley of Vision — Breaking down the walls And of crying to the mountain. 6 Elam bore the quiver With chariots of men and horsemen, And Kir uncovered the shield. 7 It shall come to pass that your choicest valleys Shall be full of chariots, And the horsemen shall set themselves in array at the gate.

8 He removed the protection of Judah. You looked in that day to the armor of the House of the Forest; 9 You also saw the damage to the city of David, That it was great; And you gathered together the waters of the lower pool. 10 You numbered the houses of Jerusalem, And the houses you broke down To fortify the wall. 11 You also made a reservoir between the two walls For the water of the old pool. But you did not look to its Maker, Nor did you have respect for Him who fashioned it long ago.

12 And in that day the Lord God of hosts Called for weeping and for mourning, For baldness and for girding with sackcloth. 13 But instead, joy and gladness, Slaying oxen and killing sheep, Eating meat and drinking wine: "Let us eat and drink, for tomorrow we die!"

14 Then it was revealed in my hearing by the Lord of hosts,"Surely for this iniquity there will be no atonement for you, Even to your death," says the Lord God of hosts. (Isaiah 22:1-14 NKJV)
Elam is a reference to at least some in Iran. Kir seems to tie to Syrians to Kir. Syria is probably the closest ally of Iran.
In Isaiah 22: 8, "Judah" is a reference to those in the land commonly called Israel–God will allow Israel to be attacked! In Isaiah 22:9, consider that "the damage to the city of David" is a reference to at least part of Jerusalem–and notice that the damage will be great.
I have long wondered about the willingness of Iran to damage Jerusalem as 1) it wants to take it over and 2) there are Islamic religious sites and mosques that are in that city.
But, if Iran thinks its drones and other military options are precise, that would reduce Iranian hesitation–even if in reality, the precision ends up not being there.
In addition to alleged Israeli cyber attack caused problems and explosions in Iran, what else might get Iran to act?
Consider that Iran claims to have more cases of COVID-19 than the rest of the world combined:
Iranian President Hassan Rouhani has said 35 million Iranians may contract the coronavirus as the country still did not have herd immunity although a quarter of the population may be infected.

"Our estimate is that up to now, 25 million Iranians have been infected with this virus," Rouhani said during a televised meeting of the country's virus-fighting task force on Saturday.

"We have to consider the possibility that 30 to 35 million more may face infection." 07/18/20 https://www.aljazeera.com/news/2020/07/rouhani-35-million-iranians-contract-coronavirus-200718105252256.html
This might concern the population in Iran, as have the economic impact of US sanctions.
Consider also the following from al Jazeera (AJ):
Iran's message to its people: If you revolt, you die

The Iranian authorities are ramping up repression. They fear mass protests now more than ever. …

Why did Iranian authorities rapidly intensify their efforts to silence dissenting voices in the last few weeks? The short answer is "fear". Today, amid a devastating pandemic and crippling economic sanctions, the Iranian government is more concerned about the possible re-emergence of mass riots than ever before.

Today, Iranian people are fed up with the government's totalitarian desire to control all aspects of their lives and its apparent inability to address pressing environmental threats, such as air pollution and drought. Moreover, they are extremely dissatisfied with its bungling response to the COVID-19 pandemic. But above all, many Iranians from all walks of life are experiencing unprecedented, crippling economic hardship as a result of the cumulative consequences of the US sanctions, the COVID-19 pandemic and the incompetence of the Iranian government.

US President Donald Trump's 2018 decision to pull out of the Iran nuclear deal and embark on a "maximum pressure" policy devastated Iran's economy, which was already in dire straits due to chronic mismanagement and widespread corruption. Just over a year later, the coronavirus pandemic, and the consequent drop in global oil prices, inflicted a second deadly blow on the country's finances.

Due to US sanctions, Iran's oil revenues dropped from over $60bn in 2018 to $9bn in 2019. As the Iranian leadership tried to compensate for its oil revenue losses with gains in other sectors, the pandemic struck the service sector – which makes up more than 40 percent of Iran's economy – and sped up the country's looming economic collapse. 07/19/20 https://www.aljazeera.com/indepth/opinion/iran-message-people-revolt-die-200713160012571.html
As a distraction, as well as to attain the stated goals of the Iranian ruling party, Iran's leaders may soon feel that the time is right to hit Israel.
Iran probably has also figured out that the Europeans have not been helpful enough to get around sanctions, so losing EU support if it attacks Israel is less of a concern than it otherwise might be.
Iran is more heavily trying to work with China (see 'Iran and China Turbo-Charge the New Silk Roads') and likely does not see that arrangement would be at much risk if it attacked Jerusalem.
We may be in the early stages of the ride of the second horseman of the Apocalypse–that is the horseman that takes peace from the earth.
Iran may be planning a war.
Some items of possibly related interest may include:
Iran in Prophecy Is Iran in Bible prophecy? If so, what does the Bible teach? What names, other than Persia, may be used to describe Iran? There is also a related YouTube video titled Iran In Prophecy.
Damascus and Syria in Prophecy Will Bashar Assad hold power as he has it? Does the Bible show that Damascus, the capital of Syria, will be destroyed? What will happen to Syria? Will the Syrians support the final King of the South that the Bible tells will rise up? Which scriptures discuss the rise and fall of an Arabic confederation? Does Islamic prophecy predict the destruction of Syria.
Four Horsemen of the Apocalypse What do each of the four horseman of the Apocalypse represent? Have they began their ride? Did Jesus discuss the any of this? Might their rides coincide with the "beginning of sorrows? Do they start their ride prior to the Great Tribulation? Did Nostradamus or any other 'private prophets' write predictions that may mislead people so that they may not understand the truth of one or more of the four horseman? There is also a related YouTube video titled Sorrows and the Four Horsemen of the Apocalypse.
Gaza and the Palestinians in Bible Prophecy What does the Bible teach about Gaza and the fate of the Palestinians? Here is a link to a related video: Gaza and Palestine in Prophecy.
Jordan in Bible Prophecy What does the Bible show will happen to the inhabitants of Jordan? Will they escape and then be punished? A related video is titled Jordan, Petra, and Armageddon.
The 'Peace Deal' of Daniel 9:27 This prophecy could give up to 3 1/2 years advance notice of the coming Great Tribulation. Will most ignore or misunderstand its fulfillment? Here is a link to a related sermon video Daniel 9:27 and the Start of the Great Tribulation. Here is a link to a shorter video: rump's Deal of the Century and Daniel 9 27?
How Will Middle East Peace be Brought About? Can humans bring peace to the Middle East? Here is a link to a related video: Middle East Peace? When?
20 items to prophetically watch in 2020 Much is happening. Dr. Thiel points to 20 items to watch (cf. Mark 13:37) in this article. Here is a link to a related sermon: 20 Prophetic Items to Watch in 2020.
When Will the Great Tribulation Begin? 2020, 2021, or 2022? Can the Great Tribulation begin today? What happens before the Great Tribulation in the "beginning of sorrows"? What happens in the Great Tribulation and the Day of the Lord? Is this the time of the Gentiles? When is the earliest that the Great Tribulation can begin? What is the Day of the Lord? Who are the 144,000? Here is a version of the article in the Spanish language: ¿Puede la Gran Tribulación comenzar en el 2020 o 2021? ¿Es el Tiempo de los Gentiles? You can also see the English language sermon videos: The Great Tribulation from the Mount of Olives and Can the Great Tribulation begin before 2020? A shorter and newer video is: Could the Great Tribulation Begin in 2020?
The Times of the Gentiles Has there been more than one time of the Gentiles? Are we in it now or in the time of Anglo-America? What will the final time of the Gentiles be like? A related sermon is available and is titled: The Times of the Gentiles.
Armageddon Who is involved and when will this gathering happen? Here is also a video from Dr. Thiel, from Tel Megiddo in Israel: Armageddon. Other videos include: Armageddon Will it come on Trump's watch?, Iraq, Armageddon, & Prophecy, Freemasonry, Armageddon, and Rome, Is China paving roads to Armageddon?, and Jordan, Petra, and Armageddon.
Jerusalem, Donald Trump, and Prophecy On December 6, 2017, US President Donald Trump fulfilled a campaign promise related to the recognition of Jerusalem as Israel's capital. This brought anger, protests, and rockets from some Palestinians. It also brought condemnation from European allies–it has been claimed to be disruptive and even catastrophic. The Palestinian President (Mahmoud Abbas) said that this pronouncement eliminated the USA as being a fair mediator for a peace deal. Others have claimed that Donald Trump is an end time Cyrus and his pronouncement will lead to a Third Temple in Jerusalem. Is there ever going to be a peace deal? If so, will Europeans be part of it? Is Donald Trump a 'Cyrus.' Do the Jews require a Third Temple for sacrifices? Dr. Thiel answer those questions and more in this video.
Why is a Jewish Temple in Jerusalem Not Required? Although people like Timothy LaHaye teach a third Jewish temple is required, who is 'the temple of God" in the New Testament? Does the Bible require a rebuilt Jewish Temple? Here is a related item in the Spanish language ¿Por qué no se requiere un templo judío en Jerusalén? Here is a link to a sermon titled The Temple, Prophecy, and the Work.
Jerusalem: Past, Present, and Future What does the Bible say about Jerusalem and its future? Is Jerusalem going to be divided and eliminated? Is Jesus returning to the area of Jerusalem? There is also a related YouTube video you can watch titled Jerusalem To be divided and eliminated.