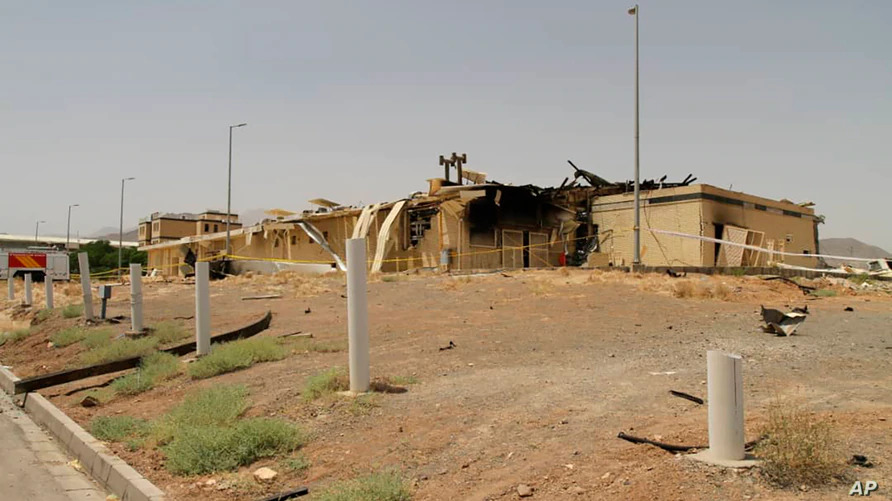 This photo released July 2, 2020, by the Atomic Energy Organization of Iran, shows a building after it was damaged by a fire, at the Natanz uranium enrichment facility some 322 kilometers south of Tehran, Iran.
There has been another explosion in Iran:
Yet Another Explosion at Iranian Nuclear Site

July 3, 2020

A fire and explosion damaged a centrifuge production plant above Iran's Natanz nuclear enrichment facility at around 2:00 AM local time on Thursday.

Behrouz Kamalvandi, a spokesman for the Atomic Energy Organization of Iran, denied that the damage was significant, claiming it took place at an under-construction "industrial shed."

Despite his claims, Iran's state-run IRNA news agency published a commentary addressing the possibility of the "industrial shed" being the target of sabotage by enemy nations such as Israel and the US. The Iranian media also blamed foreign enemies for other recent explosions in the country. https://www.breakingisraelnews.com/154184/anotehr-explosion-at-iranian-nuclear-site/

Setback for Iran's Nuclear Program After Mystery Fire at Centrifuge Assembly Site

July 3, 2020

WASHINGTON – New details of an Iranian nuclear facility damaged in a mysterious fire suggest Thursday's incident is a much greater setback to Iran's nuclear ambitions than Tehran has publicly admitted.

The Washington-based Institute for Science and International Security identified the facility as a centrifuge assembly workshop at the Natanz Fuel Enrichment Plant in central Iran's Isfahan province. …

"It took the Iranians a long time to build this workshop," Institute researcher Sarah Burkhard told VOA Persian in an interview. "Its construction started in 2012 and they only got to a point where they could start operations there in 2018," she said. …

The AEOI's photo of the aftermath of the fire, which it said happened at 2 a.m. Thursday local time, showed extensive damage to one end of the workshop, with roof panels charred, exterior walls cracked and doors ripped from their hinges, apparently from the force of an explosion.

"The equipment inside the workshop was meant to be used for making precision measurements in assembling advanced centrifuges that are sensitive machines and difficult to build, because you have to ensure that they are identical," Burkhard said. "We think the centrifuge equipment likely is not easily replaceable, because the components would be subject to international export controls," she added. …

The United States also sanctioned Iran's Centrifuge Technology Company (TESA) in 2011 and since then has further sanctioned international companies in TESA's procurement network.

U.S. President Donald Trump withdrew the United States from the Iran nuclear deal in 2018, saying it was not tough enough on Tehran, and began unilaterally imposing sanctions aimed at pressuring Iranian leaders to stop a range of perceived malign behaviors. Iran, which denies seeking nuclear weapons, has vowed to resist the U.S. sanctions, which have weakened its economy. Tehran also has been violating a series of limits on its nuclear activities since last year to try to pressure the 2015 deal's remaining signatories to compensate it for the U.S. sanctions. …

Burkhard also said the damage to the facility was so large that it did not appear to have been caused by an industrial accident. Her colleague David Albright told The New York Times that he believed it was an act of sabotage, because the assembly of centrifuge components in the workshop would have involved few flammable liquids and was unlikely to be dangerous.

After downplaying the incident, Iranian state news agency IRNA issued a warning later Thursday, saying "if there are signs of hostile countries crossing Iran's red lines in any way, especially the Zionist regime (Israel) and the United States, Iran's strategy to confront the new situation must be fundamentally reconsidered." https://www.voanews.com/middle-east/voa-news-iran/setback-irans-nuclear-program-after-mystery-fire-centrifuge-assembly-site
Notice that this explosion is NOT considered to be an accident. Iran cannot be pleased with this or the other explosion about a week ago that allegedly came from an Israeli cyber attack (see BIN: Israeli Cyber-Attack Caused Secret Iranian Nuclear Missile Plant to Explode).
Before going further, perhaps it should be mentioned that the basic purpose of having newer and advanced centrifuges is to get weapon's grade uranium and/or to use in some nuclear power plants.
Here is some information related to centrifuges:
A gas centrifuge is a device that performs isotope separation of gases. A centrifuge relies on the principles of centripetal force accelerating molecules so that particles of different masses are physically separated in a gradient along the radius of a rotating container. A prominent use of gas centrifuges is for the separation of uranium-235 from uranium-238. The gas centrifuge was developed to replace the gaseous diffusion method of uranium-235 extraction. High degrees of separation of these isotopes relies on using many individual centrifuges arranged in cascade, that achieve successively higher concentrations. This process yields higher concentrations of uranium-235 while using significantly less energy compared to the gaseous diffusion process. …

Modern Zippe-type centrifuges are tall cylinders spinning on a vertical axis, with a vertical temperature gradient applied to create a convective circulation rising in the center and descending at the periphery of the centrifuge. Diffusion between these opposing flows increases the separation by the principle of countercurrent multiplication. …

Effective usage of gas centrifuges were discovered by Pakistan which greatly enhances its capability to produce HEU fuels for both its commercial nuclear power plants and weapons. (Gas centrifuge. Wikipedia, accessed 09/07/19)
Iran wants military domination of the Islamic world. Its nuclear program has long been believed to be part of that.
With its important centrifuge facility in shambles, Iranian leaders must be discussing what to do, and likely how to retaliate, against Israel and/or the USA for this latest explosion.
Iran can be dangerous. Iran may well damage Israel (Isaiah 22:1-14) and even the USA (Iran is very upset with the USA because of sanctions and the Trump Administration's withdrawal of the nuclear deal that the Obama Administration agreed to). But that will not end well for Iran (cf. Jeremiah 49:34-38).
Jesus warned of a time of wars and rumors of wars (Matthew 24:4-8) called "the beginning of sorrows."
We look to be in this time.
Jesus also said to "Watch" (Mark 13:37).
What Iran may do next looks to be something to "watch."
Some items of related interest may include:
Iran in Prophecy Is Iran in Bible prophecy? If so, what does the Bible teach? What names, other than Persia, may be used to describe Iran? There is also a related YouTube video titled Iran In Prophecy.
Damascus and Syria in Prophecy Will Bashar Assad hold power as he has it? Does the Bible show that Damascus, the capital of Syria, will be destroyed? What will happen to Syria? Will the Syrians support the final King of the South that the Bible tells will rise up? Which scriptures discuss the rise and fall of an Arabic confederation? Does Islamic prophecy predict the destruction of Syria.
Gaza and the Palestinians in Bible Prophecy What does the Bible teach about Gaza and the fate of the Palestinians? Here is a link to a related video: Gaza and Palestine in Prophecy.
Jordan in Bible Prophecy What does the Bible show will happen to the inhabitants of Jordan? Will they escape and then be punished? A related video is titled Jordan, Petra, and Armageddon.
The 'Peace Deal' of Daniel 9:27 This prophecy could give up to 3 1/2 years advance notice of the coming Great Tribulation. Will most ignore or misunderstand its fulfillment? Here is a link to a related sermon video Daniel 9:27 and the Start of the Great Tribulation. Here is a link to a shorter video: rump's Deal of the Century and Daniel 9 27?
How Will Middle East Peace be Brought About? Can humans bring peace to the Middle East? Here is a link to a related video: Middle East Peace? When?
20 items to prophetically watch in 2020 Much is happening. Dr. Thiel points to 20 items to watch (cf. Mark 13:37) in this article. Here is a link to a related sermon: 20 Prophetic Items to Watch in 2020.
When Will the Great Tribulation Begin? 2020, 2021, or 2022? Can the Great Tribulation begin today? What happens before the Great Tribulation in the "beginning of sorrows"? What happens in the Great Tribulation and the Day of the Lord? Is this the time of the Gentiles? When is the earliest that the Great Tribulation can begin? What is the Day of the Lord? Who are the 144,000? Here is a version of the article in the Spanish language: ¿Puede la Gran Tribulación comenzar en el 2020 o 2021? ¿Es el Tiempo de los Gentiles? You can also see the English language sermon videos: The Great Tribulation from the Mount of Olives and Can the Great Tribulation begin before 2020? A shorter and newer video is: Could the Great Tribulation Begin in 2020?
The Times of the Gentiles Has there been more than one time of the Gentiles? Are we in it now or in the time of Anglo-America? What will the final time of the Gentiles be like? A related sermon is available and is titled: The Times of the Gentiles.
Armageddon Who is involved and when will this gathering happen? Here is also a video from Dr. Thiel, from Tel Megiddo in Israel: Armageddon. Other videos include: Armageddon Will it come on Trump's watch?, Iraq, Armageddon, & Prophecy, Freemasonry, Armageddon, and Rome, Is China paving roads to Armageddon?, and Jordan, Petra, and Armageddon.
There is a Place of Safety for the Philadelphians. Why it May Be Near Petra This article discusses a biblical 'place of safety' and includes quotes from the Bible and Herbert W. Armstrong on this subject–thus, there is a biblically supported alternative to the rapture theory. Two sermon-length videos of related interest are available Physical Protection During the Great Tribulation and Might Petra be the Place of Safety? Here is something related in the Spanish language: Hay un lugar de seguridad para los Filadelfinos. ¿Puede ser Petra?
This is PETRA! This is a 1962 Good News article by the late Dr. Hoeh.
The Gospel of the Kingdom of God This free online pdf booklet has answers many questions people have about the Gospel of the Kingdom of God and explains why it is the solution to the issues the world is facing. Here are links to three related sermons: The World's False Gospel, The Gospel of the Kingdom: From the New and Old Testaments, and The Kingdom of God is the Solution.
Persecutions by Church and State This article documents some that have occurred against those associated with the COGs and some prophesied to occur. Will those with the cross be the persecutors or the persecuted–this article has the shocking answer. There is also a YouTube video sermon you can watch: The Coming Persecution of the Church. Here is information in the Spanish language: Persecuciones de la Iglesia y el Estado.
Evangelical support for Donald Trump's Jerusalem policy BBC asked, "Why do US evangelicals support Trump's Jerusalem policy?" BBC provided quotes from some believing it has to do with the 'last days' while others saying that is not the reason. Hal Lindsey's book, 'The Late Great Planet Earth' is one of the sources pointed to. In this video, Dr. Thiel addresses scriptures related to Jerusalem as well as prophetic ones. He goes over the common 'fig tree' interpretation, belief about a 'Third Temple,' and statements about animal sacrifices. He explains biblical statements on those subjects as well as the views of certain modern Jewish organizations. This is a video.
Jerusalem, Donald Trump, and Prophecy On December 6, 2017, US President Donald Trump fulfilled a campaign promise related to the recognition of Jerusalem as Israel's capital. This brought anger, protests, and rockets from some Palestinians. It also brought condemnation from European allies–it has been claimed to be disruptive and even catastrophic. The Palestinian President (Mahmoud Abbas) said that this pronouncement eliminated the USA as being a fair mediator for a peace deal. Others have claimed that Donald Trump is an end time Cyrus and his pronouncement will lead to a Third Temple in Jerusalem. Is there ever going to be a peace deal? If so, will Europeans be part of it? Is Donald Trump a 'Cyrus.' Do the Jews require a Third Temple for sacrifices? Dr. Thiel answer those questions and more in this video.
Why is a Jewish Temple in Jerusalem Not Required? Although people like Timothy LaHaye teach a third Jewish temple is required, who is 'the temple of God" in the New Testament? Does the Bible require a rebuilt Jewish Temple? Here is a related item in the Spanish language ¿Por qué no se requiere un templo judío en Jerusalén? Here is a link to a sermon titled The Temple, Prophecy, and the Work.
Donald Trump in Prophecy Prophecy, Donald Trump? Are there prophecies that Donald Trump may fulfill?  Are there any prophecies that he has already helped fulfill?  Is a Donald Trump presidency proving to be apocalyptic?  Two related videos are available: Donald: 'Trump of God' or Apocalyptic? and Donald Trump's Prophetic Presidency.
Trump Presidency Magic 8 Ball or Bible Prophecy? BBC reported that one might as well use a 'Magic Eight-Ball' to try to predict what will happen in the remaining time of Donald Trump's presidency. What is a 'Magic Eight-Ball'? Dr. Thiel not only explains that, but also briefly goes over 10 biblically-based warnings he wrote would happen if Donald Trump were elected that have already began to come to pass. He also goes over something he wrote back in 2008 that the Trump presidency is also helping lead to fulfillment. Should you trust Bible prophecy or not? Dr. Thiel says that Bible prophecy can be trusted, despite the view of skeptics and others that either overlook or despise the Bible. This is a video.
Donald Trump and America's Apocalypse This 188 page book is for people truly interested in prophecies related to Donald Trump and the United States, including learning about several that have already been fulfilled and those that will be fulfilled in the future. The physical book can be purchased at Amazon for $12.99 from the following link: Donald Trump and America's Apocalypse.
Donald Trump and America's Apocalypse-Kindle Edition This electronic version of the 188 page print edition is available for only US$3.99. And you do not need an actual Kindle device to read it. Why? Amazon will allow you to download it to almost any device: Please click HERE to download one of Amazon s Free Reader Apps. After you go to for your free Kindle reader and then go to Donald Trump and America's Apocalypse-Kindle Edition.
Jerusalem: Past, Present, and Future What does the Bible say about Jerusalem and its future? Is Jerusalem going to be divided and eliminated? Is Jesus returning to the area of Jerusalem? There is also a related YouTube video you can watch titled Jerusalem To be divided and eliminated.