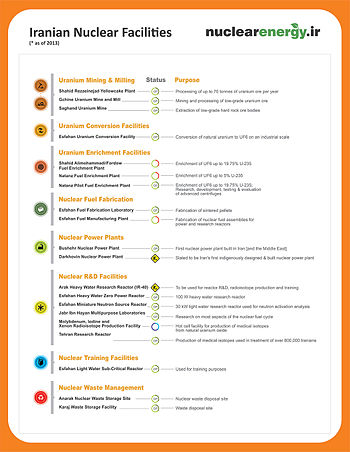 Nuclear facilities in Iran (Ta2aa)
The BBC reported the following:
Iran nuclear programme: Threat of Israeli strike grows

23 November 2021

In the turquoise waters of the Red Sea, Israeli, Emirati and Bahraini naval forces for the first time just days ago rehearsed joint security operations with a US warship.  …

The government has allocated $1.5bn (£1.1bn) to prepare the Israeli armed forces for a potential strike against Iranian nuclear sites, and there are near-daily warnings from political and military leaders.

I have been seeking out the views of top Iran watchers and analysts on what might happen.

"Israel has no interest in a war with Iran, but we will not allow Iran to acquire nuclear weapons," an Israeli security official tells me. "In light of Iranian progress of their nuclear programme, we are preparing for all options and scenarios, including military capabilities." …

Clock ticking

Former Israeli National Security Adviser Yaakov Amidror, who is now a senior fellow at the Jerusalem Institute for Strategy and Security, first warned of the dangers of Iran's nuclear ambitions in the early 1990s, when he worked in military intelligence.

He has a bleak assessment of the latest developments.

"Israel cannot live with a situation in which the Iranians are getting closer and closer to the bomb, and it will soon have to make a decision how to stop it," he says.

"I don't see any other way but to bomb it, because I don't see the Iranians retreating from their dream of having a nuclear umbrella under which they can be even more aggressive than they are today."

Israel has twice acted alone to destroy its enemies' nuclear reactors – in Iraq in 1981, and in 2007 in Syria – with little retaliation.

But many analysts question whether it is capable of effectively mounting a complex operation to stop Iran's much more advanced nuclear programme, which involves multiple sites with some underground facilities, and what price it would have to pay.

"Everyone in Israel understands that [a strike] might lead to a very complicated war," concedes Mr Amidror.
Israel is concerned and does not fully trust the Biden-Harris Administration to deal with Iran.
It is willing to attack, even without USA approval.
Yet, Iran has the ability to cause "great damage" as the prophet Isaiah was inspired to write:
6 Elam bore the quiver With chariots of men and horsemen, And Kir uncovered the shield. 7 It shall come to pass that your choicest valleys Shall be full of chariots,And the horsemen shall set themselves in array at the gate.

8 He removed the protection of Judah. You looked in that day to the armor of the House of the Forest; 9 You also saw the damage to the city of David, That it was great; And you gathered together the waters of the lower pool. 10 You numbered the houses of Jerusalem, And the houses you broke down To fortify the wall. 11 You also made a reservoir between the two walls For the water of the old pool. But you did not look to its Maker, Nor did you have respect for Him who fashioned it long ago.  (Isaiah 22:8-11 NKJV)
Elam seems to be a reference to at least some in Iran. The old Worldwide Church of God published the following:
Iranians com-prise nearly 70 percent of the country. Iranians, though Islamic, are totally distinct from the neighboring Arab peoples of the Middle East. They are a mixed people of the remnants of Media and Elam and other ancestors of Semitic and Hamitic stock. (Stump K. South Asia in Prophecy. Plain Truth, July/August 1986, p. 5)
Kir is of interest as it has several possibilities.  One is that the Bible tells that after Tiglath-Pileser king of Assyria took over Damascus, he moved Syrians to Kir.  While this does not mean that Kir must (or must only) be a reference to Syria, the fact that Syria is an ally of Iran is interesting.  Some believe Kir is an area in the south of Iran, while others suggest closer to the Black Sea. God's word has the expression "the Syrians from Kir" (Amos 9:7), which is basically confirmation that Kir of Isaiah 22 would include Syrians. The Bible also tells of a time when Kir will be destroyed (Isaiah 15:1b) and also says that Syria's capital Damascus will be destroyed (Isaiah 17:1). Since Syria is Iran's closest ally, military cooperation between the two of them against Israel looks consistent with the prophecy in Isaiah 22.
In Isaiah 22: 8, "Judah" is a reference to those in the land commonly called Israel–God will allow Israel to be attacked! In Isaiah 22:9, consider that "the damage to the city of David" is a reference to at least part of Jerusalem–and notice that the damage will be great. Also notice part of the reason will be because Israel will not truly look to "its Maker." Just relying on its own military will not be enough.
I have long believed that we may very well see a regional war as Israel has 1) taken preemptive actions in the past and 2) has said it would do so in the future to prevent Iran from getting a nuclear bomb.
Such a regional war could trigger the deal of Daniel 9:27 and trigger the final 3 1/2 year countdown until the start of the Great Tribulation Jesus spoke of in Matthew 24:21.
That being said, despite military positions of both sides, battles between Iran, Syria, and Israel well not end well for Israel (cf. Isaiah 22:6-8) nor Iran (cf. Ezekiel 32:24-25) nor Syria (cf. Isaiah 17:1).
Some items of possibly related interest may include:
Iran in Prophecy Is Iran in Bible prophecy? If so, what does the Bible teach? What names, other than Persia, may be used to describe Iran? There is also a YouTube video titled Iran in Prophecy. Here is a related video Iran In Prophecy.
Jerusalem: Past, Present, and Future What does the Bible say about Jerusalem and its future? Is Jerusalem going to be divided and eliminated? Is Jesus returning to the area of Jerusalem? There are also two related YouTube videos you can watch: Jerusalem To be divided and eliminated and God's and Satan's Plan for Jerusalem.
Anglo – America in Prophecy & the Lost Tribes of Israel Are the Americans, Canadians, English, Scottish, Welsh, Australians, Anglo (non-Dutch) Southern Africans, and New Zealanders descendants of Joseph? Where are the lost ten-tribes of Israel? Who are the lost tribes of Israel? What will happen to Jerusalem and the Jews in Israel? Will God punish the U.S.A., Canada, United Kingdom, and other Anglo nations? Why might God allow them to be punished first?
The 'Peace Deal' of Daniel 9:27 This prophecy could give up to 3 1/2 years advance notice of the coming Great Tribulation. Will most ignore or misunderstand its fulfillment? Here is a link to a related sermon video Daniel 9:27 and the Start of the Great Tribulation.
When Will the Great Tribulation Begin? 2021, 2022, or 2023? Can the Great Tribulation begin today? What happens before the Great Tribulation in the "beginning of sorrows"? What happens in the Great Tribulation and the Day of the Lord? Is this the time of the Gentiles? When is the earliest that the Great Tribulation can begin? What is the Day of the Lord? Who are the 144,000? Here is a version of the article in the Spanish language: ¿Puede la Gran Tribulación comenzar en el 2020 o 2021? ¿Es el Tiempo de los Gentiles? A related video is: Great Tribulation: 2026 or 2027? Here is a video in the Spanish language: Es El 2021 el año  de La Gran Tribulación o el Grande Reseteo Financiero.