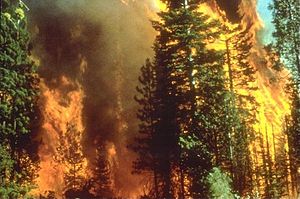 Parts of California still are on fire and some believe that San Francisco's electrical power may be impacted:
24 August 2013

FRESNO, Calif — A wildfire raging out of control has grown to nearly 200 square miles and spread into Yosemite National Park at the height of the summer season for one of California's most popular tourist destinations…in an unusual move, Gov. Jerry Brown declared a state of emergency for San Francisco 150 miles away because of the threat to the city's utilities.

The wildfire had already done some damage and threatened more to the lines and stations that pipe power to San Francisco, so Mr. Brown, who had declared an emergency for the fire area earlier in the week, extended it to the city.

San Francisco also gets 85 percent of its water from the Yosemite-area Hetch Hetchy Reservoir that is about 4 miles from the fire, though that had yet to be affected. But it was forced to shut down two of its three hydroelectric power stations in the area.  http://www.nytimes.com/2013/08/25/us/wildfire-yosemite-san-francisco-california.html?_r=0

GROVELAND, Calif. — The billowing cloud rising behind this Gold Rush town of potted petunias and clapboard houses was three times higher than the highest peak at nearby Yosemite National Park.

Almost everyone in town could tell you it was formed by heat and if it imploded could create winds that could whip up the Rim fire — already covering more than 110,000 acres, and defying the efforts of water-dropping planes, helicopters and more than 2,000 firefighters. As of Friday night, the fire was 2% contained…

The fire is threatening more than 4,500 structures and several mountain communities are under mandatory evacuation. California 120, the western Yosemite entrance most used by travelers from the Bay Area, has been closed since Monday. The economy of mountain communities depending on summer tourists' last hurrahs have been devastated.

On Thursday, Gov. Jerry Brown declared a state of emergency. Late Friday, Brown extended the state of emergency to include the city and county of San Francisco, saying the fire has caused damage to electrical infrastructure serving the area. The San Francisco Public Utilities Commission has been forced to shut down transmission lines, and delivery of water and electricity could be interrupted.

And the fire still rages, sometimes doubling in size overnight. On Thursday, the fire grew from 63,000 to more than 105,000 acres…
Wildfires are part of the Sierra in the summer. But no one has seen a fire this out of control since 1987 when all of California seemed to be burning.  http://www.latimes.com/local/la-me-yosemite-fire-20130824,0,1432454.story?page=1
The Bible shows that God uses weather to get people's attention. Sometimes to punish, sometimes to lead to repentance, and other times to consider that God, not humankind, is in control.
Although California historically has wildfires, the Bible also mentions fire as a tool that God sometimes uses. Here are some examples:
11 The Lord said:

"Surely it will be well with your remnant;
Surely I will cause the enemy to intercede with you
In the time of adversity and in the time of affliction.
12 Can anyone break iron,
The northern iron and the bronze?
13 Your wealth and your treasures
I will give as plunder without price,
Because of all your sins,
Throughout your territories.
14 And I will make you cross over with your enemies
Into a land which you do not know;
For a fire is kindled in My anger,
Which shall burn upon you." (Jeremiah 15:11-14)
12 O house of David! Thus says the Lord:

"Execute judgment in the morning;
And deliver him who is plundered
Out of the hand of the oppressor,
Lest My fury go forth like fire
And burn so that no one can quench it,
Because of the evil of your doings.

13 "Behold, I am against you, O inhabitant of the valley,
And rock of the plain," says the Lord,
"Who say, 'Who shall come down against us?
Or who shall enter our dwellings?'
14 But I will punish you according to the fruit of your doings," says the Lord;
"I will kindle a fire in its forest,
And it shall devour all things around it."' (Jeremiah 21:12-14)
11 The Lord has fulfilled His fury,
He has poured out His fierce anger.
He kindled a fire in Zion,
And it has devoured its foundations. (Lamentations 4:11)
15 There the fire will devour you,
The sword will cut you off;
It will eat you up like a locust. (Nahum 3:15)
My family used to live near the area of the current wildfire and I know of people who are being affected by it.
My prayers are with those affected by the fires.  I also pray that those in California will repent as worse problems are ahead if it continues to go in a moral direction away from the Bible.  California set a bad standard last Fall when it became the first USA state to outlaw attempts to convert homosexuals from that 'lifestyle' (see California's Brown Signs Anti-Homosexual Conversion Bill)–the State of New Jersey recently followed California's bad example (see Republican Christie to sign bill outlawing homosexual conversion therapy).  Additionally, the State of California has other issues where it is also setting very bad examples (such as the production of pornographic entertainment).
Weather problems can be a warning to people that society is going in the wrong direction (Amos 4:7-12).  Notice also God's use of fire between three thousand and four thousand years ago:
24 Then the Lord rained brimstone and fire on Sodom and Gomorrah, from the Lord out of the heavens. 25 So He overthrew those cities, all the plain, all the inhabitants of the cities, and what grew on the ground. (Genesis 19:24-25)
And why did it happen?
7 as Sodom and Gomorrah, and the cities around them in a similar manner to these, having given themselves over to sexual immorality and gone after strange flesh, are set forth as an example, suffering the vengeance of eternal fire. (Jude 7)
Why mention this in the 21st century? Because God turned:
6…the cities of Sodom and Gomorrah into ashes, condemned them to destruction, making them an example to those who afterward would live ungodly (2 Peter 2:6)
Notice also the following:
11 "I overthrew some of you,
As God overthrew Sodom and Gomorrah,
And you were like a firebrand plucked from the burning;
Yet you have not returned to Me,"
Says the Lord.

12 "Therefore thus will I do to you, O Israel;
Because I will do this to you,
Prepare to meet your God, O Israel!"   (Amos 4:11-12)
Fires should get people to consider.  But will people in California, the USA, or the other Anglo-descended areas heed?
Jesus taught:
7…And there will be famines, pestilences, and earthquakes in various places. 8 All these are the beginning of sorrows. (Matthew 24:7-8).

8 For nation will rise against nation, and kingdom against kingdom. And there will be earthquakes in various places, and there will be famines and troubles. These are the beginnings of sorrows. (Mark 13:8)
The sorrows and troubles are just beginning and will get much worse.
Some articles of possibly related interest may include:
Weather Blessings and Sorrows Are weather problems a warning? What should be done? Here is a related YouTube video Does God Use Weather?
The Bible Condemns Homosexuality "Same-sex marriage" for "gays" and lesbians is becoming more acceptable to many. What does the Bible teach about homosexuality?  Can homosexuals change?
Cross-dressing and other assaults against your children.  What should you do? Is there an agenda to turn your children and/or grandchildren away from biblical morality and towards practices promoted by homosexuals? What does the Bible teach about cross-dressing? What should parents do? If there is an agenda, what has been going on?  There is also a YouTube video on this, titled Cross dressing and Other Assaults Against Your Children.
Pornography: A scourge on society Is pornography harmless fun? Does the Bible teach anything about it? What are the views of some involved with it? Here is a link to a YouTube video Pornography: Harmless Fun or a Scourge on Society?
Can the Great Tribulation Begin in 2013, 2014, or 2015? Can the Great Tribulation begin today? What happens before in the "beginning of sorrows"? What happens in the Great Tribulation and the Day of the Lord? When is the earliest that the Great Tribulation can begin? What is the Day of the Lord?
Just What Do You Mean — Repentance? Do you know what repentance is? Have you truly repented? Repented of what? Herbert W. Armstrong wrote this as a booklet on this important subject.
Do Christians Sin? This is an article by Herbert W. Armstrong.
Physical Preparation Scriptures for Christians. We all know the Bible prophecies famines. Should we do something?
The Ten Commandments Reflect Love, Breaking them is Evil Some feel that the ten commandments are a burden. Is that what Jesus, Paul, Peter, James, and John taught? For a more detailed discussion of the first four commandments, please see the video The Ten Commandments: Loving God
Was the Commandment to Love the Only Command? Some have stated that John's writings teach this, but is that what the Bible really says?
The Ten Commandments and the Early Church Did Jesus and the Early Church keep the ten commandments? What order were they in? Here are quotes from the Bible and early writings.
Anglo – America in Prophecy & the Lost Tribes of Israel Are the Americans, Canadians, English, Scottish, Welsh, Australians, Anglo (non-Dutch) Southern Africans, and New Zealanders descendants of Joseph? Where are the lost ten-tribes of Israel? Who are the lost tribes of Israel? What will happen to Jerusalem and the Jews in Israel? Will God punish the U.S.A., Canada, United Kingdom, and other Anglo nations? Why might God allow them to be punished first?