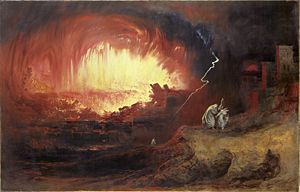 The Destruction of Sodom and Gomorrah
In a move, even further away from biblical morality, the Governor of New Jersey is expected to sign a bill against converting minors away from homosexuality:
TRENTON, N.J. (AP) — Gov. Chris Christie plans to sign a bill Monday barring licensed therapists from trying to turn gay teenagers straight, making New Jersey the second state to ban so-called conversion therapy, along with California.

The bill passed both houses of the New Jersey Legislature with bipartisan support in June. Assemblyman Tim Eustace, who sponsored the bill and is openly gay, described the therapy as "an insidious form of child abuse."

Gay activists pushing the ban were uncertain what Christie would do.

In a signing note accompanying the bill that will be made public Monday, Christie said he believes people are born gay and that homosexuality is not a sin. That view is inconsistent with his Catholic faith.

The Republican governor also said the health risks of trying to change a child's sexual orientation, as identified by the American Psychological Association, outweigh concerns over the government setting limits on parental choice.  http://www.northjersey.com/news/state/NJ_governor_to_sign_ban_on_gay_conversion_therapy.html
The Bible does not support provisions to remain homosexual (it supports the opposite, see 1 Corinthians 6:8-11), thus this seems to be a major infringement upon both parental and religious rights. Anti-conversion laws like this are wrong.  UPDATE 13:00 pm PDT: Governor Christie did sign this anti-conversion law today (http://www.latimes.com/nation/nationnow/la-na-nn-chris-christie-gay-conversion-20130819,0,6276501.story).
Those who believed that American Republicans could be counted on in moral issues hopefully will see that Republicans are not the answer.  The USA needs national repentance, which is not likely, and the return of Jesus Christ, which will happen–but not the way that many who profess Christianity in the USA expect.
The following passage, written nearly two thousand years ago, essentially predicts resurgences of amorality, plus explains why this happens:
18 For the wrath of God is revealed from heaven against all ungodliness and unrighteousness of men, who suppress the truth in unrighteousness, 19 because what may be known of God is manifest in them, for God has shown it to them. 20 For since the creation of the world His invisible attributes are clearly seen, being understood by the things that are made, even His eternal power and Godhead, so that they are without excuse, 21 because, although they knew God, they did not glorify Him as God, nor were thankful, but became futile in their thoughts, and their foolish hearts were darkened. 22 Professing to be wise, they became fools, 23 and changed the glory of the incorruptible God into an image made like corruptible man — and birds and four-footed animals and creeping things.

24 Therefore God also gave them up to uncleanness, in the lusts of their hearts, to dishonor their bodies among themselves, 25 who exchanged the truth of God for the lie, and worshiped and served the creature rather than the Creator, who is blessed forever. Amen.

26 For this reason God gave them up to vile passions. For even their women exchanged the natural use for what is against nature. 27 Likewise also the men, leaving the natural use of the woman, burned in their lust for one another, men with men committing what is shameful, and receiving in themselves the penalty of their error which was due.

28 And even as they did not like to retain God in their knowledge, God gave them over to a debased mind, to do those things which are not fitting; 29 being filled with all unrighteousness, sexual immorality, wickedness, covetousness, maliciousness; full of envy, murder, strife, deceit, evil-mindedness; they are whisperers, 30 backbiters, haters of God, violent, proud, boasters, inventors of evil things, disobedient to parents, 31 undiscerning, untrustworthy, unloving, unforgiving, unmerciful; 32 who, knowing the righteous judgment of God, that those who practice such things are deserving of death, not only do the same but also approve of those who practice them. (Romans 1:18-32)
Many do not wish to retain the word of God in their knowledge. Also notice that God warned that many would "also approve of those who practice" various forms of sin. This is what more and more leaders are doing–directly and indirectly.
There were other societies that have had their own issues of openly advocating sins that their residents seemed to view as acceptable. Notice what happened in a couple of such towns between three thousand and four thousand years ago:
24 Then the Lord rained brimstone and fire on Sodom and Gomorrah, from the Lord out of the heavens. 25 So He overthrew those cities, all the plain, all the inhabitants of the cities, and what grew on the ground. (Genesis 19:24-25)
And why did it happen?
7 as Sodom and Gomorrah, and the cities around them in a similar manner to these, having given themselves over to sexual immorality and gone after strange flesh, are set forth as an example, suffering the vengeance of eternal fire. (Jude 7)
Why mention this in the 21st century? Because God turned:
6…the cities of Sodom and Gomorrah into ashes, condemned them to destruction, making them an example to those who afterward would live ungodly (2 Peter 2:6,
NKJV)
National repentance is the only real long-term hope for the USA (and it seems to be too late for that).  The USA will have to experience the "time of Jacob's trouble" (Jeremiah 30:7), the Great Tribulation (Matthew 24:21), before Jesus will return.
Keeping the Ten Commandments reflects love. Breaking them and/or condoning those that do is evil. This should be clear to those who believe the God of the Bible.
The Bible tells parents to teach their children God's ways:
4 "Hear, O Israel: The Lord our God, the Lord is one! 5 You shall love the Lord your God with all your heart, with all your soul, and with all your strength.

6 "And these words which I command you today shall be in your heart. 7 You shall teach them diligently to your children, and shall talk of them when you sit in your house, when you walk by the way, when you lie down, and when you rise up. (Deuteronomy 6:4-7)

6 Train up a child in the way he should go, And when he is old he will not depart from it. (Proverbs 22:6)
Yet, freedom to involve others when a child strays towards homosexuality is being made illegal in the USA.  This is an outrage, but is also a sign of the times.
Some items of possibly related interest may include:
The Bible Condemns Homosexuality "Same-sex marriage" for "gays" and lesbians is becoming more acceptable to many. What does the Bible teach about homosexuality? Can homosexuals change?
Cross-dressing and other assaults against your children. What should you do? Is there an agenda to turn your children and/or grandchildren away from biblical morality and towards practices promoted by homosexuals? What does the Bible teach about cross-dressing? What should parents do? If there is an agenda, what has been going on? There is also a YouTube video on this, titled Cross dressing and Other Assaults Against Your Children.
Can the Great Tribulation Begin in 2013 or 2043? Can the Great Tribulation begin today? What is the "beginning of sorrows"? When is the earliest that the Great Tribulation can begin? What is the Day of the Lord?
The Ten Commandments Reflect Love, Breaking them is Evil Some feel that the ten commandments are a burden. Is that what Jesus, Paul, Peter, James, and John taught? For a more detailed discussion of the first four commandments, please see the video The Ten Commandments: Loving God. Here is a link to a related article in Mandarin Chinese 十条诫命显示爱,违反诫命的就是邪恶的
Love, Marriage, and Sex It is important to get them in the right order.
Five Rules for Effective Parenting Do you know that there are five simple rules that can make you a more effective parent? There is also a 12 1/2 minute YouTube video on this, also titled Five Rules for Effective Parenting.
What Psychologists do not Know About Child Rearing This is an article by Herbert Armstrong that was used as the introduction to the pdf booklet The Plain Truth About Child Rearing.
The Plain Truth About Child Rearing This is a pdf booklet that the old WCG put out.
Just What Do You Mean — Repentance? Do you know what repentance is? Have you truly repented? Repented of what? Herbert W. Armstrong wrote this as a booklet on this important subject.
Do Christians Sin? This is an article by Herbert W. Armstrong.
Overcoming Sin What is sin? How are Christians suppose to overcome it? Here is a link to a version in Mandarin Chinese: 克服是重要的. Here is also a link to a video in English titled How to Overcome Sin.
How to Prevent Sin This is an article by Herbert W. Armstrong. Here is a version in Mandarin: 如何不犯罪
Anglo – America in Prophecy & the Lost Tribes of Israel Are the Americans, Canadians, English, Scottish, Welsh, Australians, Anglo (non-Dutch) Southern Africans, and New Zealanders descendants of Joseph? Where are the lost ten-tribes of Israel? Who are the lost tribes of Israel? What will happen to Jerusalem and the Jews in Israel? Will God punish the U.S.A., Canada, United Kingdom, and other Anglo nations? Why might God allow them to be punished first?
Will the Anglo-Nations be Divided and Have People Taken as Slaves? Will the lands of the United States, United Kingdom, Canada, Australia, and New Zealand be divided? What about Jerusalem? What does Bible prophecy teach? Are there non-biblical prophecies that support this idea? Who will divide those lands? Who will end up with the lands and the people? Here is a link to a video titled Will the USA and other Anglo-nations be Divided and Their People Made Slaves?
Barack Obama, Prophecy, and the Destruction of the United States-Second Edition for Second Obama Term This is a 160 page book for people truly interested in prophecies related to Barack Obama and the United States, including learning about many that have already been fulfilled (which the book documents in detail) and those that will be fulfilled in the future. It also has a chapter about a Republican choice. This book is available to order at www.barackobamaprophecy.com. The physical book can also be purchased at Amazon from the following link: Barack Obama, Prophecy, and the Destruction of the United States: Is Barack Obama Fulfilling Biblical, Islamic Catholic, Kenyan, and other America-Related Prophecies? What About Republican Leaders? Second Edition for Second Obama Term.
Barack Obama, Prophecy, and the Destruction of the United States-Second Term-Amazon Kindle edition. This electronic version is available for only US$2.99. And you do not need an actual Kindle device to read it. Why? Amazon will allow you to download it to almost any device: Please click HERE to download one of Amazon s Free Reader Apps. After you go to for your free Kindle reader and then go to Barack Obama, Prophecy, and the Destruction of the United States-Second Term-Amazon Kindle edition.